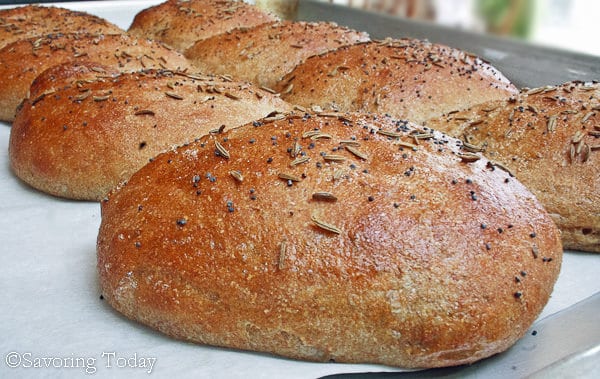 As soon as the Sprouted Wheat Burger Buns were pulled from the oven, plans for other flavors and seed toppings danced in my head (sometime this can be dangerous). Since I have always been a huge fan of rye bread, it seemed only fitting to make Light Rye Sandwich Buns for Reubens on St. Patrick's Day. Now, in my opinion, rye bread isn't really rye without caraway seeds, so this recipe includes crushed seeds in the dough and a generous sprinkle to dress the tops. Of course, they are as tempting as any bread straight from the oven, so have butter close by for indulgences.
Here in the U.S., rye bread is typically a rye-wheat mix rather than a true 100% rye bread. Rye flour has a lower level of gluten with can prevent breads from rising well, so wheat flour is added to produce a more appealing loaf. Depending on the baker you talk to, the rye to wheat ratio can be anywhere from 18-40%. In this recipe, I start with 25% sprouted rye flour and 75% sprouted wheat flour, adding more wheat flour as needed to finish the dough. To make a dark rye, substitute molasses for the honey. I have not tried it yet, but that is the general method used to produce the dark color and flavor.
It has been such a boon around here to have success using sprouted grain flour in our favorite bread recipes—these sandwich buns were wonderful. The caraway seeds can be crushed with a mortar & pestle  or ground in a spice grinder, depending on personal preference. A generous sprinkling of caraway seed and poppy seed on the tops accentuate the rye flavor in these buns, perfect for savory meats. Butter and toast the buns on a skillet for a crisp edge that will stand up to any favorite sauce on Reubens, pastrami, tuna salad, turkey burgers, or classic patty melts. Our first foodie adventure with them was a Reuben with sauerkraut, Swiss cheese, and Russian dressing for St. Patrick's day—that post is next!
Sprouted Light Rye Sandwich Buns
Ingredients
2 cups water 110-115°
1 tablespoon active dry yeast
1/4 cup honey
1 cup sprouted rye flour
3 cups sprouted whole wheat flour
2 tablespoons butter -- melted
1 whole egg
1 whole egg yolk
1 1/4 teaspoons sea salt
1 whole egg white -- lightly beaten, reserved
2 tablespoons caraway seeds, crushed or ground -- plus extra for tops (optional)
poppy seeds (optional) -- for tops
extra virgin olive oil
Instructions
Mix the yeast and honey with the water and let yeast soften for 5 minutes. Mix in the butter, egg, egg yolk, salt, caraway seeds, and half the flour until smooth. Let dough rest for 20 minutes.
Add enough remaining flour to form a soft dough (up to 4 cups), mix 5-6 minutes in a stand mixer or by hand--dough will be "shaggy" and sticky as compared to white flour dough. On a lightly floured surface, with floured hands, lightly knead dough to form a soft ball. (If using a stand mixer, a paddle attachment can work better than a dough hook.)
Oil a bowl with olive oil, place dough in bowl and turn over so that oiled surface is face-up.
Cover the bowl with plastic wrap and then a towel, and let it rise in a warm spot (above 70°) for 1 1/2 to 2 hours, or until nearly doubled in bulk. (The oven, with the oven light ON is a great place to let the dough rise if the room is cool.)
With oiled hands, punch down dough and divide it into 8 pieces on a lightly oiled surface (a kitchen scale can be helpful to make sure they are even). Shape each piece into a round, smooth ball, place on a parchment lined baking sheet, and flatten with the palm of the hand to about 3" across (it helps to have oil on your hands when flattening the buns), it is okay if the buns touch when flattened. Cover with a lightweight smooth towel or tented aluminum foil if in a drafty room (otherwise leave uncovered), and let rise for about an hour, or until doubled in size. (Because the dough can be a little sticky, avoid using terry cloth or microfiber cloth towels, which can "grab" the top of the dough.)
Just before placing in the oven, brush the buns gently with the beaten egg white on all exposed sides, sprinkle with caraway seeds and poppy seeds. For a matte finish, brush with melted butter.
Bake the buns in a preheated 375°F oven until golden in color, about 15 to 18. Cool the buns on the pan on a wire rack for 10 minutes, then remove from pan and cool completely. Slice once completely cooled.
Notes
Seeds are optional. The egg wash helps the seeds to stick and give the buns a shiny crust. Brush with melted butter for a soft, matte finish.
http://savoringtoday.com/2012/03/15/sprouted-rye-sandwich-buns/
© 2011 Savoring Today LLC. All Rights Reserved. www.savoringtoday.com
A note about purchasing sprouted flours: Although I found sprouted wheat flour at Whole Foods and Natural Grocers stores, sprouted rye is harder to find. I ordered organic sprouted rye flour from Local Harvest, though there are other on-line sources to choose from, including a mill in the UK . Purchasing sprouted grain flours can leave some with sticker shock, however we consider it an investment in our health. The cost of one package of 8 regular whole wheat buns from the grocery store is somewhere between $3.50-5.00, depending on the brand and store. The 2 lb. bag of sprouted rye flour cost $11.46, including shipping, and it will make multiple recipes. I purchased it along with corn and wheat flours to spread the shipping cost among the entire order. In total the cost was $44.25 for 9 lbs. of flours delivered to my door, which should do all the baking I need to do for the next six months or more (we limit the amount of grain in our diet). However, as was mentioned in the comments in my last post, you can significantly reduce the cost even further by purchasing the grain, sprouting it, dehydrating it, and grinding it at home. For more information on that process, visit Health, Home, & Happiness.
Shared on the following Blog Hops:
Real Food Forager Fat Tuesday