For all the best laid plans, Christmas came to town and captured my full attention. No blog posts of Merry Christmas wishes or family photos shared on Facebook. The only photo we snapped this year was when we piled in the car in search of a Christmas tree on the 21st (yes, just four days before Christmas). For the record, trees are crispy by this time, but it was more important to do the tree trimming and decorating together and that was the first day we were all in one place.
It still stands in the corner of the living room.
It's not that I didn't have things to post or merry tidings to share, there was just a purposeful savoring of the time we had together. Our former exchange student, Paulina, was visiting and two of our daughters made it home. They don't live far-off, but coordinating work schedules can be tricky at this stage in their lives. The house was abundant with conversation and traditions, choice foods, games and puzzles. These are most certainly a few of my favorite things—homey, familiar, comforting.
As we prayed for friends processing the loss of their homes, loved ones, or jobs, I was reminded that holiday traditions can be a source of both comfort and pain. The holidays are incredibly difficult for families grieving loved ones; long held traditions abandoned because the pain is fresh and raw. We've been praying for a family who said good-bye to their teenage daughter just days before Christmas after she suffered a gunshot wound at school. Another friend of a friend waiting long hours and days while her husband slipped away in a hospital room. Tragedy and illness lay waste to traditions.
There is also the delicate balance of newly married couples and young families trying to create and blend traditions with respective parents and siblings. The dynamics of this have sucked every ounce of joy out of the holidays for so many, no wonder it's a stressful time of year. Sometimes letting go of tradition is the healthiest thing we can do. I know when our girls are married, we will navigate these same things, but so long as they are close enough to hug tightly and their laughter fills the room, I'm good. Really good.
Welcoming 2014, we were reminded once again to savor life as the clock wound down on 2013.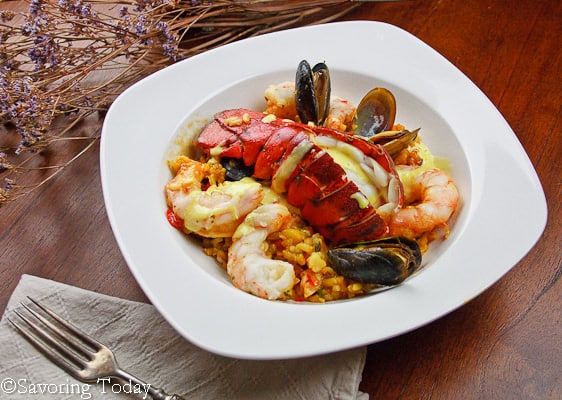 New Year's Eve, we were busy in the kitchen with Seafood Paella and Saffron Aioli, chopping, dicing, stirring, reviewing multiple recipes and sipping our favorite Chianti.
Then the phone rang. We knew it was our youngest kiddo because they each have a special ringtone.
"Mom, I've been hit by a drunk driver."
Thankfully, she was not injured beyond a couple of bruises; to say the least, it was a stressful evening sorting everything out. When I say thankfully, I mean every morning I wake up, if awake in the night, when I see a text from her, when her Facebook status pops up, or I hang-up the phone from another insurance inquiry, I whisper tearful prayers of thanksgiving. Sometimes tears become the prayers as I'm utterly undone with gratitude because I know that first phone call could have begun with "Your daughter…".
Even as I type this, I see her vibrant face in my mind's eye and thankfulness wells up again.
Life is so much more than the days we string together, the twists and turns give opportunity for character to form and faith to build. Wrapping my arms around her sweet neck brought this mamma immense joy, her response to the situation brings joy deeper still. Her forgiveness toward the individual who caused the accident along with the peace and confidence in God's provision for another car was not only a little surprising so early in the process, it reminded me to do the same.
More gratitude. I love it when our kids teach us what we've taught them.
Our family is familiar with the concept of living life as a gift, we have all survived life threatening events. The simple truth is, tomorrow is not guaranteed. We have learned you can't dwell too much on the brevity of life or it will flat out drive you crazy. Controlling, fearful, stifling, suffocating kind of crazy. Instead, be purposeful in the things that really matter, in our opinion, that's faith, family, and friends—relationships.
The popular song, Live Like You Were Dying, by Tim McGraw is a good example of focusing on savoring life rather than the fear of dying. It's a good way to begin this year and every day in it we're given.
I'm so glad you are a part of Savoring Today and I hope you savor the New Year with us!
On thoughts of food … I plan to share the Seafood Paella recipe when we can make it on a less stressful evening and we can compare the difference preparing it with Bomba rice. This time we used Arborio rice, which was good, but I suspect it could be even better with Bomba rice. If you're interested, these are the three recipes we referenced to make the paella:
The Ulitmate Paella by Tyler Florence
Mixed Seafood Paella – Paella de Marisco by La Tienda
Saffron Aioli by Fine Cooking