Of all the pictures in my head of how we would celebrate our 25th wedding anniversary, I never imagined it would be so close to home as Estes Park, CO. Five years ago, we were in Italy for our 20th. When we returned from that trip we decided Paris would be wonderful for our 25th.
Sometimes the stars just don't align the way you envision. It was some time in March that we received the fall calendar for our daughter's selected college … August 22 move-in was spot on.
When two important events collide, something's gotta give. You might stomp your feet in brief fits of disappointment, but then you realize there really is only one choice—anniversary takes the backseat. Then there's the bargaining … another weekend, perhaps? Oh yeah, college expenses. Maybe we'll just have dinner out.
Summer began with graduation and wedding planning for our good friends. Both are a wee bit consuming, so thoughts of an anniversary trip wasn't just in the backseat, it was barely hanging onto the trailer hitch. Once July rolled around it was time to get serious about our daughter's move to college, which takes loads more energy than you think it will.
But we have great friends. I know I've mentioned that before and it's true. They surprised us with a gift of two nights in Estes Park, CO for us to celebrate our anniversary—we were/are so blessed by their generous and caring gift.
Paris will wait. We savored our Estes escape.
Estes Park is a wildly popular mountain town just outside of the Rocky Mountain National Park, a little over three hours from our home, yet we had never been there. There is no doubt we are blessed to live in a state with such stunning beauty in every corner that it's called God's country. We enjoyed our time there so much, we wanted to share a small part of it with you.
This was our first stop ~ the college dorm our daughter will call home for the next 9 months. Her roommate brought the same amount of stuff she did … all I can say is it was a good thing there was storage space under the beds. It was comforting to meet her roommate's family and see the connection the two of them had already made. We hauled her things in, hugged her tight, and left her to sort through and make the space her own. I was surprised we managed to get out of there without crying, I really was at peace with it.
Just an hour or so later, we arrived at our creek-side condo. This was the view from our front door.
A quaint bridge welcomed us across the water, the rushing water like congratulatory applause. A few steps down the path from the condos, was a sweet spot where we spread a blanket for a picnic on Friday after our visit to a local winery. Collecting choice tidbits of cheese, elk sausage, crisp apple slices, and a Petite Sirah, we loaded our basket for an afternoon of cloud watching and reminiscing. Dreamy solitude.
We had dinner at The View restaurant, this is a panorama from our table. Photos just don't do it justice. The food was good and the music was outstanding—Scott Von, one man, one guitar, made a memorable evening.
In the town of Estes Park is the famous The Stanley Hotel, of which I have no photos to share. However I did find the Historic Park Theatre noteworthy—built in 1913, it is the oldest operating movie theater in the United States, celebrating 100 years. After a lengthy conversation with a local shop owner, we also learned the theater is believed to be home to many friendly resident ghosts/spirits including Ralph Gwynn and Ola Stanger (former owners). Paranormal intrigue is part of the local flavor in Estes.
The margarita is testament to servers who tell the truth. The Rock Inn Mountain Tavern really does make a great margarita and their trout with dill butter and lemon was as tasty as promised.
We are often wooed to trek in places without man-made structures or the noise of the streets. Estes offers this kind of getaway in abundance. Our morning hike on The Twin Owls trail along Lumpy Ridge provided the serenity and quite we long for–there's something communal about walking shoulder to shoulder, on trails and in life. Conversation is not required, simply being on the same path, going in the same direction, content.
Rock formations jut out of the ground in the midst of open fields.
In Estes there are mountains on every side, layering majestic beauty as far as the eye can see.
Rocks, boulders really, perfectly balanced, inspire awe.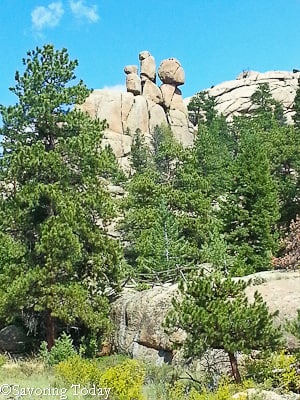 We would stop from time to time to catch our breath and take in the vista. At one point we heard low moaning sounds, like someone was hurt or gettin' busy behind a tree. It was the coo of this dusky grouse, which stood perched on a rock only a few feet off the trail. Unconcerned about the humans fumbling with their phones to get a photo, it decided to clean a few feathers before slowly joining the other two, also close-by. We decided it was probably easy prey as slow-moving and nonchalant as it was. (Sorry for the photo quality, we couldn't convince it to pose in better light.)
The mountains are pristine and majestic, mixed with rugged beauty. Yellows, purples, and reds dot the slopes and crevices. Wildflowers and berries break up the brown and green with random perfection.
This was my favorite photo, it is amazing how far phone cameras have come. I love the clouds of Colorado, layered on its indigo sky. If I'm not too busy running errands or looking at my phone, I'll notice it and stand amazed.
We're home now, refreshed and settling into a new normal. I've been working on a couple recipes I cannot wait to share with you–Smoked Chicken Stuffed Pablanos and Italian Stuffed Zucchini. I just love it when the recipe in my head translates to the plate and both of these dishes rocked! Thanks for all your well wishes on my last post, I hope you enjoyed these photos from our Estes Escape.