I can tell you from personal experience it is difficult to savor anything when dealing with discomfort or pain in my stomach. My first introduction to the importance of intestinal health was when I read The Maker's Diet by Jordan Rubin years ago. His book made a lasting impression on us and how we maintain overall health, especially our digestive health.
Because we are keenly aware of the benefits of a healthy digestive system, it didn't take long for us to figure out the cause of our daughter's headaches, fatigue, and feeling "over full" even after eating only a small amount, was potentially stemming from gluten intolerance. She quickly learned that her digestion (gut health) made a significant difference in how she felt.
She is not alone. And if you have ever wondered if your health concerns might be linked to your own digestive health, neither are you.
Lydia Shatney, a Nutritional Therapist Practitioner, has developed an on-line course to help Heal Your Gut. Her personal journey and straightforward approach make it easy to ask questions and find answers to sometimes sensitive topics. Because I can wholeheartedly support and promote her classes, I am pleased to introduce you to Lydia, posting as our guest today.
[We only promote products and services we can fully support and believe in. In full disclosure, please know I am an affiliate of Divine Health and compensated if you purchase.]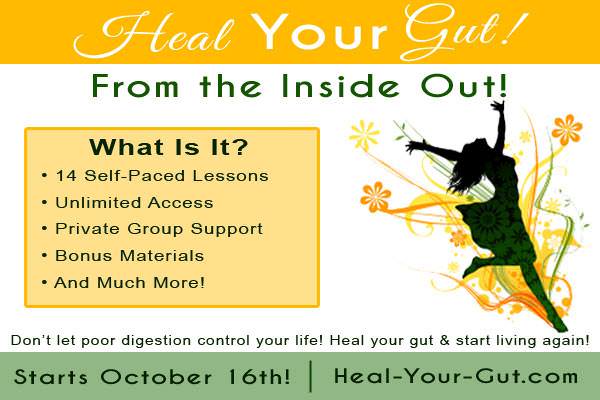 My name is Lydia Shatney, and I am a Nutritional Therapy Practitioner offering my online course; 'Heal Your Gut' for anyone in need of support to work through plaguing health problems. Having worked through many of my own health and digestive issues, I can really understand the importance of support for those that need direction and guidance. Finding the answers can be so tedious and time consuming, it's so much better when you've got someone trained to help right by your side. That's my goal in this course, to walk you step-by-step through ways to support yourself and find your way to a happier, healthier you!
Do you experience any of these digestive complaints/symptoms on a regular basis?
Belching or gas within one hour of eating
Heartburn or acid reflux
Bloating within one hour of eating
Bad breath
A sense of excess fullness after meals
Sleep after meals
Stomach pains of cramps
Chronic diarrhea
Undigested food in stool
Sweat with a strong odor
Nausea
Light or clay colored stools
Food allergies
Alternating constipation and diarrhea
Pain between your shoulder blades
A history of morning sickness
Pain under right side of rib cage
Hemorrhoids or varicose veins
A pulse that speeds up after eating
Crohn's disease
Itchy anus
Less than one bowel movement per day, or constipation
Blood or mucus in your stool
Excessive foul smelling lower bowel gas
Cramping in the lower abdominal region
If you answered yes to any of the above, this online course could really benefit you and help you to resolve your health maladies. Many symptoms of gut dysbiosis don't even resemble digestive complaints. Not to mention, having optimally functioning digestion is the KEY to overall health and resolving major health issues not seemingly related to digestion, along with autoimmune diseases.
START YOUR DIGESTIVE HEALTH JOURNEY WITH LYDIA TODAY!
5 Topics 'Heal Your Gut' Will Cover
H

e

a

l

t

h

y

E

l

imination (Bowe

l

M

o

v

e

m

ent

s

)

—

Maybe you've heard the phrase "Death begins in the colon". It's critical to have healthy bowel movements daily to keep wastes from wreaking havoc on your overall health. It is really, really important not to go more than 24-36 hours without having a bowel movement. Did you know that constipation affects up to 28% of Americans? (I suspect that percentage is actually much higher). Learn how to get your bowels working optimally on a daily basis, and watch your entire health improve as well. (Read: 'Are You Constipated? Tips To Keep Things Moving')
Food Sensitivities, Intolerances & Allergies—'It is estimated that 10 to 20 percent of us have food sensitivities. Food sensitivity reactions, also called delayed hypersensitivity reactions and in the past called "serum sickness", occur when IgA, IgG and IgM antibodies are triggered in response to foods, chemicals, and bacterial toxins. The most common antibody reactions are IgG to mold and foods; exposure to molds and foods is quite high compared to pollens. These IgA, IgM and IgG responses are called "delayed" sensitivity reactions because the symptoms they cause can take from several hours to several days to appear, which makes it very difficult to track down the offending food or substance.' Learn why food sensitivities often occur, how to test for them and how to eliminate problematic foods. Most everyone alive today has several food sensitivities they are not aware of that could be hampering their health.
Fermented Cultured Foods & Probiotics—Fermented foods can aid with digestion at every step of the way! Fermentation offers immense health benefits, such as; Probiotics, Enzymes, Beneficial Strains of Yeasts, Easily assimilated & enhanced nutrients – such as vitamins and minerals, Beneficial acids, Predigest/Break down the foods for easier assimilation as well as neutralize the harmful aspects of the given food and they also help with preserving the harvest – fresh food year round. The bioavailability of nutrients in our food is improved by the fermentation process. Bioavailability is how available nutrients are for our bodies to absorb. Fermented foods allow for nutrients to be more easily absorbed as they essentially predigest the food for us. I'll teach you the basics on how to get started with proper anaerobic fermentation. Finding the right probiotic supplement can be tricky – I'll teach you why you may need to supplement, what supplements are best and how to implement probiotics. (Read: Probiotics 101 for a small sampling of some of the material that will be covered in this course).
Holistic Treatment Options For Candida—Did you know that 1/3 of the world's population is affected by candidiasis? Candida is a fungal infection, and is a type of fungi that belongs to the yeast family which is why it is commonly called a yeast infection. Candida is found in most everyone and in small amounts should still allow a person to be in good health. It is a yeast found in our guts and in the vagina as well. Normally, it is controlled by good microbes and causes no complications. It's when one goes through antibiotics or is on the birth control pill that candida can grow and get out of hand if not treated properly. Take this Candida Questionnaire if you feel candida is an issue you need to tackle. In this course, I'll cover a safe approach to treating candida with food and supplements.
How To Heal Leaky Gut—What Supplements To Use.
Anything that can overstimulate the pores in the lining of the gut and keep them open too long is said to cause leaky gut. Things like; food allergies, alcoholism, Celiac Disease, certain drugs, Giardia and other parasites, Intensive illnesses, Malnutrition, Pancreatitis and many more. Learn all the why's and how's of why you may have a leaky gut, as well as how to heal it.
You will learn more about all of these 5 topics and MUCH MORE in this amazingly insightful course (see the course outline here). Plus, have access to a private Facebook group for further support from both myself and others on the same journey to health. Not on Facebook, that's okay – you can ask your questions on the site after any lesson and I'll answer them.
Heal Your Gut on-line course starts October 16th, offering one lesson per week for 10 weeks. Sign-up and save $10 if paid in-full for $167 or make 3 payments of $59 each over 3 months.
Don't wait 'til January to make resolutions about your health, take a positive step toward health today.
[We only promote products and services we can fully support and believe in. In full disclosure, please know I am an affiliate of Divine Health and compensated if you purchase.]
Lydia Joy Shatney is a certified Nutritional Therapist Practitioner through the Nutritional Therapy Association. Additionally, she is the chapter leader for the Weston A. Price Foundation in Delaware County, Pa. (Find the group here on Facebook). Lydia is also a member of the Nourished Living Network. Lydia founded Divine Health From The Inside Out in March of 2010. You can find Lydia on Facebook, Twitter & Pinterest. Sign up for the Divine Health From The Inside Out newsletter! Pick up a copy of Lydia's eBook, Divine Dinners: Gluten-Free, Nourishing, Family-Friendly Meals
Lydia offers specialized step by step counseling to transform your health. Personalized consultations to suit your specific needs are offered via phone or in person. Lydia offers a variety of packages offered to suit your individual needs. Lydia also offers 3 online courses: Heal Your Gut, Get Healthy To Lose Weight and A Calm Mind. Contact Lydia today to get started as well as to learn more about what she has to offer you!