Are you prepared to do your best grilling this summer?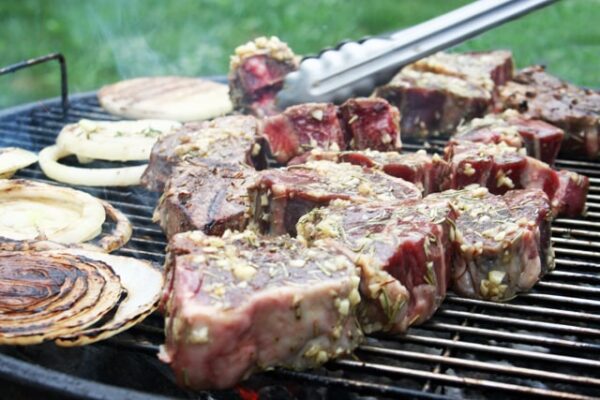 As much as I love sharing recipes with you on Savoring Today, there is nothing like seeing someone's response to a recipe, first hand. Or the look of inspiration when they realize, "I can do this!" So I'm launching new cooking and grilling classes in Colorado Springs this summer to share some of my best recipes and cooking techniques. I've added a new Events tab in the navigation bar to show a current list of available classes.
The Fired~Up Grilling Class demonstration is first up, just before Father's Day, highlighting the Grilled Steak with Herb Butter recipe from the Adventure chapter of my cookbook. I'm partnering with Ranch Foods Direct, a business with a passion for small farms and sourcing food locally. We have been enjoying their Callicrate beef and pork (raised without antibiotics or growth hormones) for years, so it's easy to showcase and recommend their products through these classes. You can read more about their ranch and Peak to Plains distribution center at RanchFoodsDirect.com.
Below is the press release and this weekend (June 11) I'll be a guest on KVOR Table Talk with Teresa Farney from The Gazette to promote the upcoming class. We already have 8 of the 12 spaces filled!
UPDATE: Here's the link for the radio interview: Judy Purcell KVOR Talbe Talk Interview Podcast  Warning: there is a LOUD commercial at the beginning, so turn your volume down before clicking the link as it will play right away.
Oh, and if you are interested in joining my Cooking Class email list: Cooking with Judy, you'll be the first to know when new classes are available. Eventually, we'll develop a video series, but for now, in-home and business hosted demonstrations will be the focus.
I'm pretty stoked about this new venture, seeing people face to face … and breaking bread together. For Colorado Springs locals, I hope you'll join me!
Here's some of our past grilling favorites:
Grilled Beets with Asparagus and Fried Goat Cheese
Grilled Vegetable Medley
Hoisin-Sesame Asparagus
Blue Cheese Burgers and Grilled Corn on the Cob
Skirt Steak Tacos
Easy Korean BBQ Skirt Steak
Grilled Thai Chili Sesame Shrimp
Roasted Green Chile Burgers
NEWS RELEASE
For Immediate Release June 9, 2016
Media Relations Specialist contact: Donna Lorrig 719-337-4343 [email protected]
Fired-Up Grilling Class with Local Author Judy Purcell at Ranch Foods Direct

Just in time for Father's Day, popular local food blogger, Judy Purcell, is teaching a grilling class at Ranch Foods Direct on Saturday, June 18, 2016, 11am-12:30pm. Cost is $35 per participant.
"This will be perfect for anyone wanting to hone their current grilling skills or begin grilling for the first time with confidence," says Purcell. "Because nothing adds to the joy of cooking in Colorado quite like being able to experience the outdoors while successfully getting the job done."
~MORE~
She goes on to say, "Grilling is a unique and sometimes unpredictable cooking method because you're cooking with open flame. Learning to harness the nuances of charcoal or gas grills is key to having a better grilling experience and better tasting food." Purcell will be covering those aspects of grilling in her class with the desire for imparting confidence to participants about serving delicious meals from their grill.
Inspiration for this class originated from the frustration of friends and readers over the years. "The most common grilling concern I hear about is the uncertainty of how to tell if something is done. After all the effort is put into buying quality meat and proper marinating, sometimes they are still disappointed with dry or under-cooked food," she says. "Or the friend who confesses they don't really want to grill, but their spouse burns everything." With a chuckle, Purcell suggests giving the class as a gift could help them both.
Sharing her heart and the practical knowledge of serving healthy, delicious meals gained through her more than 25 years of practical experience is Purcell's motivation. She is an author and recipe developer at Savoring Today, a food blog dedicated to making dinnertime relational as well as nourishing. Her first cookbook Serve and Savor was released this past December and signed copies will be available for purchase at the cooking class for an additional cost of $22 (special class price).
"People I know personally avoid whole food cooking because it seems intimidating," says Purcell. "And they are afraid their results won't be worth the effort. But I'm here to encourage them to avoid processed food and find joy in cooking through better nutrition with whole foods."
Class size is limited. Registration for the Grilling Class is available online at: https://savoringtoday.com/events/fired-up-grilling-class/ Serve and Savor cookbook is also available online via https://savoringtoday.com/cookbooks/ or Amazon.com at: http://amzn.to/1rhUPNS. 
Online resources for Savoring Today include:
Read  | savoringtoday.com
Tweet | twitter.com/SavoringToday
Like    | facebook.com/SavoringToday
Pin     | pinterest.com/savoringtoday
Follow | instagram.com/savoringtoday/
Calendar
Who:            Local Author and Food Blogger, Judy Purcell
What:           Fired Up Grilling Class – Experience the simplicity and joy of grilling with Judy Purcell. Get fired-up over Ranch Foods Direct premium rib eye steak and Colorado Red Bird chicken, grilled with homemade Smoked Chile Steak Rub and Buttermilk-Herb Marinade (with plenty of generous samples). Topics include: Choosing the right cut of meat, tips for juicy chicken, marinades and rubs, peak season vegetables and finishing secrets to make you look like a pro.  Are you prepared to do your best grilling this summer? It's time to get your grill on!
Where:         Ranch Foods Direct, 1228 East Fillmore; C/S, CO 80907
When:          Saturday, June 18, 2016 from 11am-12:30pm