October 2nd I had the pleasure of tagging along on a business trip with my husband to Washington D.C. The plan was pretty simple, enjoy 5 days in a luxury hotel, visit museums, and dine at as many fine restaurants as possible. I had only two sites on my list, the American History Museum and Mount Vernon, which seemed easy enough to work around the business part of the trip.
Except October 1 the government shutdown, leaving me more than a little annoyed.
You see, years ago while on a family vacation to D.C., the American History Museum was at the top of my list, but was closed for renovation. There were plenty of other sites to fill the brief time we had, but it felt like we missed something important. So it went to the top of my list if I were to ever return.
I knew when we set out on this trip AHM would be closed because of the shutdown, but Mount Vernon, which is privately funded, was still a possibility if we could work it in around other commitments. Mount Vernon requires a little more planning since it is outside of the city, not something to sandwich in between other events.
Unfortunately, that didn't happen either. Disappointing? Actually, not as much as you might think. I decided to roll with it, let it be, savor what I had, ask a different question, shift to Plan B.
What do you do in Washington D.C. during a government shutdown?
You eat.
It's a city any foodie would love to sample for five days. Really, you could eat for weeks without exhausting its diverse food scene. I ate so much I thought I'd stepped onto a cruise ship. Traffic was pretty light and we could get in most restaurants with a same-day reservation, which is unusual. Ultimately, instead of museum artifacts, it was the people we met who made the trip so memorable.
In the heart of Georgetown, our room at The Capella was modern and sleek with an emphasis on technology and personal service. A note placed beside a tray of macaroons welcomed us to our room; the Illy coffee maker offered assurance that our morning coffee was already handled. Did you notice the shower? It was like standing in a warm summer rain. Although the technology incorporated into the lighting and drapery system was impressive, sometimes you just want to flip a switch rather than choose between all-on, mood, or reading. I admit it was nice to press a button from the bed to open/close the drapes—I could get used to that. Above all, service was impeccable; the staff engaging and attentive. Esther's genuine smile and personal assistance made us feel as though we were their only guest.
It is dusk. The warm glow in neighboring windows illuminates the path along the canal. Autumn air is near perfect in D.C., an open invitation to al fresco dining. Our first evening Matt had a business dinner, so I dined alone at The Grill Room in our hotel. An outside table along the C & O Canal towpath with countless passers-by eased the boredom of eating alone. Conversations hung in the air with the clatter of dishes and wine poured into deep glasses.
I text a few lines with the kids just about the time Tom stops by the table to take my order. Tom was a true professional, attentive, enthusiastic about the menu, and never forgot my name. He was right about the Autumn salad with hazelnuts, warm beets, and local goat cheese cream; it was superb. I whet my appetite for the dry-aged, bone-in beef tenderloin and sautéed chanterelles with sourdough and roasted bone marrow. Ordinarily, it's best to avoid the temptation of filling up on bread, but the crusty sourdough crackled in my hands begging to be anointed with marrow. I savored every bite.
Angel, the bartender at The Rye Bar, demonstrated his ice ball maker as we relaxed before dinner. It compressed the ice into a 2 inch sphere, which melts slowly giving your drink a nice chill without diluting it. Cool, eh? (Surely you know by now that I'm easily amused.)
We spent an afternoon browsing and chatting with shop owners like Frank, at Frank Milwee Antiques. As we traded stories about the serendipitous moments of life, Frank suggested we visit the National Cathedral along with commentary on its earthquake restoration.
Speaking of serendipity, just as we stepped into the main hall of the National Cathedral a wedding was about to begin. We were encouraged to sit down as the bride was just about to walk down the aisle. I can only imagine the butterflies and goose bumps of hearing the great pipe organ at National Cathedral play Ode to Joy as a bride. This is a moment to drink in every glorious note.
Why include a photo of a cup of coffee at Cafe Bonaparte? Because even with an upscale coffee maker in our room and Baked & Wired just around the corner, it was the best cup of coffee we had in five days, hands down. A vegetable omelet encased in a delicate crepe and covered in ethereal hollandaise sauce gave us plenty to swoon over, but that cup of bold French press was pure bliss.
It is difficult to remain dignified when served the 48 oz. Dry-Aged Porterhouse for Two at Smith & Wollensky. Consider yourself a friend, as I would only share such primal indulgence with friends and I would never waste the bone of a porterhouse by trimming it with a fork and knife. More than the steak, the highlight of the evening was our server, Sasha. The restaurant was somewhat quiet so we had time to hear her story of becoming a citizen and shared a toast of wine. Sasha made it clear her choice of dessert would involve chocolate, so it is on my list of projects to create a chocolate cake to honor her inspiring smile and tenacity.
Across the street from The Capital Grille was The Newseum, a private museum highlighting the history and impact of journalism and news. More than 80 newspaper's front pages are displayed every day and we worked up quite an appetite walking its seven levels of galleries and exhibits. As you can see, The Capital Grille knows how to Lobster Bisque should be done.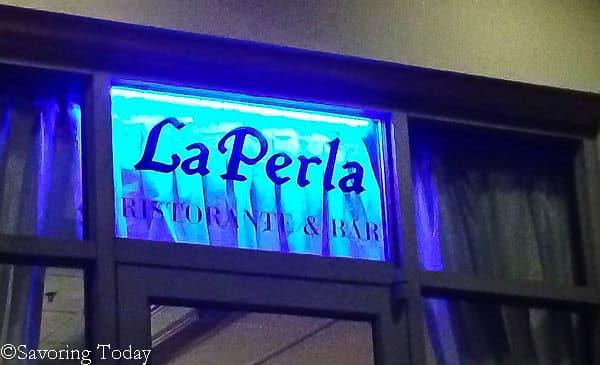 Do not ask if they have any specials, because everything is special. Let me introduce you to Chef Vittorio Testa, a man passionate about his Ristorante La Perla. Every morsel of the meal communicated Chef Testa's passion and artistry. He visited our table twice during our meal to check that everything was to our liking. What you see in the photo is his genuine excitement that I have asked for his marinara recipe. How could I be so bold? We each had an exquisite main dish yet were enthralled with a simple side—Zucchini Parmesan—cradled in the best marinara I had ever tasted.
As we were leaving and extending our compliments I had to ask about the marinara. He didn't hesitate for a second to grab his business card and invite me to call him, warning me to be ready to spend some time on the phone with him while he led me through it. His thick accent peeled off his tongue so fast it was hard enough to understand in person, honestly, I don't know if I would be able to make out a single word over a phone call.
What a testament to the love of sharing good food, what a gracious offer. Every time I think about that marinara I get closer to picking up the phone.
Can you believe we're not done with food yet?
Our evening dedicated to seeing family over dinner at 1789 was so filled with talk of kids and life we didn't even get a photo of us together (which is rare), much less pics of our dinner. I do remember ordering rockfish and stealing one of Matt's scallops, otherwise, conversation and laughter is what we savored most.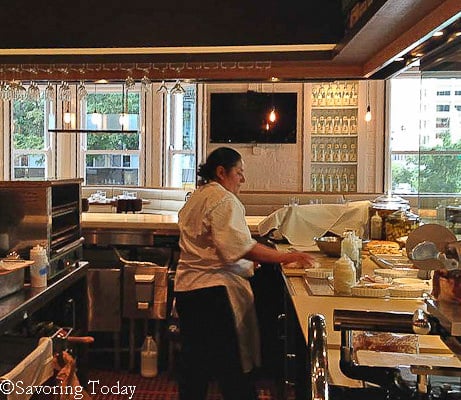 Our last stop before catching our flight home was Sunday Brunch at Boqueria with blogging buddy, Jed Gray of Sports-Glutton and his lovely wife, Liz. It never crossed my mind to snap a photo of us—you'll just have to trust me when I tell you we kept the lady in this photo busy sending tapas to our table for almost 2 hours. It was such a treat to meet them and share face to face time with part of my on-line community.
Turns out, Plan B was pretty great. Good food, good people, what could be better than that?!