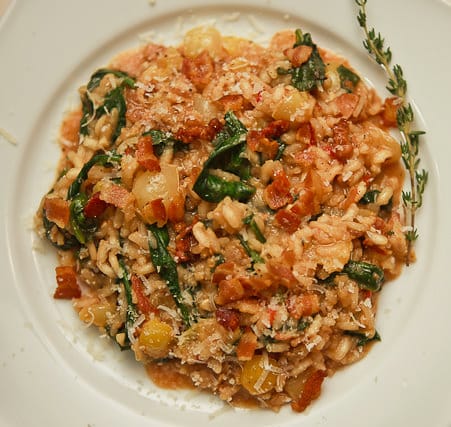 Side dish or main dish, Emeril's "BLT" Risotto from Sizzling Skillets and Other One-Pot Wonders satisfies.  Imagine all the flavors of this lunchtime classic in a hearty, creamy risotto.  Fresh baby spinach is the stand-in for the traditional lettuce you would find in a BLT, and it is marvelous.  Smoky bacon, aromatic herbs and vegetables, fresh tomatoes and Arborio rice harmonize beautifully in this toothsome dish.
The versatility of this recipe is especially appealing, served as a side or main dish.  As a side dish, risotto is ideal alongside poached fish, oven roasted chicken, or a vegetable stir-fry.  Select thick-cut smoked bacon and allow for some larger, meaty pieces and you have just kicked dinner up another notch!
It has been a delicious adventure being part of Emeril's One-Pot Blogger Party the last two weeks cooking my way through Sizzling Skillets, which releases tomorrow.  I hope you've received a well-rounded inside look with Cajun Shrimp Stew, Spicy Vegetable Coconut Curry, Turkey Club Casserole, Wok-Seared Duck Salad, Rigatoni with A Beefy Mushroom Gorgonzola Sauce, and now "BTL" Risotto.  You're going to love having this cookbook in your collection.
Stay tuned … we'll finish out the week with Tuscan White Bean Soup (full recipe) and Butternut Squash Lasagna with Italian Sausage and Sage.
AND one more giveaway!