Since the Veal Scaloppine Bolognese from Lidia Cooks from the Heart of Italy was so good last week, why not try another recipe from her cookbook this week. Green Beans Genova-Style sounds like an ideal side dish for grilled meats with its savory accents of anchovy, garlic, and lemon.  Some folks avoid anchovies because of a bad pizza experience they had once, but these flavor-enhancing gems are worth another try.  Anchovies are used in a variety of stews, sauces, dressings, and side dishes to enhance the meaty or savory flavor of a dish. For some cooks, they are the secret ingredient in their most distinct dishes.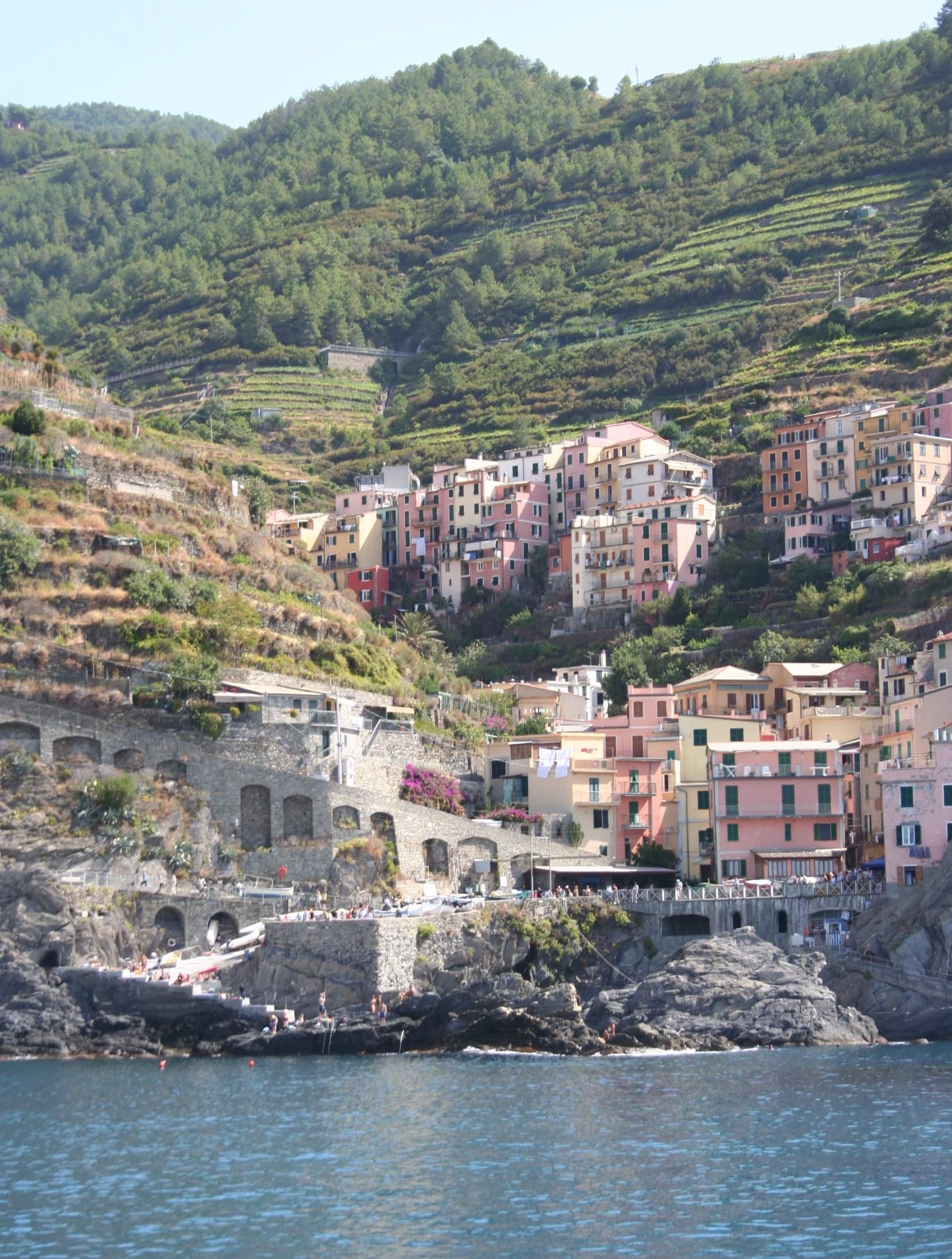 Genova is in the Liguria region of Italy, famous for their beloved pesto and focaccia bread.  I can still remember the warm focaccia bread, crisp with olive oil that we had for a snack during our tour of Cinque Terre.  Pesto never tasted so good as when we enjoyed it in their seaside villages.  From the same Italian region that brought us pesto and focaccia, we will trust they may know a thing or two about enhancing this staple of summer vegetables.
I hope you join me in this delicious adventure!
In the next week or so:
1.  Make the recipe (posted below)
2.  Leave a comment describing your experience, opinion, adjustments, or suggestions.  ♥ If you do focus on altering it to economize, choose healthier ingredients or techniques, make it gluten-free/allergy sensitive, embellish for entertaining, or incorporate into batch/once-a-month cooking, please mention that too.
3.  Subscribe to comments so you can see what others have done.
4.  If you are feeling especially proud of your creation, snap a photo and send it to me at [email protected] so it can be included in this post or include a link to your site with your comment.
Green Beans Genova-Style
Source: Lidia Cooks from the Heart of Italy, p 108 — 2009 by Tutti a Tavola, LLC
Serves 6
1 1/2   pounds  green beans — fresh
2          tablespoons  extra virgin olive oil
2          tablespoons  butter
2          cloves  garlic — sliced
1/4      whole  lemon — sliced in thin 1/4″ moon slices
6          small  anchovy fillets — minced (about 1 tablespoon)
1/2      teaspoon  kosher salt
Bring a large pot of salted water to a boil, and prepare a large bowl with ice and water to chill the beans after you cook them.  Trim both ends of the beans and remove the strings, if needed. Toss all the beans into the boiling water, and cook until tender but not mushy, about 7 minutes. Lift the beans from the cooking water, and drop them into the ice bath to set their color.
When cool, drain the beans, and dry them on towels. One by one, split the beans open along the seam with a paring knife, and separate each into two long halves, with the small seeds exposed. Open all the beans this way.
Pour the olive oil into the pan, drop in the butter, and set over med-high heat. When the butter is melted, scatter in the garlic slices and get them sizzling, scatter the lemon slices, and drop in the chopped anchovies. Cook and stir for a couple of minutes, until the anchovies melt into the oil then toss all the split beans into the pan.
Season with salt, and cook for 2-3 minutes, tossing the beans continuously in the flavorful oil, until they're thoroughly coated and hot. Serve immediately.
Shared on the following Blog Hops:
The Healthy Home Economist Monday Mania