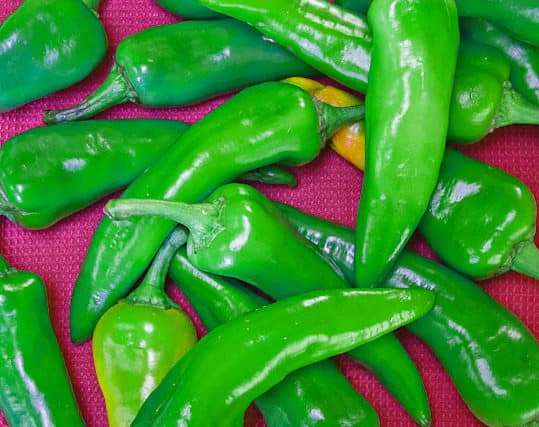 I like challenges, especially when it is a food challenge levied by my husband.  There is no one on the planet I want to please more with efforts I bring to the dinner table.  From time to time, he will mention a meal he had while traveling or point to a recipe in a cooking magazine, requesting I replicate it.
The magazines don't give me near the fit a fond dining experience does, though sometimes he provides a photo. Whether trying to match childhood memories of Grandma's Molasses Cookies or the swoon-worthy Wagyu filet at a steakhouse in Phoenix, trying to recreate a dish or flavor experienced by someone else had can be daunting.  I do appreciate his unwavering confidence.
This brings us to Green Chile Sauce.  A couple of years ago while Matt was working in New Mexico, the stories of amazing green chile sauce started rolling in. Served on just about anything that would hold still, New Mexico Green Chile Sauce is known for its superior status.  Time and again, it drew him back to a small cafe for breakfast, and then lunch, for the chance to savor the saporous sauce.
I know, I've heard it before how easy green chile sauce is to make, but if that is so, why do so many taste flat, or lack depth?  With fresh green chilies, a few recipes (links below), and Matt's savvy culinary memory to use as a guide, it's time to rise to the challenge—make the best green chile sauce on the planet outside New Mexico (or maybe anywhere).  Somehow, so long as he believes I can, I am willing to try.
Beef and Green Chile Chili at Fine Cooking
New Mexico Breakfast and Green Chile Sauce at I love New Mexico
Traditional Style New Mexico Green Chile Sauce at Food.com
Green Chile Sauce at Great-Salso.com
New Mexico Green Chile Sauce Recipe at MJ's Kitchen
Of course, your comments, suggestions, recipe hints are all welcome 🙂