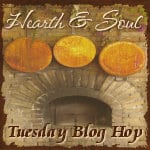 Welcome to the Hearth and Soul Tuesday Blog Hop for June 18, 2013—the food carnival for and about food that not only nourishes our bodies, but our souls!
It was an excruciating time waiting, watching, and praying this last week with the Black Forest Fire raging through the northern part of our city. This time we were far from harm's way, but several of our friends lost their homes among nearly 400 others. The most recent update is that the fire is 65% contained and we are grateful that more than 30,000 evacuees have returned home. While I am working on a more detailed post with information on how to help these devastated families, I wanted to express our deeply felt thanks to those who have checked in on us to make sure we were okay and all the well wishes for our friends. We are blessed to be part of the blogging community.
On a happier, celebratory note, Hearth & Soul Hop is celebrating its 3rd Anniversary this week! We so appreciate the bloggers who share links to make Hearth & Soul so great and we especially thank our faithful readers for visiting the recipes and articles each week. Three of our co-hosts are offering a giveaway during this special week, so instead of recipe highlights, here are the giveaway details:
There are three prizes to celebrate three years! Enter through the giveaway form below for one of two $50 Amazon gift cards or one $10.00 Amazon gift card. Entries will be accepted until June 24, 2013, 12:59 AM MST—good luck!
We would love to have you join us by browsing or adding a link of your own, just check out the guidelines here if you're new to the hop. 

Please be sure to:
♦  Link a post that closely fits into the mission.
♦  Link to your article only and not directly to your blog front page.
♦  Link back to one of the blog hosts within your original post by adding in the URL of this blog hop post which you can copy from your browser address bar. You could also choose to place a blog badge into your post.
Recipes should include healthy ingredients and can be old or new recipes or posts, please update old posts to include a link back to one of the co-hosts.  Articles on real food, slow food, foraging, herbal remedies, local food, sustainable food, organics, gardening or any healthy eating information written in a positive and loving light are also welcome.
You can find the Hearth and Soul Hosts sharing links to entries on the Hearth and Soul Hop Facebook Page, Pinterest Boards, and on Twitter at @HearthNSoulHop through out the week.