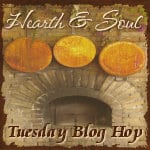 Welcome to the Hearth and Soul Hop for January 22, 2013—the food carnival for and about food that not only nourishes our bodies, but our souls!
Have you ever noticed when you're sick or tired, or sick and tired, it is comfort food you most desire? Well, I spent most of last week nursing a head cold, so it's no wonder my highlights from last week's collection are comforting. Chicken Fried Steak has got to be in the top 10 of all comfort food, at least for those of us raised in the Midwest. French Onion Soup may be more appealing to those on the coasts, but no less comforting. A hot cup of tea ministers to my soul when a head cold has me down—Orange Almond Tea Cake would make every sip that much better.
Chicken-Fried Steak by The Frugal Farm Wife
Divine French Onion Soup by Holistic Squid
Orange Almond Tea Cake by The Willing Cook
Please join us by sharing a link of your own or browse the many already shared.
Rules for linking:
If you are new to a blog carnival, or blog hop, following these easy steps:
1. Read the entire rules for linking, including the Mission Statement.
2. Scroll down to the bottom where you will see a small box that reads, Add Your Link here.
3. Click on that button and follow the instructions. (You will be asked to enter the URL of your recipe or article.)
Please be sure to:
♦ Link a post that closely fits into the mission.
♦ Link to your article only and not directly to your blog front page.
♦ Link back to one of the blog hosts within your original post by adding in the URL of this blog hop post which you can copy from your browser address bar. You could also choose to place a blog badge into your post.
Recipes should include healthy ingredients and can be old or new recipes or posts, please update old posts to include a link back to one of the co-hosts. Articles on real food, slow food, foraging, herbal remedies, local food, sustainable food, organics, gardening or any healthy eating information written in a positive and loving light are also welcome.
Note: The linky will stay open from 4:00 a.m. EST Tuesday (That will be 1:00 am PST or 8:00 am GMT) to 11:59 pm Thursday (Eastern time).
You can find the Hearth and Soul Hosts sharing links to entries on the Hearth and Soul Hop Facebook Page, Pinterest Boards, and on Twitter at @HearthNSoulHop through out the week.