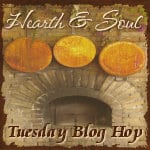 Welcome to the Hearth and Soul Hop for March 5, 2013—the food carnival for and about food that not only nourishes our bodies, but our souls!
Our highlights from last week captured my attention because of their simplicity—getting the most out of a few ingredients to create a memorable side dish or complete meal. Good food does not have to be complicated, these recipes are a great example of keeping it simple and delicious.
Chinese Style Broccoli and Cashew Rice Bowl by April, The 21st Century Housewife
Sauteed Kale w/ Caramelized Onions by Tessa, The Domestic Diva
Spaghetti Squash with Sausage by Simple Living and Eating
We would love to have you join us by browsing or adding a link of your own, just check out the guidelines here if you're new to the hop. 
Please be sure to:
♦  Link a post that closely fits into the mission.
♦  Link to your article only and not directly to your blog front page.
♦  Link back to one of the blog hosts within your original post by adding in the URL of this blog hop post which you can copy from your browser address bar. You could also choose to place a blog badge into your post.
Recipes should include healthy ingredients and can be old or new recipes or posts, please update old posts to include a link back to one of the co-hosts.  Articles on real food, slow food, foraging, herbal remedies, local food, sustainable food, organics, gardening or any healthy eating information written in a positive and loving light are also welcome.
You can find the Hearth and Soul Hosts sharing links to entries on the Hearth and Soul Hop Facebook Page, Pinterest Boards, and on Twitter at @HearthNSoulHop through out the week.
Note: The linky will stay open from 4:00 a.m. EST Tuesday (That will be 1:00 am PST or 8:00 am GMT) to 11:59 pm Thursday (Eastern time).