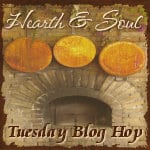 Welcome to the Hearth and Soul Hop for March 19, 2013—the food carnival for and about food that not only nourishes our bodies, but our souls!
Once again our highlights from last week could be prepared for the same meal—I love it when that happens! It's like you all get together and coordinate recipes, which is a great help when I'm looking for new menu ideas. 🙂 As beautiful as the weather was last week—soup, crackers, and roasted tomatoes sound perfect for the lower temps we are expecting this week. Do you choose food to fit your mood or the weather?
White Bean & Kale Stew w/Garlic by Passionate Perseverance
Butternut Rosemary Onion Crackers by Vegan Richa
Roasted Cherry Tomatoes by Gluten-Free SCD & Veggie (I would put these in the soup.) 🙂
We would love to have you join us by browsing or adding a link of your own, just check out the guidelines here if you're new to the hop.
Please be sure to:
♦ Link a post that closely fits into the mission.
♦ Link to your article only and not directly to your blog front page.
♦ Link back to one of the blog hosts within your original post by adding in the URL of this blog hop post which you can copy from your browser address bar. You could also choose to place a blog badge into your post.
Recipes should include healthy ingredients and can be old or new recipes or posts, please update old posts to include a link back to one of the co-hosts. Articles on real food, slow food, foraging, herbal remedies, local food, sustainable food, organics, gardening or any healthy eating information written in a positive and loving light are also welcome.
You can find the Hearth and Soul Hosts sharing links to entries on the Hearth and Soul Hop Facebook Page, Pinterest Boards, and on Twitter at @HearthNSoulHop through out the week.