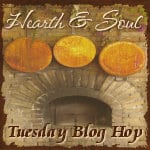 Welcome to the Hearth and Soul Tuesday Blog Hop for April 9, 2013—the food carnival for and about food that not only nourishes our bodies, but our souls!
As I perused the links posted last week, I realized some of them were things I have never attempted, which is the theme for our highlights. Deviled eggs? Believe it or not, I have never produced deviled eggs from my kitchen because my kids liked hard boiled eggs so much (go figure) any leftovers were promptly consumed. Homemade sausage has been on my must-try list for some time and aside from trying some pretty ridiculous potions from Teen Magazine when I was a kid, natural hair remedies have not been attempted. Spring is the ideal season to try new things and these posts inspire me to do just that.
Bacon Cheddar Deviled Eggs by Hun…What's for Dinner?
Homemade Mexican Chorizo Sausage by MJ's Kitchen
5 Natural Hair Recipes by Natural Mothers Network
We would love to have you join us by browsing or adding a link of your own, just check out the guidelines here if you're new to the hop. 
Please be sure to:
♦  Link a post that closely fits into the mission.
♦  Link to your article only and not directly to your blog front page.
♦  Link back to one of the blog hosts within your original post by adding in the URL of this blog hop post which you can copy from your browser address bar. You could also choose to place a blog badge into your post.
Recipes should include healthy ingredients and can be old or new recipes or posts, please update old posts to include a link back to one of the co-hosts.  Articles on real food, slow food, foraging, herbal remedies, local food, sustainable food, organics, gardening or any healthy eating information written in a positive and loving light are also welcome.
You can find the Hearth and Soul Hosts sharing links to entries on the Hearth and Soul Hop Facebook Page, Pinterest Boards, and on Twitter at @HearthNSoulHop through out the week.