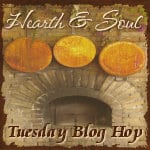 Welcome to the Hearth and Soul Tuesday Blog Hop for May 21, 2013—the food carnival for and about food that not only nourishes our bodies, but our souls!
Have you ever woke up and remembered something you were supposed to do two days ago? I did just this morning.
It was a blog post—this one!
We had been working on plans for the graduation for nearly three weeks when the shower faucet broke on Saturday (anybody love plumbing issues right before guests arrive?). We received out-of-town family on Sunday evening with dinner, welcomed our exchange student's parents from Germany on Monday evening with dinner, hosted breakfast for everyone before the 9:00 am graduation on Tuesday, and then hosted the graduation/farewell party for both girls that afternoon and evening. It all went off without a hitch, there was so much to celebrate.
Except I awoke this morning and realized Hearth & Soul Hop on Savoring Today didn't happen as planned. My husband calls it being O.B.E. ~ overcome by events.
Indeed.
So it's days late, but it's here! Sorry for the delay!
We would love to have you join us by browsing or adding a link of your own, just check out the guidelines here if you're new to the hop. 
Please be sure to:
♦  Link a post that closely fits into the mission.
♦  Link to your article only and not directly to your blog front page.
♦  Link back to one of the blog hosts within your original post by adding in the URL of this blog hop post which you can copy from your browser address bar. You could also choose to place a blog badge into your post.
Recipes should include healthy ingredients and can be old or new recipes or posts, please update old posts to include a link back to one of the co-hosts.  Articles on real food, slow food, foraging, herbal remedies, local food, sustainable food, organics, gardening or any healthy eating information written in a positive and loving light are also welcome.
You can find the Hearth and Soul Hosts sharing links to entries on the Hearth and Soul Hop Facebook Page, Pinterest Boards, and on Twitter at @HearthNSoulHop through out the week.