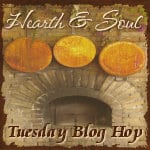 Welcome to the Hearth and Soul Tuesday Blog Hop for August 4, 2013—the food carnival for and about food that not only nourishes our bodies, but our souls!
August has always been the month to start thinking about school again. The anticipation of new challenges, supply lists, curriculum planning (homeschooling), and tighter schedules begin to supplant summer rather quickly. When this season arrives, I begin thinking about practical things that help life slip more easily into routine. Our highlights from last week are all about that—practical ideas to make life a little easier.
The Art of Eliminating Leftover Food by Taylor-Made Ranch Blog
Spring Cleaning in Summer by My Lamp is Full
Writing & Using a Meal Plan by Life at Cobble Hill Farms
We would love to have you join us by browsing or adding a link of your own, just check out the guidelines here if you're new to the hop.
Please be sure to:
♦ Link a post that closely fits into the mission.
♦ Link to your article only and not directly to your blog front page.
♦ Link back to one of the blog hosts within your original post by adding in the URL of this blog hop post which you can copy from your browser address bar. You could also choose to place a blog badge into your post.
Recipes should include healthy ingredients and can be old or new recipes or posts, please update old posts to include a link back to one of the co-hosts. Articles on real food, slow food, foraging, herbal remedies, local food, sustainable food, organics, gardening or any healthy eating information written in a positive and loving light are also welcome.
You can find the Hearth and Soul Hosts sharing links to entries on the Hearth and Soul Hop Facebook Page, Pinterest Boards, and on Twitter at @HearthNSoulHop through out the week.