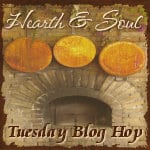 Welcome to the Hearth and Soul Tuesday Blog Hop for July 30, 2013—the food carnival for and about food that not only nourishes our bodies, but our souls!
As I typed the date for this week's Hop, it made me take pause.
July is coming to a close, have I savored summer enough?
warm sun on my skin
ruby red tomatoes
giant handfuls of basil
sandal-sporting polish on my toes
morning coffee on the deck
simple food with good friends
garden soil under bare feet
farmers market strolling
ballgame hotdog eating
hummingbird watching
gathered up flowers
mojito sipping
sliced watermelon
grilled corn with lots of butter
How do you savor summer?
Our highlights from last week are perfect for summer cooking and we seemed to have a shrimp theme going on.
Garlic Scape Scampi by On The Home Front
Prawns Avocado Appetizer by Simple Living and Eating
Moroccan Shrimp and Couscous by The 21st Century Housewife
We would love to have you join us by browsing or adding a link of your own, just check out the guidelines here if you're new to the hop.
Please be sure to:
♦ Link a post that closely fits into the mission.
♦ Link to your article only and not directly to your blog front page.
♦ Link back to one of the blog hosts within your original post by adding in the URL of this blog hop post which you can copy from your browser address bar. You could also choose to place a blog badge into your post.
Recipes should include healthy ingredients and can be old or new recipes or posts, please update old posts to include a link back to one of the co-hosts. Articles on real food, slow food, foraging, herbal remedies, local food, sustainable food, organics, gardening or any healthy eating information written in a positive and loving light are also welcome.
You can find the Hearth and Soul Hosts sharing links to entries on the Hearth and Soul Hop Facebook Page, Pinterest Boards, and on Twitter at @HearthNSoulHop through out the week.