In my kitchen …
is the window to our backyard world. That world looks like a snow globe today with temperatures barely climbing out of single digits. The kitchen darkens as the skylights cover with snow.
In my kitchen …
is more than 6 dozen Gluten-Free Ginger Cookies for a cookie exchange that had to be postponed due to the scenery in the window. No worries though, they will go into the freezer until it's time to head to the party. As much as I love Russian Tea Cakes
and decorated Sugar Cookies, there is just something about a well spiced, molasses-kissed cookie that makes Christmas right. I am quite happy to find a gluten-free version to add to our holiday
line-up
.
In my kitchen …
Is a Christmas cactus given to me by a dear friend 6 years ago during a difficult time of trauma recovery—each year its blooms remind me of the gift of life. Delicate beauty from a rugged, unassuming host. It reminds me to savor.
In my kitchen …
is a trove of coffee brought home by our daughter over Thanksgiving break. Right after she came in the door she walked upstairs with this load of goodies gathered in her blanket like a Santa sack. She is diligent to collect her weekly allotment from work for us and we are happy to receive it.
In my kitchen …
is a box of mini crab cakes they were sampling at Costco. I had my doubts, but they were surprisingly good. The ingredient list wasn't stellar, as these types of things seem to always have soybean or canola oil, but I decided this one non-homemade item on my holiday party table would be okay. All there is to do now is to whip up a sumptuous sauce for dipping.
In my kitchen …
is the first bunch of Clementines of the season. Ah, citrus is back, can I get an Amen?! It won't be long before Meyer lemons show up too. I have a gluten-free lemon pound cake to perfect as soon as they arrive. 🙂
In my kitchen …
is the last remnants of a loaf of sprouted wheat ciabatta I made from a recipe Mandy made from the No-Knead Crusty Artisan Bread recipe Georgia posted. I had just received a bag of sprouted Einkorn flour (an ancient wheat variety, sometimes referred to as 'the original wheat') and this was the perfect way to get started. I adore ciabatta, a.k.a. crusty artisan bread, with its large crumb and slight sour taste due to letting it rise almost 24 hours. Bread making can be tricky with sprouted wheat, but this recipe was as easy and the results superb. I wish I had a better photo, but on this particular day I was busy baking and only grabbed a quick shot with my phone.
In my kitchen …
is a bag of Andes peppermint crunch baking chips. All I can really say is I had a weak moment in the baking aisle. Haven't yet decided what Christmas treat to use them in … any suggestions???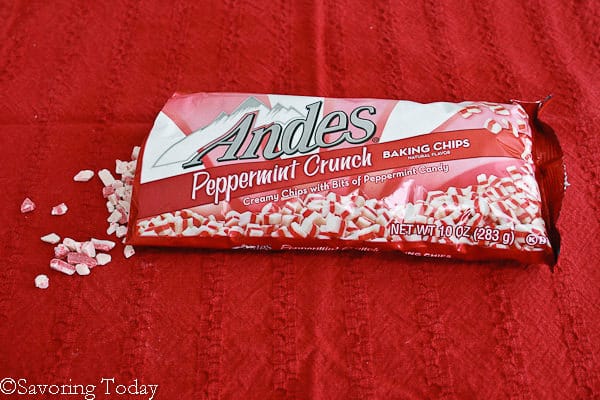 In my kitchen …
is my faithful friend, Silas. This dog can win any staring contest, especially when I'm in the kitchen. He patiently watches my every move and carefully listens for any hint of his reward for cleaning the floors when I leave my station.
What's happening in your kitchen this month?
If you'd like to do an In My Kitchen post on your own blog, please link back to Fig Jam and Lime Cordial and let her know when your post is up, so it can be added to the monthly listing.