In my kitchen …
is the window over my sink, telling the story of each season. As the snow began to melt from the roof, the icicles crept into view, glistening as the evening sun casts long shadows over the yard. You can see the cobalt blue bird bath we placed beneath the birdhouses. It's doing its job today, adding color to the white and brown of winter.
In my kitchen …
is the evidence of procrastination. This acorn squash was once deep jade green but has lounged on the counter so long it is pumpkin-like. Have you eaten one this far past its prime?
In my kitchen …
is three new books—a cookbook by an spunky and opinionated cook I am thoroughly enjoying, a book about the role of food in a couple's journey surviving a health crisis, and a camera instruction manual (which I keep close at hand these days). My old camera up and died on me. Done. Wouldn't even turn on. The circuit board was toast. Of course, like most things, timing was less than optimal. But as it turned out, I now have a new camera that I'm learning to use properly. So, it was a blessing in disguise, and the climb up the learning curve has begun.
In my kitchen …
is an Italian platter I found at the Antique Mall just a few blocks from our house (a dangerous place for me). It was a real find for only $12 so it was quickly added to my collection.
In my kitchen …
is a set of kitchen towels I found at the same place. I am a big fan of red and cream or red and white, so this was an easy decision. They are only allowed in the kitchen as props, not for dishes or hands.
In my kitchen …
is a half-gallon Ball jar filled with pistachios. Well, it was full of pistachios. For some reason, I've been on a pistachio kick lately, and they're going pretty fast. It's a good thing I can get them at Costco, or this new habit might break the bank.
In my kitchen …
is a pitcher I adore. I don't imagine ever using it for anything other than collecting dust. It is beautiful, and that is enough.
In my kitchen …
is the last bowl of Salmon-Dill Chowder made a couple days ago, which became one of the first photos with the new camera.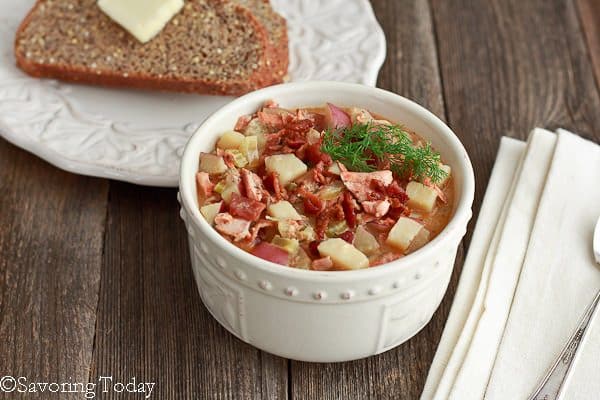 In my kitchen …
one morning as my coffee brewed, I was scrolling through Facebook and this is the face I see just over the top of my phone. So I put the phone down and tell him he's right, I should be paying attention to him instead. I knelt down, so we're face to face, stroking his fur and patting his shoulder, telling him what a great dog he is. "Protector, loyal friend, smart," I whispered in soft tone as we waited for the coffee together. His expression, ever gentle and caring. Then comes the gnarly belch, right in my face. Yep, Silas is always keeping it real.
If you'd like to share an In My Kitchen post on your own blog, please link back to Fig Jam and Lime Cordial and let Celia know when your post is up, so it can be added to the monthly listing.