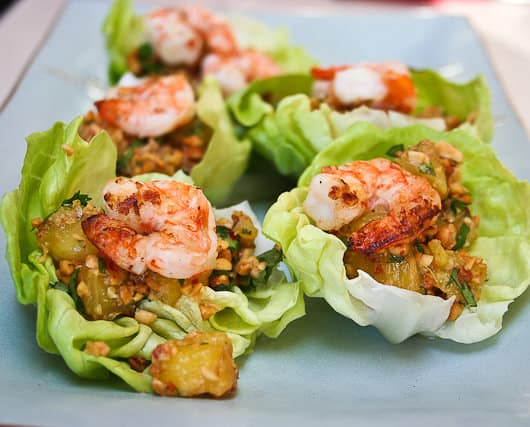 I saw Spicy Thai-Style Pineapple Wraps demonstrated on Emeril Live, highlighting a cookbook by Food Network Kitchens, Get Grilling.  This recipe looks perfect for summer grilling and the spice easy to adjust based on preference.  Although it was presented as an appetizer for a grilling menu, I plan to serve it tonight as a main course by adding grilled shrimp, creating 3-4 servings.  I hope you join me in this delicious adventure!
Spicy Thai-Style Pineapple Wraps
Serves: 12 as an appetizer
Half a medium fresh pineapple — peeled, cored, and cut into bite-size chunks (about 3 cups)
Juice of 2 limes — (about 1/4 cup)
2       teaspoons  sugar
2       teaspoons  chile paste — such as sambal oelek
2       teaspoons  fish sauce
2       cups  roasted peanuts or cashews — roughly chopped
2/3   cups  roughly chopped fresh cilantro — (leaves and stems)
12     Bibb lettuce leaves — (about 1 head)
Kosher salt
Whisk the lime juice, sugar, chile paste, and fish sauce in a bowl until the sugar dissolves. Add the peanuts and cilantro and stir until evenly dressed with the sauce.
When ready to serve, arrange the lettuce leaves on a large platter. Put about 1/4 cup of pineapple in each leaf and season with salt to taste. Top the pineapple with the nut mixture. Serve, letting your guests wrap (or fold) each lettuce leaf to enclose the filling.