At Savoring Today, we are all about eating clean for a healthy lifestyle.
Whether you've enjoyed a healthy diet for a while or you're just getting started, you'll find delicious recipes to fit your focus.
Ditching junk food for real food takes effort and we're here to help with clean eating recipes and tips to make it easier.
While we cater to a clean eating lifestyle rather than a specific diet, we also include recipes for specialty diets like Keto, Paleo, gluten-free, and low-carb.
Not sure what clean eating is exactly? Check out our detailed Food Philosophy for more info.
If you want to avoid processed foods and love serving your family nourishing meals, we are passionate about the same things.
sa·vor·ing\ˈsā-vər-iŋ, ˈsāv-riŋ\ verb
1 : to taste or enjoy with zest: relish 2: to appreciate fully: enjoy or delight
Part of a healthy lifestyle is slowing down enough to be present in the life around us.
In the hurry of the modern world, there is pressure to move on to the next thing whether it is technology, to-do lists, work projects, or kid's activities—our leisure time is often the result of pure exhaustion.
Living full tilt drives our appetite for convenience foods, leaving little time to focus on nutrition. In the pursuit of quick and easy, we sacrifice vibrant health and touch points with those we care about.
Preparing our own meals is one of the significant ways we promote health, meet practical needs and demonstrate the value of those served at the same time.
When savoring a meal we chew more slowly, utter sounds of delight, even roll our eyes trying to express something wonderful holds our attention—shared with someone, it is even better.
If we practice savoring, we engage more fully in today so the future does not consume the now.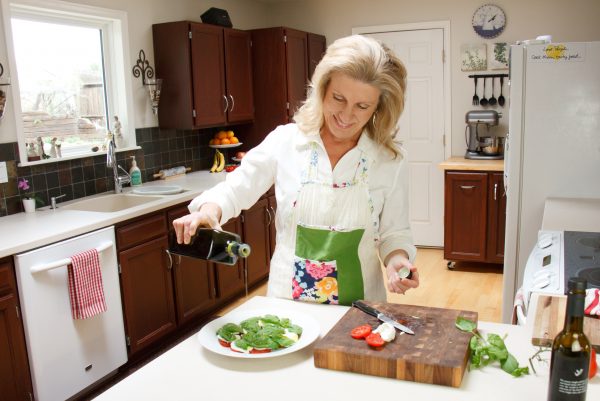 Of course, there is a personal story that fuels these passions …
Most of us go about our day without a thought it could be our last. Until something interrupts us with a heavy dose of mortal reality—we are finite, fragile, and subject to life's twists and turns. December 9, 2007 was just such a day when a young man with an assault rifle fired upon families at our church, killing two young women. It was a horrifying day and is truly miraculous that our family survived the onslaught with a single flesh wound. None of us have a guarantee of tomorrow; today is our opportunity to live fully, to savor life.
Among other things, this event convinced me that life is too short to not have dessert—not the ideal way to approach trauma healing, but hey, it is a process. I was quite fatigued from adrenal exhaustion and our entire family dealing with PTSD, so my usual zeal for healthy food choices gave way to compromises in the midst of overwhelm.
Subsequently, I mysteriously gained a few pounds I could not seem to shed, which I blamed on my age (over 40). I knew better, but didn't want to give up my excuse to indulge. Unfortunately, it didn't just affect my energy, health, and waistline, it affected my husband's as well.
September 2010 I drove my husband to the emergency room with discomfort in his chest. It didn't take long before he was in the cath lab with two stents in his heart. The compromises had taken a toll.
Convinced he did not have a Lipitor deficiency, he did some research and worked for a year to get his health back on track—exercise, reduced stress, supplements—and the part I could help him with: diet.
Our quest for nutritional health began more than ten years ago. Eliminating refined sugar, oils, white flour, and processed foods were the focal point of our dietary makeover. We made significant changes, benefiting with less seasonal illness, sustained level of energy, shedding excess body weight, and overall well-being. It proved true; it worked.
So how did he end up in the ER?
Knowing is not doing; over the years, we got busy, a little lazy, and a bit arrogant. We compromised more than we thought. Even though our clothes fit a little tighter, we blamed it on our age and assumed we were fine; besides, we ate right most of the time and took supplements occasionally. The reality of the choices you've made is never clearer than when you face a serious, yet avoidable, health risk.
The statement that woke us up was from the cardiologist: "We know that what he was doing wasn't working." That was hard to hear because we thought otherwise. We heard from more than a few people whose perception was that we followed a good diet and were relatively healthy. Well, we perceived that too. However, when we took a hard look at what we were really eating rather than relying on our knowledge of a healthy diet, denial was exposed.
Compromising adds-up in the form of convenience, justification, and rationalization. Compromise is exactly what got us (him) here—special occasions, dinner out with friends, mood enhancement, been good for a week, worked out harder this week, too tired, too busy, were all part of the excuse regimen. Whatever bargaining was necessary, we found a way to eat what we wanted, put off regular exercise, and still feel okay about it. These momentary "just this once" decisions appear harmless, even manageable. Seemingly small concessions, accumulate into health-robbing patterns.
Activity is not exercise. Having the ability to exercise, thinking about exercising, planning to exercise, buying exercise equipment, is not the same thing as actually committing to a lifestyle of regular exercise. Taking the stairs instead of the elevator, parking farther away from stores, weekend hikes, walking the dog is all good, but it is not a substitute for real heart-pumping exertion 3-4 days a week. Technology encourages passivity. We sit in our cars, at our desks, at the table, when entertained, while we wait, you get the idea. Sedentary habits catch up with us and the medical bills tell the real story.
Diligence in diet and exercise prove true once again; it still works. In just a few months, cholesterol numbers dropped dramatically and so did the numbers on the scale (he shed 25 lbs and I shed 12 lbs). The funny thing is, I had been "trying" for over two years to lose those 5-7 lbs with no sustained progress. Denial had set in as I flipped through fitness magazines for new exercises and complained to friends that I just could not figure out why the scale kept inching up. I wondered if my metabolism had simply changed after turning 40 and this is just the way things would be—it happens to everybody at some point, right. No, I was in denial and unwilling to get serious about it.
I remember telling friends, "Life is too short to not have dessert". They agreed, who wouldn't? (We like it when friends validate our denial.) Well, I have adjusted that mantra. Life is too short not to have dessert; it will likely be shorter if we do. Don't get me wrong, we will have a treat on our birthday and enjoy special holiday traditions, but it will be rare. This is not a fad diet or a knee-jerk response to a health issue; we have seen first hand what works, what doesn't work, and the cost if we ignore reality.
What have I learned?
Food matters.
Love endures.
Life is a gift.
I believe life is better with coffee and God's love is better than anything. More than a survivor, I am an Overcomer. (Rev 12:11)