Ghirardelli Brownie Cookies Made From Brownie Mix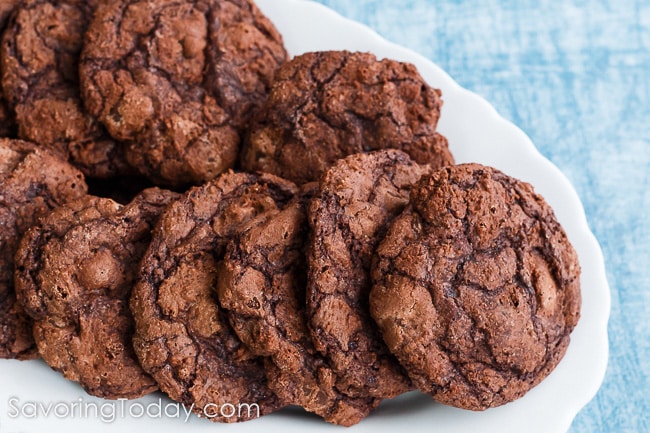 Ghirardelli Brownie Cookies saved me from another trip to the store when I realized I was short on ingredients for my standing Friday afternoon date with our daughter.
When our youngest started attending high school, I decided to bake cookies on Fridays for her to have when she got home from school. It was our special time together to linger over a cup of milk and warm cookies as we talk.
It is a standing weekly date that is rarely missed and the time we share makes the cookies that much sweeter.
Cookies Made with Brownie Mix Saved the Day
I often make the standard chocolate chip (her favorite), snickerdoodles (my favorite), oatmeal, chocolate cookies with mint-chocolate chips, or the occasional peanut butter just to keep things interesting.
One Friday, the day was getting late when I noticed there was not enough flour in the house for even half a batch. Out of time to get to the store, I remembered my friend Donna's cookie recipe that she makes from a cake mix.
I had Ghirardelli Brownie Mix in the cupboard, so I decided to give Donna's recipe a whirl. It worked like a charm and Ghirardelli Brownie Cookies were ready, right on schedule!
If you're a fan of the chewy edge pieces lining a pan of brownies, you'll want to follow the cooking time of the recipe just as it's written.
If you're more of the gooey middle brownie lover, reduce the baking time by 1 minute and see if that is closer to the brownie cookie you dream about.
Any 18 ounce brownie mix should work for this recipe, though I highly recommend Ghirardelli.
Shared with someone, they taste even better!
Make cookies just a little bit healthier.
You'll notice I use coconut oil in this recipe instead of vegetable oil because it is a healthy oil and performs beautifully here.
In fact, coconut oil is one of the three main cooking fats (coconut, butter, extra-virgin olive oil) I use and substitute for any vegetable oil called for in baking and stir-fry recipes.
Depending on the room temperature, you may have to melt it first (it is solid at about 68°F).
For more information on the health benefits and of coconut oil, check out this article on Well-Being Secrets. And this article from Health Ambition shows 150 different ways to use more coconut oil in your life.
Print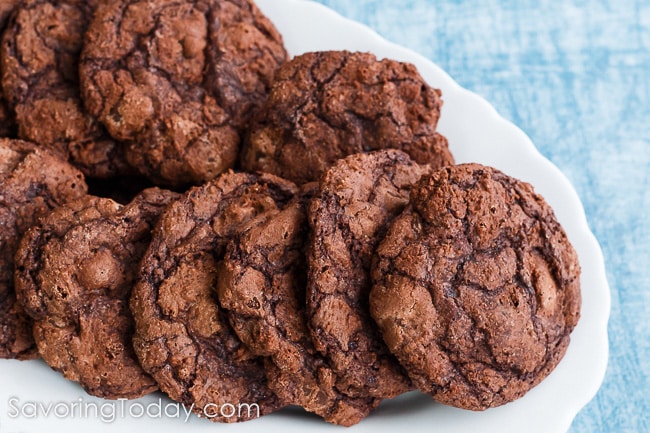 Ghirardelli Brownie Cookies
Author:

Prep Time:

5 mins

Cook Time:

10 mins

Total Time:

15 minutes

Yield:

3 1/2 dozen

Category:

Dessert, Cookies, Baking
---
Description
Soft, chewy cookies made with Ghirardelli brownie mix.
---
---
Instructions
Heat oven to 350°F. In the bowl of a mixer, stir flour into brownie mix until well incorporated. In a separate bowl, slightly beat eggs with the coconut oil and add to the mix along with any add-ins. Mix on low speed until the flour is moistened. The dough should be stiff like cookie dough.
Place the dough in heaping tablespoons (about .80 ounces each) in on a parchment-lined baking sheet; this amount will spread to 2 1/2-inches when baked.
Bake for 10 minutes and allow the cookies rest on the pan for 2 minutes after removing from the oven. Remove from the pan and cool on baking racks.
---
Notes
Make ahead tip: Bake as directed and freeze for up to 3 months.
One 18 ounce mix will make 3 1/2 dozen, 2 1/2-inch cookies based on .80 ounces of dough per cookie.
More Cookie Recipes You'll Love:
A Dunker's Companion: Biscotti
Snickerdoodle Cookies
Loaded Oatmeal Cookies
---
This post contains affiliate links. Thank you for supporting what I do here at Savoring Today. For more information, please see our Disclosure Policy.