Scampi-Style Steak & Scallops with Roasted Asparagus is an impressive dish and takes only 30 minutes in the kitchen to prepare. 
Tenderloin steak seared in butter and finished with scallops in subtle accents of lemon zest, white wine, garlic, and fresh basil is surf-n-turf heaven.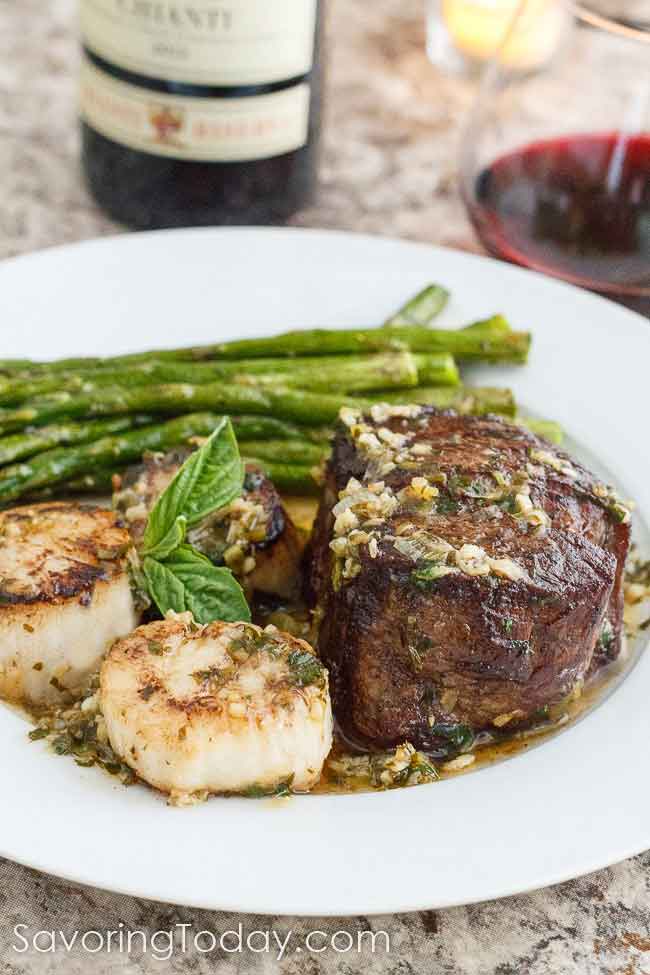 You won't believe how easy it is to skip crowded restaurants and enjoy a date night dinner at home.
The key is quality ingredients, so choose fresh lemon and herbs, large scallops, and tenderloin steaks—beef tenderloin (the wider end of the loin) or filet mignon (the small, forward end of the loin) is the ideal cut for its tenderness and ease of preparation.
Of course, this recipe works just as well with jumbo shrimp if sea scallops are not available.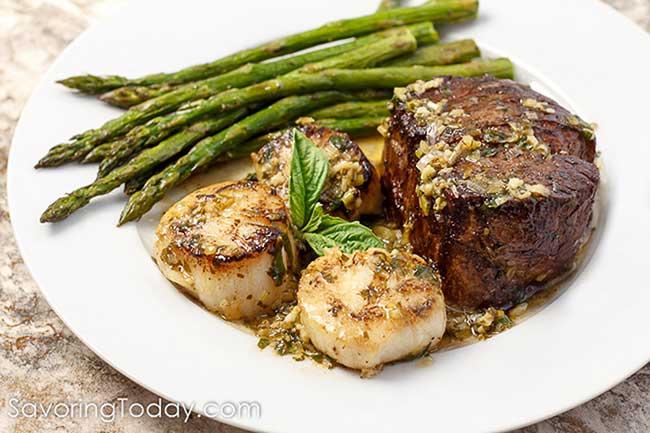 Make your Date Night Dinner for Two as stress-free as possible.
Have you ever gone out on Valentine's Day for a romantic dinner only to be disappointed by the noise level of the restaurant, food that didn't quite measure up, or felt rushed by the waitstaff to move along for the their next seating?
A romantic dinner for two at home is less hassle and a lot more intimacy.
Set the table and prep all the ingredients before you begin because the cooking process will take about 20 minutes.
While the asparagus roasts (recipe below), you will be busy at the stove with the scallops and steak, both should be done about the same time.
Slice a crusty loaf of bread with this special meal so you can soak up and savor every lemon-garlic-buttery bite.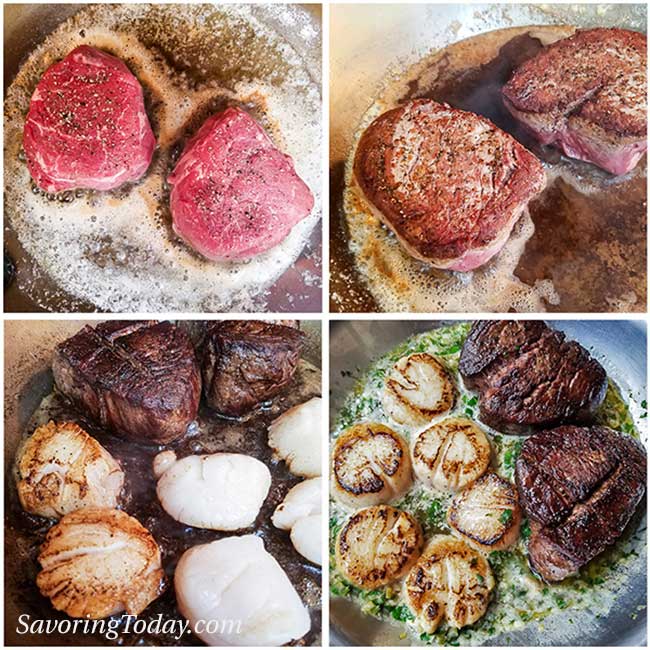 Scampi-Style Steak & Scallops
Tenderloin steak and scallops seared in butter then finished in subtle accents of lemon zest, white wine, garlic, and fresh basil.
Ingredients
For the Steak & Scallops
10

ounces

beef tenderloin steaks

2 (5 ounce) steaks, 1 1/2-inch thick

1

teaspoon

Sea salt and freshly ground pepper

3

tablespoons

butter

4

ounces

sea scallops

6 large scallops, rinse and pat dry
For the Sauce
2

tablespoons

extra-virgin olive oil

¼

cup

finely chopped green onions

(about 4 scallions), white and light green part

3

large

garlic cloves

minced

¼

cup

dry white wine

3

tablespoons

butter

2

tablespoons

freshly squeezed lemon juice

2

tablespoons

fresh basil

cut into thin strips

1

tablespoon

minced parsley

¼

teaspoon

lemon zest

Sea salt and freshly ground pepper

to taste
Instructions
Season steaks with salt and pepper. In a 10 to 12-inch skillet, heat 2 tablespoons of butter over medium heat until hot and bubbly (more can be added, if needed). Add steaks to skillet and brown on one side for

4 to 5 minutes

. (At this point, begin the sauce in another small, non-reactive skillet or wide sauce pan as described in step 2.)

Turn the steaks on end and rotate to brown the sides (this will take about 3 minutes), then turn over to brown the final side for

4 to 5 minutes

.

When turning the steak to brown the last side, add scallops to the skillet to brown at the same time, about 2 minutes on each side.

*If making the roasted asparagus, now is a good time to slide it under the broiler for 10 minutes.

To make the sauce in the separate skillet, sauté onion and garlic in 2 tablespoons olive oil over medium heat

3-4 minutes

, until fragrant. Add wine and lemon juice; simmer to reduce slightly,

1-2 minutes

. Add 3 tablespoons butter and stir until melted into the sauce. If the steak and scallops are not yet done, slide the scampi sauce off heat until they are ready.

Once the scallops are browned on each side, stir the fresh basil, parsley, lemon zest, and hot pepper sauce into the scampi sauce. Reduce heat to low, add the scallops, spooning the sauce over the scallops. Once the steaks reach an internal temperature of 125°F (the rare side of medium-rare), add to the pan with the scampi sauce and spoon sauce over the steaks.

Divide the steaks and scallops evenly between two plates and serve immediately, spooning more sauce over both the scallops and the steak.
Video Displays Here or In Post
Notes
You'll need two skillets for this recipe so the steak and scallops can cook at the same time as the sauce. I recommend a *cast iron skillet for searing the steak and scallops and *stainless steel (non-reactive) for the sauce. *These links are Amazon affiliate links. See our Disclosure policy here.
If you are not familiar with scallops, here is a helpful guide to selecting quality sea scallops at Sally's Place.
Nutrition
Serving:
1
steak and 3 scallops
|
Calories:
709
kcal
|
Carbohydrates:
5
g
|
Protein:
39
g
|
Fat:
56
g
Use your blender to make this quick hollandaise sauce for the asparagus.
Roasted Asparagus
Fresh asparagus roasted in the oven in less than 10 minutes for a simple and tasty side dish.
Ingredients
16

ounces

asparagus -- ends trimmed

2

tablespoons

extra-virgin olive oil

Sea salt and freshly ground pepper
Instructions
Position top oven rack in the middle of the oven, approximately 12 inches under broiler and turn broiler on HI. Prepare asparagus by trimming fibrous ends. Arrange asparagus on a rimmed baking sheet so that each spear is touching the pan and separate. Drizzle with olive oil and roll asparagus to coat well. Sprinkle with salt and pepper.

Set asparagus under the broiler for 10-12 minutes, checking and turning (rolling 1/4 turn) asparagus every few minutes until lightly browned in spots and crisp tender. Cook slightly longer if a softer texture is preferred.
Notes
To roast asparagus more quickly, position oven rack just 6 inches below broiler, roast for 5-6 minutes.
Nutrition
Serving:
5
ounces
|
Calories:
112
kcal
|
Carbohydrates:
5
g
|
Protein:
3
g
|
Fat:
9
g
|
Sodium:
3
mg
|
Fiber:
3
g
|
Sugar:
2
g
Just-as-easy elegant dessert for two:
Try these bite-size Cheesecake Strawberries with Chocolate Accents and pair the best wine with your romantic dinner recipe with these tips from Wine Folly.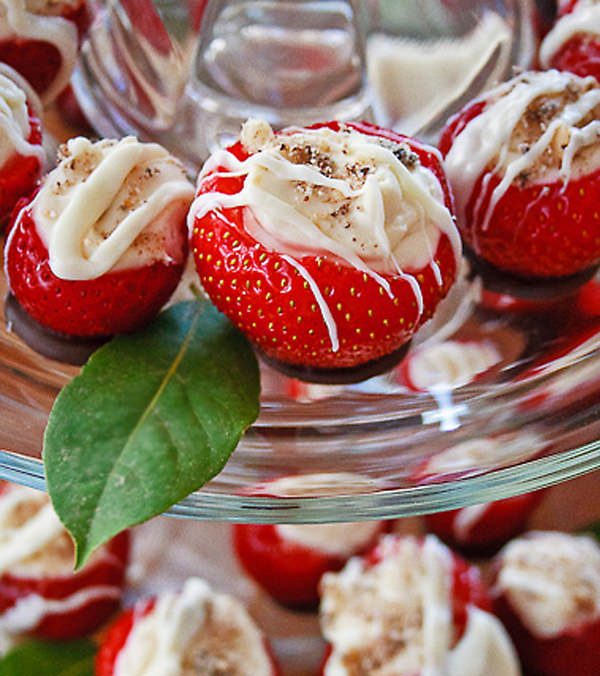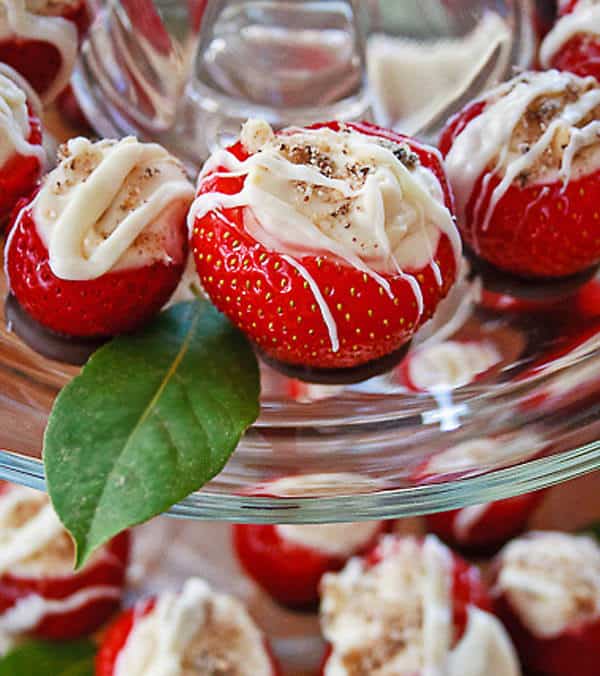 Another amazing date night dinner for two is our Amazing Crab Leg Dinner at Home.
More Side Dish Recipes for a Steak and Scallop Dinner: