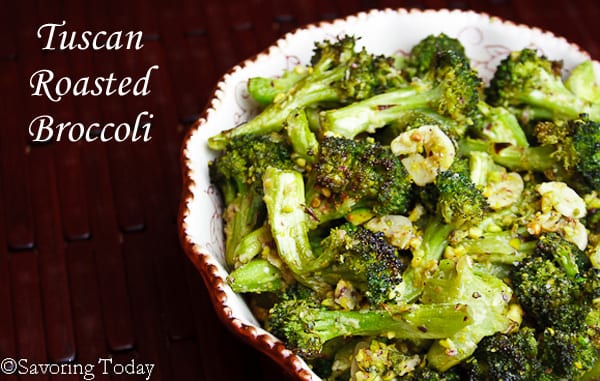 Tuscan Roasted Broccoli is a worthy Thanksgiving vegetable side dish.
Throughout the year I try new side dishes looking for the "wow" factor, something worthy of Thanksgiving dinner. Turkey, homemade egg noodles, mashed potatoes, gravy, dinner rolls, and pumpkin dream pie are sacrosanct, but when it comes to the vegetable sides, I can slip in something new. Friends brought a version of this Tuscan Roasted Broccoli as a side dish for our frequent summer steak grilling.
Now, it's hard to distract us when red meat is laid over hot coals … everything else at the table is usually just a formality, even the wine. The way we see it, side dishes are busy work to sooth our impatience while waiting for the steak to rest and land on our plate. From the sizzle to the last bite, it's all about the steak. Yeah, vege–whatever.
This vegetable side dish got our attention because it made the steaks better.
Rich, sumptuous meals benefit from a balance of bitter, slightly sour, or lighter textures to cleanse and refresh the palate. A bit of lemon and Parmesan does its job deliciously, which is why it will be on our Thanksgiving table. I know, oven space is prime real estate at a holiday gathering, but the broccoli isn't picky about oven placement so it can go on the bottom rack while the dinner rolls bake. It can also be cooked in advance until almost done and reheated (in the oven, not microwave) before tossing with the other ingredients. Roasted until crisp-tender, it's a quick toss and on the table in no time—easy enough for anyone wanting to "help" too.
A roasted broccoli side dish fit for any feast.
While the original recipe included pine nuts, my friend's version included pumpkin seeds that were also good. I opted for pistachios because it's what I had on-hand at the time and it turned out to be my favorite. Walnuts, cashews, sunflower seeds—you can get creative with the texture all sorts of ways. I also add crushed red pepper for complexity without seeming spicy.
Do you try to include new side dishes at Thanksgiving or new twists on turkey?

Check out even more simple Thanksgiving recipe ideas at the end of this post …
Adapted from Ina Garten's Parmesan-Roasted Broccoli
Print
Tuscan Roasted Broccoli
Author:

Prep Time:

10 mins

Cook Time:

20 mins

Total Time:

30 minutes

Yield:

Serves 4

Category:

Side Dish, Vegetable
---
Ingredients
8 cups broccoli — cut into bite-size spears
4 cloves garlic — thinly sliced
1 1/4 teaspoon sea salt
1/2 teaspoon black pepper
1/4 teaspoon crushed red pepper flakes
4 tablespoons avocado oil or melted coconut oil
1/3 rounded cup Parmesan cheese — grated
1/4 cup roasted & salted pistachios — shelled, coarsely crushed
2 teaspoon lemon zest — approximately 1 large lemon
1 1/2 tablespoon lemon juice — approximately 1 large lemon
1 tablespoon extra-virgin olive oil
---
Instructions
Preheat oven to 425°F Divide and trim the broccoli florets and stalk into bite-size pieces. In a large bowl, toss the broccoli with the garlic, salt, black pepper, and pepper flakes. Drizzle 4-5 tablespoons of oil over the broccoli and mix with your hands, rubbing a thin coat of oil onto the broccoli and garlic. Spread the broccoli in a rimmed baking sheet in an even single layer and roast for 15-20 minutes, until crisp-tender and the edges of the broccoli and garlic are browned.
In a mortar and pestle, crush pistachios until some are the size of bread crumbs mixed with larger, coarse pieces (or put the pistachios in a bag and use a meat mallet). Toss the Parmesan, pistachios, lemon zest, and lemon juice, with broccoli and garlic and finish with a drizzle of olive oil. Serve immediately.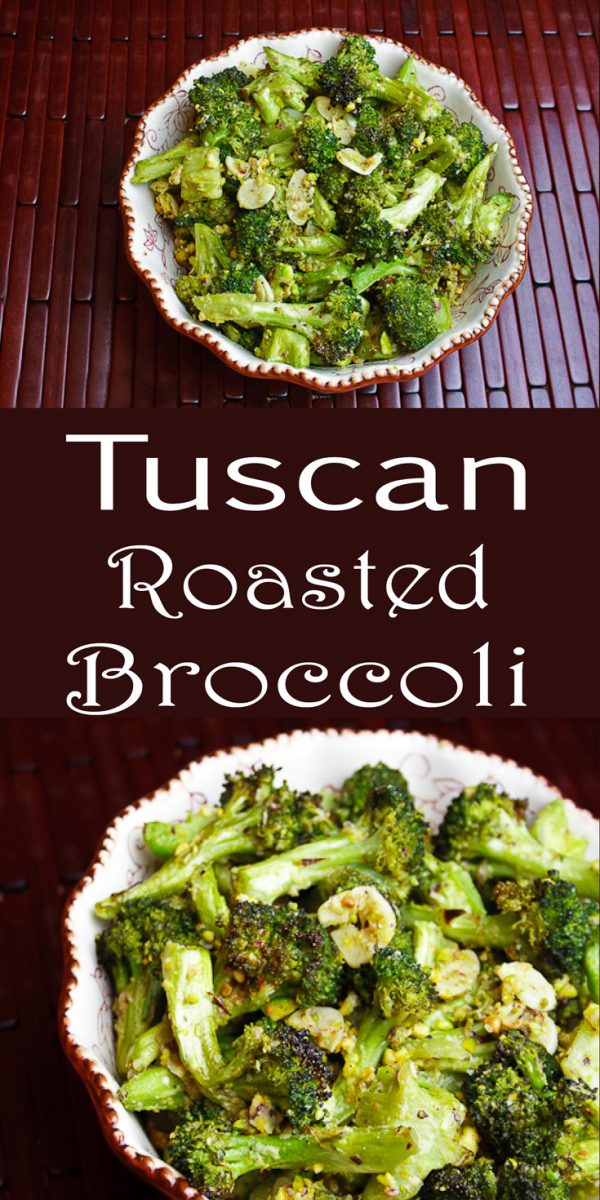 More Simple Thanksgiving Side Dish Favorites:
Roasted Brussels Sprouts with Roasted Garlic Aioli
Curry Roasted Acorn Squash & Pecans
Roasted Beets with Blackberry-Ginger Balsamic & Feta
Savory Sweet Potatoes
Broccoli-Cauliflower Gratin
Roasted Vegetable Medley with Rosemary & Thyme
Mashed Sweet Potatoes with Roasted Garlic