This Roasted Asparagus recipe with Oranges, Feta & Walnuts is a colorful and delicious way to enjoy every spear you can find.
Asparagus is the star of spring vegetables, a perennial favorite cultivated in gardens and found growing wild throughout the country.
I remember spotting patches of wild asparagus along country roads growing up in Missouri; it was as common as hunting for morel mushrooms.
Fun as foraging can be, these coveted spears of spring are readily available in stores and more budget-friendly than any other time of the year.
White asparagus is considered a delicacy because of its mild flavor and striking color. Grown under cover of soil to prevent the plant from producing chlorophyll like its green variety, it is like starting with a blank canvas.
Its mild flavor may be more appealing to children trying asparagus for the first time. Green, white, steamed, roasted, grilled, drizzled with classic hollandaise or a splash of extra-virgin olive oil, there are many ways to enjoy this versatile veggie.
What a delicious adventure finding your favorite.
How to Store Asparagus
The ideal way to store asparagus is to trim the fibrous ends about 1-inch up from the bottom, stand-up in an inch of water, and keep it in the refrigerator. This will keep the asparagus from drying out.
Any container that will hold the asparagus upright will work; we often use a large coffee cup. This method will keep the asparagus fresh for up to a week, perhaps longer if it was kept this way in the store.
How to Prepare Asparagus for Roasting
The classic preparation for asparagus is to peel the spears just below the heads to make them more tender. Peeling the asparagus is most useful if the spears are large and more fibrous, but unnecessary for thinner, more tender spears.
Choosing thinner spears will eliminate the need to peel them.
The bottoms should be trimmed before cooking if they haven't been already. Either cut or snap off the bottoms at the natural bend or breaking point of the stalk (where the color changes from white to green), 1-2 inches from the base.
Garnishing Roasted Asparagus
Asparagus can be steamed, boiled, roasted, grilled, sautéed in a stir-fry, or added to soups.
The following recipe is our favorite—roasted asparagus garnished with some combination of the following: feta, blue cheese, Gorgonzola, or Parmesan; mandarin oranges, tangerine or orange segments; crispy walnuts, pecans, or sliced almonds.
Roasting brings out the natural nuttiness of the asparagus. Garnished with tart cheese, sweet mandarins, and crunchy walnuts, this dish is as beautiful as it is delicious.

Roasted Asparagus with Oranges, Feta, & Walnuts
Fresh asparagus roasted in the oven and topped with mandarin oranges, feta, and walnuts.
Ingredients
16

ounces

asparagus — ends trimmed

2

tablespoons

extra-virgin olive oil

Sea salt and freshly ground pepper
Garnishes
11

ounces

mandarin orange segments

drained, or freshly peeled and separated into segments

1/4

cup

feta cheese

crumbled

1/3

cup

raw walnuts or Sweetly Spiced Crispy Walnuts or Pecans
Instructions
Position top oven rack in the middle of the oven, approximately 12-inches under the broiler and turn the broiler on HI. Prepare asparagus by trimming fibrous ends.

Arrange asparagus on a rimmed baking sheet so that each spear is touching the pan and separate. Drizzle with olive oil and roll asparagus to coat well. Season with salt and pepper.

Set asparagus under the broiler for

10 minutes

, checking and turning (rolling 1/4 turn) asparagus every few minutes until lightly browned in spots and crisp-tender. Cook slightly longer if a softer texture is preferred.

Remove from oven and arrange in a single layer on a platter. Sprinkle with feta cheese, mandarin orange segments, and sliced walnuts. Serve immediately.


Notes
To roast asparagus more quickly, position oven rack just 6 inches below broiler, roast for 5-6 minutes.
Nutrition
Serving:
5
ounces
|
Calories:
203
kcal
|
Carbohydrates:
13
g
|
Protein:
6
g
|
Fat:
16
g
|
Saturated Fat:
3
g
|
Cholesterol:
8
mg
|
Sodium:
111
mg
|
Potassium:
378
mg
|
Fiber:
4
g
|
Sugar:
9
g
|
Vitamin A:
1920
IU
|
Vitamin C:
33
mg
|
Calcium:
92
mg
|
Iron:
3
mg
More Spring Fruit & Vegetable Recipes You'll Love
Grilled Beets & Asparagus with Fried Goat Cheese
An easy and flavor packed side dish made with Grilled Beets, Asparagus and Fried Goat Cheese. Serve this side with steak or your favorite main.

SEE THIS RECIPE
Roasted Asparagus with Caramelized Onions & Blue Cheese
In this recipe, caramelized onions add a delicate sweetness and balance the tangy blue cheese, while pine nuts bring an extra dimension of texture. It is a simple, yet gorgeous dish for a dinner party or dinner with a few friends on the patio.
SEE THIS RECIPE
Hoisin-Sesame Asparagus
Grilled asparagus Brushed with Hoisin sauce and topped with sesame seed.

SEE THIS RECIPE
Spinach-Strawberry Salad
A fresh Spinach Strawberry Salad with Maple Candied Walnuts is one of the easiest ways to invite the spring season inside.
SEE THIS RECIPE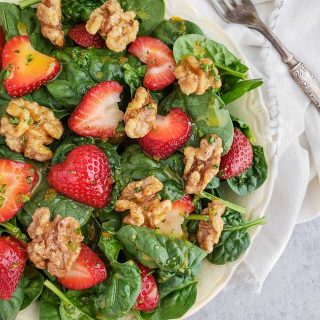 Cream Cheese Fruit Tart with Almond Crust Recipe [GF]
Luscious cream cheese filling spread over an almond crust, topped with fresh fruit and a tangy citrus glaze.
SEE THIS RECIPE