Tired of bland steamed vegetables? It's time to fire up your oven and roast your way to loving your next vegetable side dish!
We'll show you how to get creative with a colorful medley of oven-roasted vegetables to complement roasted or grilled meats or serve as a stunning vegetarian main.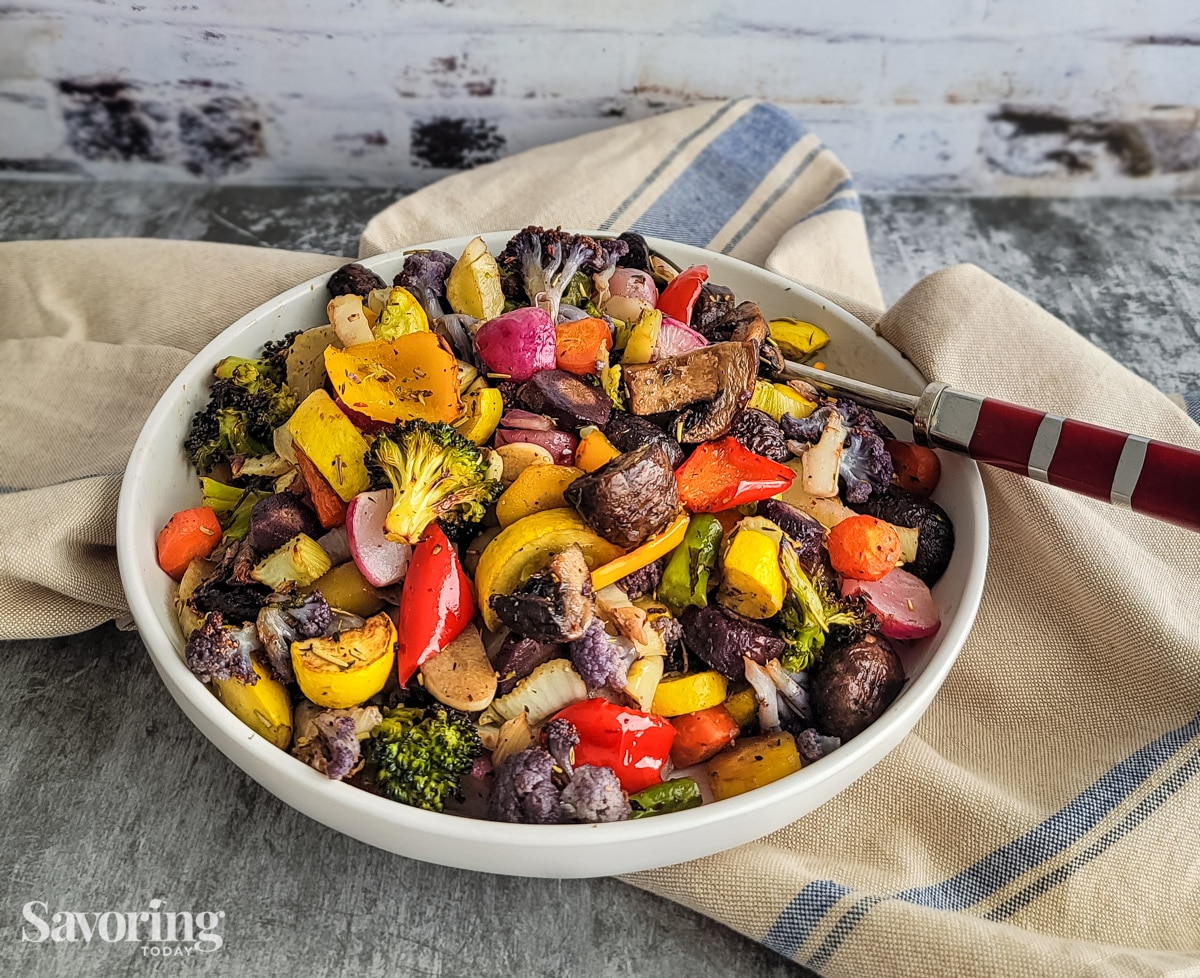 The power of a well-executed oven roast with salt, pepper, and oil, brings out the best flavors in any vegetable while keeping cooking labor to a minimum.
In this house, we embrace an abundant variety of vegetables—beautiful Brussels sprouts, pretty purple cauliflower, mouthwatering mushrooms, the ever-reliable onion, sweet carrots, savory garlic cloves, earthy radishes, and perfect peppers—we love them all.
As recipes go, this vegetable medley is highly versatile, customizable, absolutely tasty, and so easy to make, you'd think it's a trick.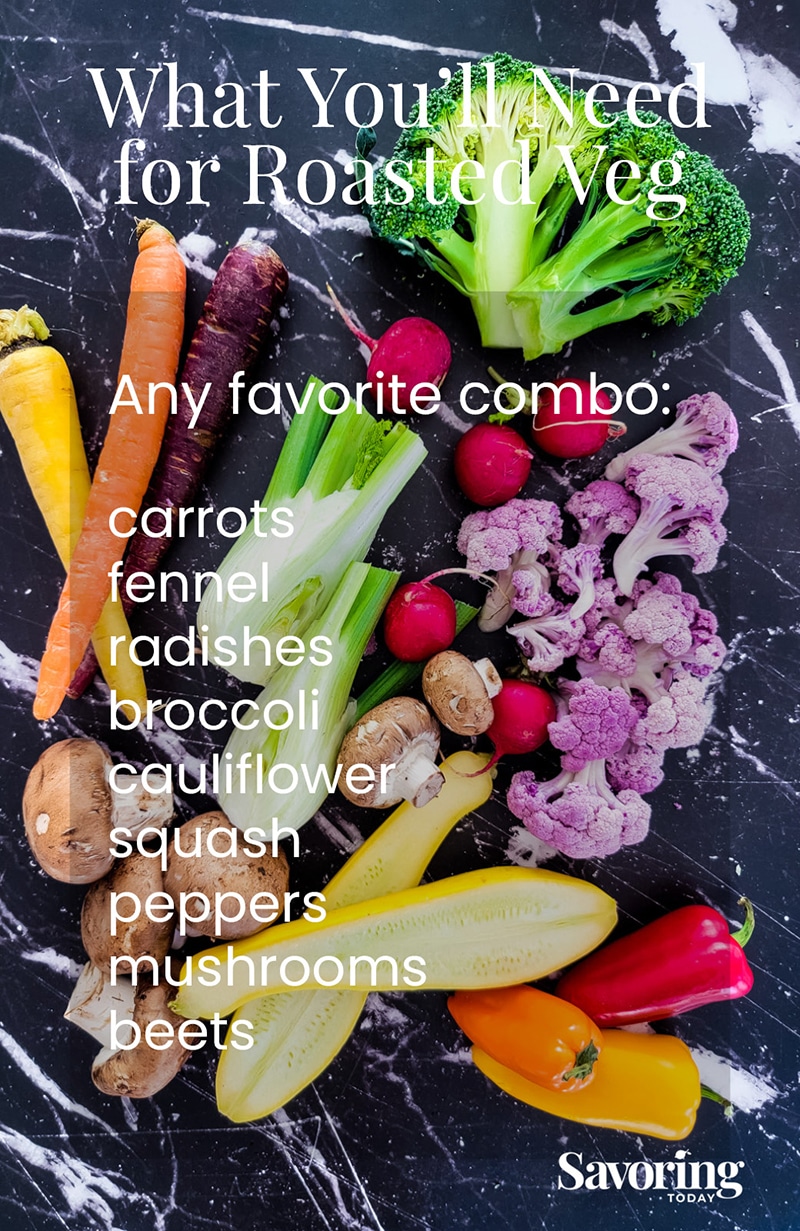 The most demanding part of roasted vegetables is prepping them for the oven. You may spend 10-20 minutes chopping, but once you're finished, you'll toss them in oil and spices, spread them out on a sheet pan, set your timer, and let the oven do the work while you enjoy other tasks.
You can even do the prep a few days in advance so it's an easy weeknight dish to get on the table.
Roasting your veggies is simply better tasting than steaming, in my opinion. The high heat from roasting caramelizes the natural sugars, makes them tender, crisps the edges, and amplifies their flavor, all with a hands-off cooking method.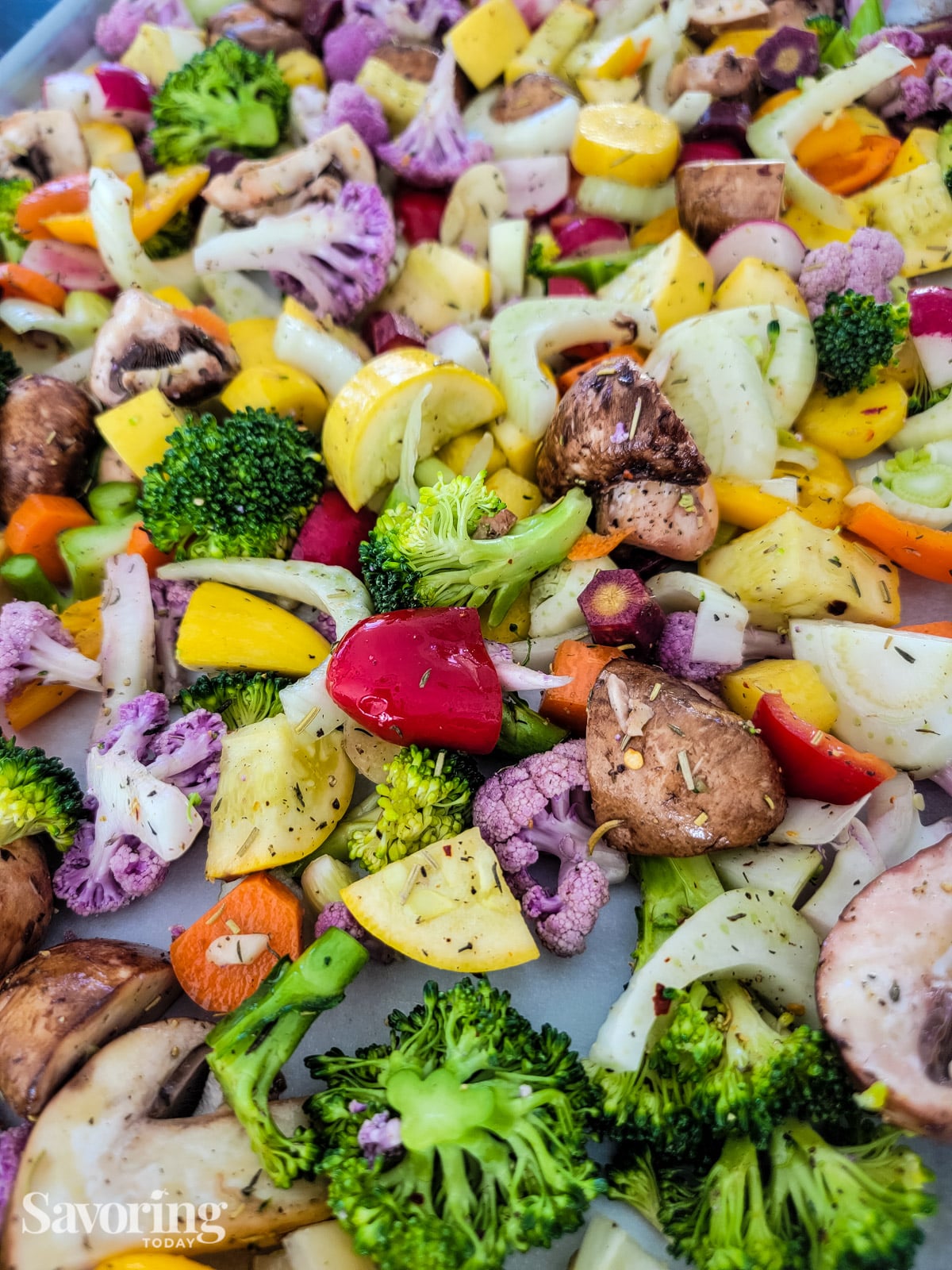 7 TOP TIPS for making the BEST Roasted Vegetables
Select a Variety of Colors—I chose the listed candidates because I like to see a variety of colors and appreciate varied textures in a single side dish. Selecting an array of colors isn't just a way to keep a meal interesting, it means you're also getting a wider variety of vitamins and minerals too. Look for purple cauliflower, sweet potatoes, or heirloom carrots to bring a vibrant contrast to the usual greens and yellows of broccoli and peppers. Remember, the eyes feast first.
Prep Based on Density and Moisture Content—Vegetables need to be chopped in different sizes according to their density and or water content. Roasting large chunks of butternut squash, halved brussels sprouts, and whole asparagus spears will result in underdone squash, perfect Brussels, and overdone asparagus. Check out the prep guide below for more details.
Coat the Vegetables with Oil—Hands down, one of the best heat-distribution mediums, it keeps vegetables from drying out under high heat by filling in the microscopic nooks left behind by evaporating moisture. We typically use avocado oil for its higher smoke point and complementary flavor, but coconut oil, olive oil, or ghee are also good roasting oils.
Go For High Heat—400 degrees is the magic number here. Unlike roasting meats (low & slow), vegetables need a high temperature to do their best roasting. High heat maximizes those toasty edges, evaporates the moisture on the surface, and gets the job done faster too.
Use a Shallow Metal Pan, Not Glass—A dark metal pan with a minimal rim (less than an inch tall) is best for roasting vegetables. Pans with taller sides will trap steam and shiny pans don't promote browning like darker pans.
Create Some Space—Don't overcrowd the pan. The hot air in the oven needs space to circulate and do its thing. If vegetables are too close to each other, the water they release while roasting will actually cause them to steam, rather than crisp up. Instead of cramming all of the vegetables into one pan, try using two. When using two pans, rotate the two pans halfway through the roast, putting the bottom pan up top, and the top pan below.
Rotate and Stir—Giving the veggies a stir halfway through roasting will allow unexposed surfaces to breathe, leading to a more even roast on all of the vegetables.
PRO TIP: For easier cleanup and to keep acidic items from reacting with metal, place a sheet of parchment paper under the vegetables and always use a large, rimmed baking sheet to keep hot juices in the pan (we're looking at you, tomatoes).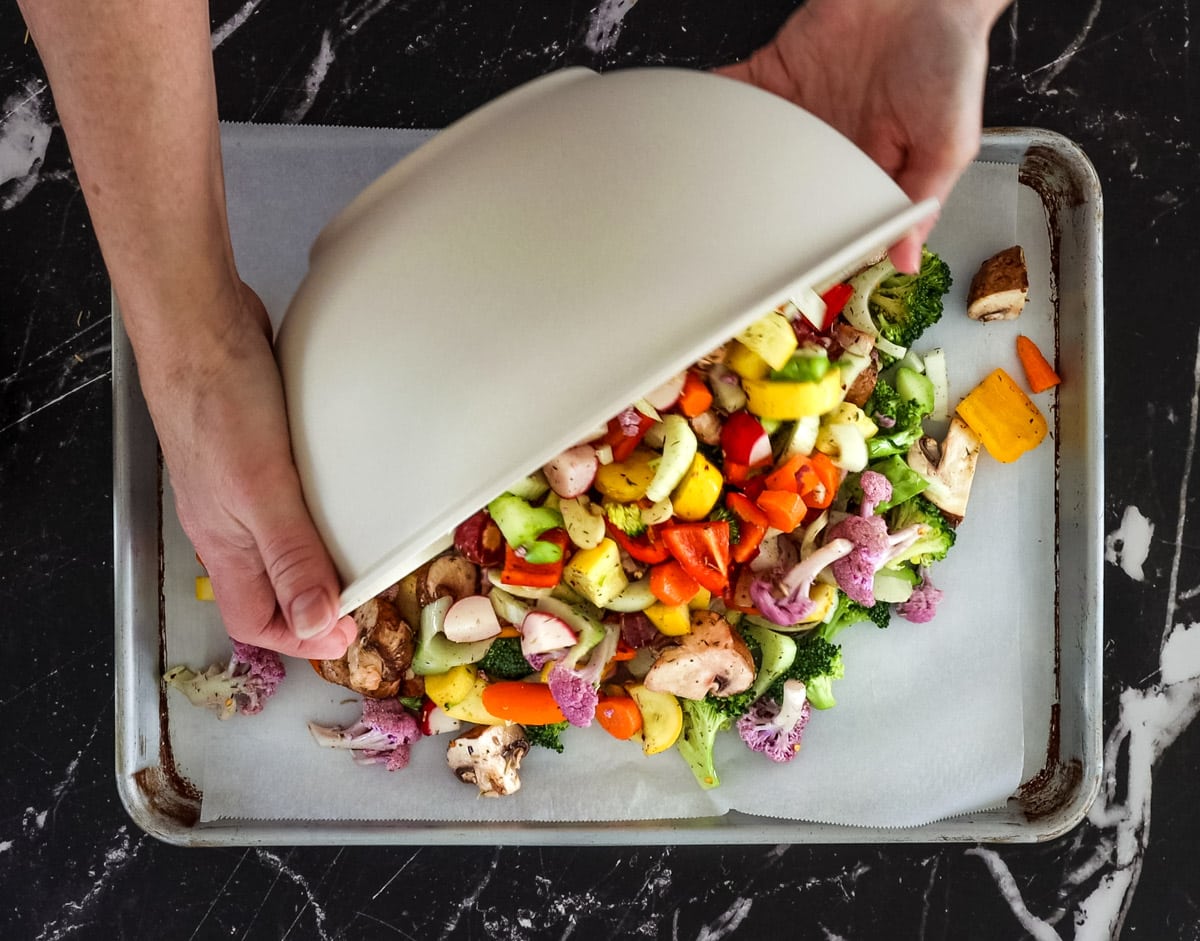 Selecting and Prepping Vegetables for Roasting
Don't overthink which vegetables to choose. Use what you have and what you like. You're eating vegetables, which is always a good choice! Perhaps you love all vegetables or maybe you're one of those who won't touch mushrooms or cooked carrots with a ten-foot pole.
Good news: You get to choose your favorites with this simple guide.
Dense Root Vegetables & Winter Squash
Root vegetables like beets, carrots, parsnips, turnips, rutabagas, sunchokes, and winter squash like butternut, acorn, and pumpkin are sturdier than their vegetable cousins. They're lower in water content so they have concentrated amounts of sugars and starches, making them extra tasty when roasted.
They require longer cooking times to become fully tender, typically upwards of 40+ minutes unless cut into smaller segments.
PREP TIP: When roasting any root vegetables alongside faster-cooking veggies, cut them into smaller pieces, ¼"-½" cubes. Carrots can be sliced into ¼ inch coins or sticks.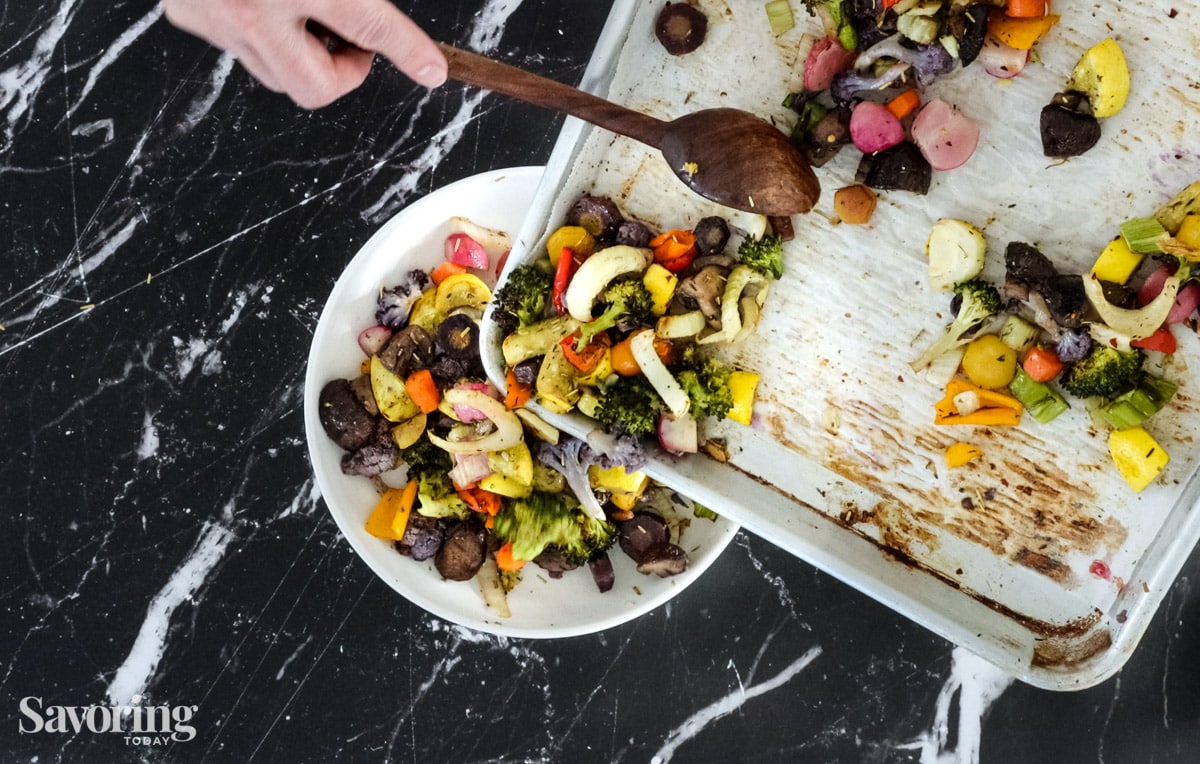 Semi-Dense Cruciferous & Root Vegetables
Cruciferous and root vegetables like potatoes, cauliflower, broccoli, romanesco, Brussels sprouts, bok choy, radishes, kohlrabi, cabbage, and fennel need less cook time than dense vegetables and can be cut into slightly larger pieces.
PREP TIP: Think ½"-¾" florets for your broccoli, cauliflower, halved or quartered brussels sprouts, radishes, and kohlrabi. Small carrots can be chopped into ½" coins or quartered sticks. Fennel and bok choy should be sliced into ¼" thin pieces.
The Ever-Favorite Potato
Any kind of potato can be roasted, but the results can be quite different. High starch potatoes like Russet (a.k.a Idaho) turn out a crispy exterior and fluffy middle (think fries, baked, hash, soups), whereas medium to low starch potatoes like Yukon Golds, fingerlings, and reds take a bit more work to get crispy but have a dense, creamy texture.
When adding potatoes to a medley, I recommend using halved fingerlings or baby potatoes so there is more surface skin to crisp. Otherwise cut larger potatoes into ½ to ¾-inch cubes or par-boil before roasting. Check out our recipe for crispy fingerling potatoes here.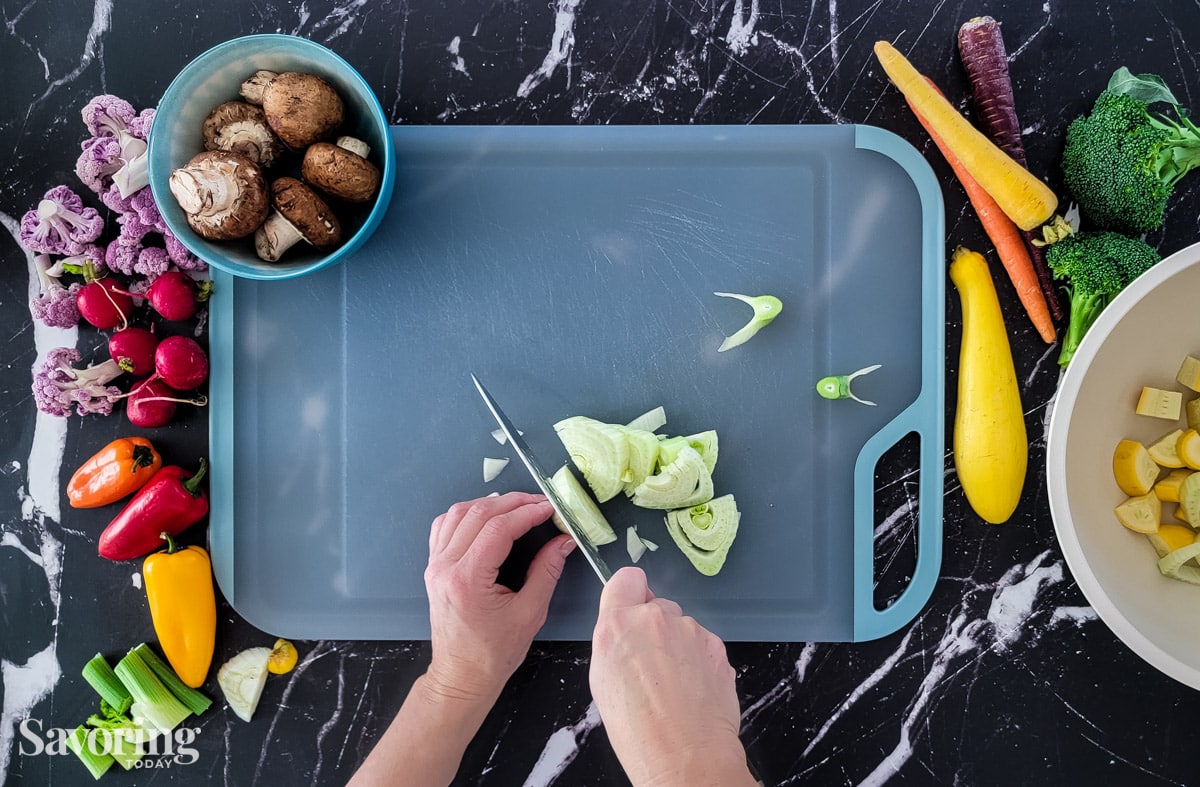 Soft Vegetables with Edible Skin
Softer vegetables like bell peppers, onions, zucchini, and eggplant cook relatively quickly, so you'll want to chop them into just-right-bites for the sake of ease and so they don't overcook when combined with root vegetables.
PREP TIP: Think ¾" strips or silver dollar-sized squares of peppers and onions, 2-inch sections of scallions, ½" coins of zucchini, and 1-inch cubes of eggplant.
Thin, Tender Vegetables
Consider roasting asparagus, green beans, and greens like kale by themselves or adding in the last 10 minutes of roasting. In most asparagus recipes you'll find only roast for 10 minutes max, otherwise, you'll have limp, sad spears on your hands.
The same goes for green beans, which I'll typically only blanch and do a quick pan sear with. Spinach is better for pan-searing, they tend to be too fragile for a roast.
PREP TIP: Little prep is needed here other than trimming dry ends. Roasting these vegetables whole is best.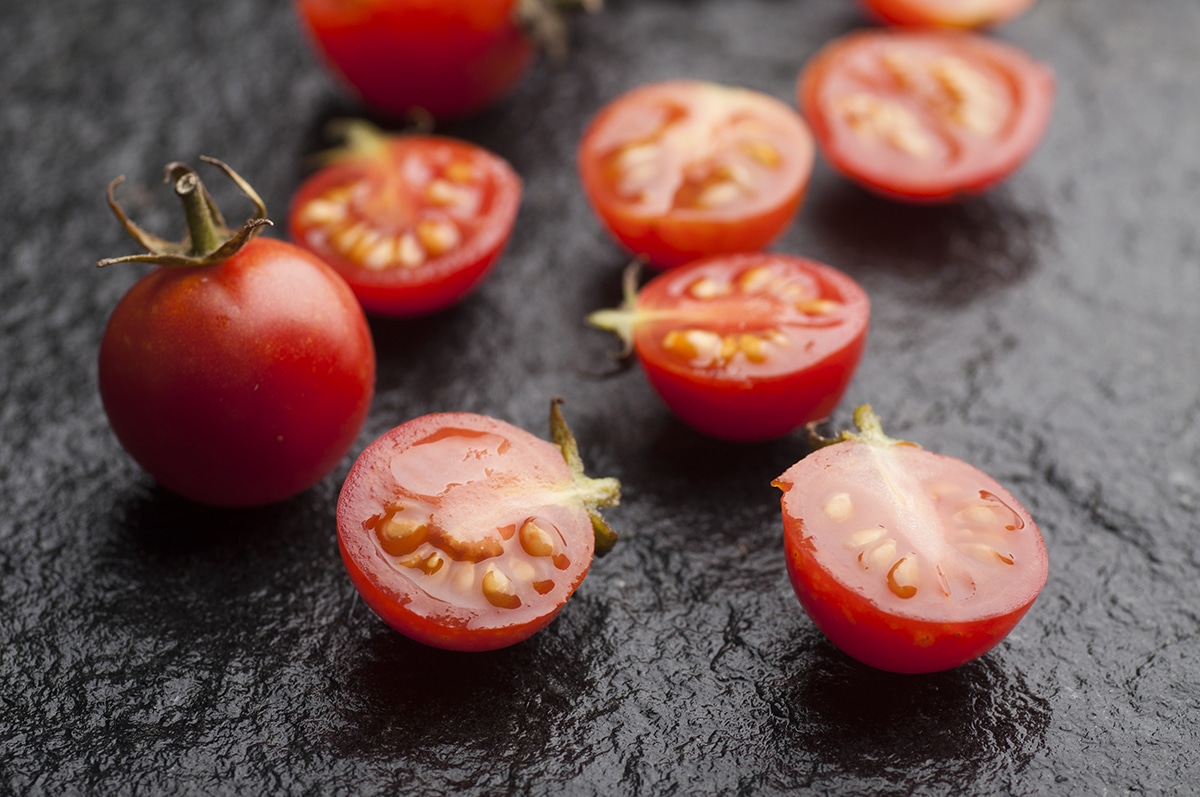 The Not-Really-Vegetables Moist Crowd
Tomatoes and mushrooms aren't technically vegetables, and they release a lot more moisture when cooked, but they bring complexity and a little acid to the medley which is always a good idea.
Depending on your roasting goal, just take into account that the moisture released by tomatoes and mushrooms will cause pooling on the bottom of the pan which can impede crispiness.
When including tomatoes or mushrooms in your roasted vegetable medley, keep the ratio under 20% of your whole vegetable pan to keep the moisture from inhibiting crispness.
PREP TIP: Whole or halved cherry tomatoes (halved WILL release more liquid), quartered or ½" sliced mushrooms.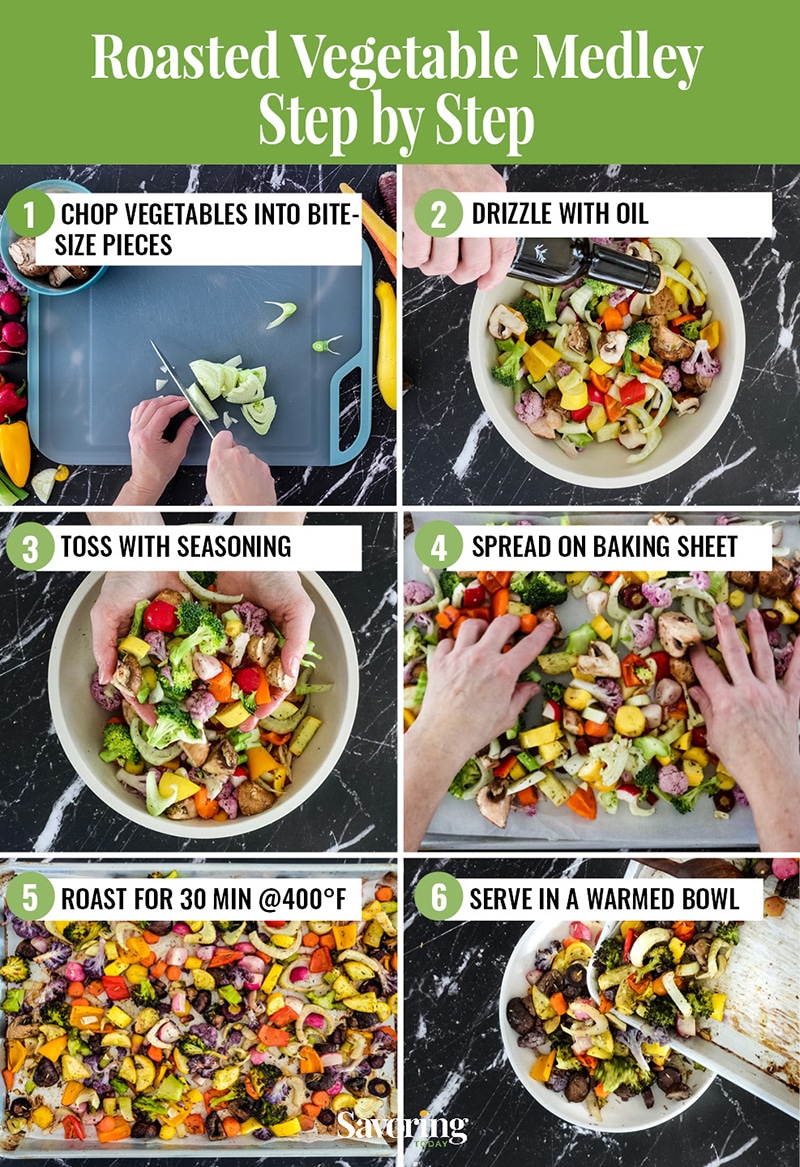 Recipe STEP BY STEP
Heat oven to 400°F. (Convection will cook faster.)
Cut vegetables based on density. Root vegetables alike (smaller), and softer vegetables alike (a little bigger) so they cook at the same rate.
Toss the prepped vegetables and garlic with oil and seasoning.
Spread the vegetables out on a rimmed baking sheet so there is a little room between them.
Roast for 25 to 30 minutes, stirring halfway through the cooking time until vegetables are crisp-tender and lightly browned in spots. Remove from the oven and transfer to a serving bowl or platter.
Sprinkle with optional toppings and serve.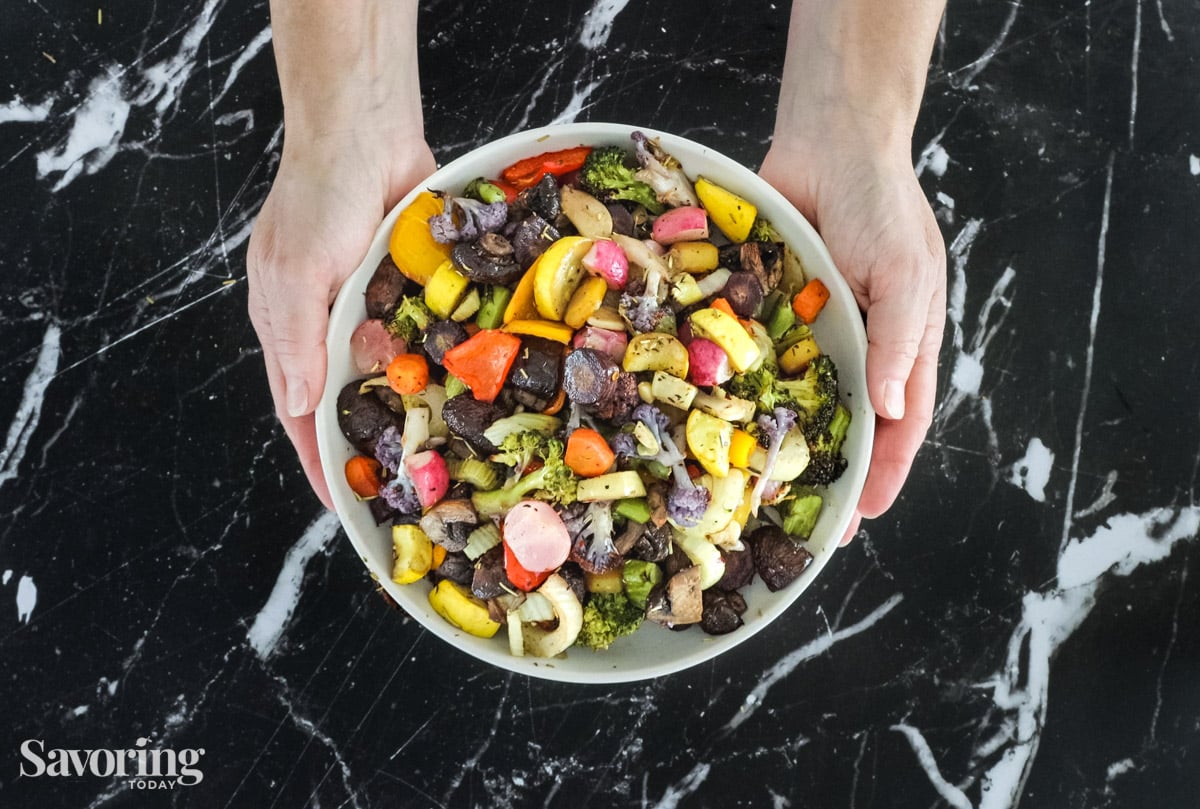 OPTIONAL Toppers and Add-Ins for Vegetable Side Dishes
Toppers like cheese, nuts, seeds, crispy onions, balsamic, and even flavored oils are your secret weapon for taking any vegetable side dish to a whole new level. Here are a few of our favorites:
Sliced almonds or caramelized pecans
Toasted pepitas, sunflower, or sesame seeds
Garlic or pepper-flavored olive oil
Crispy fried onions or green chiles
Crispy bacon or prosciutto
Herbed compound butter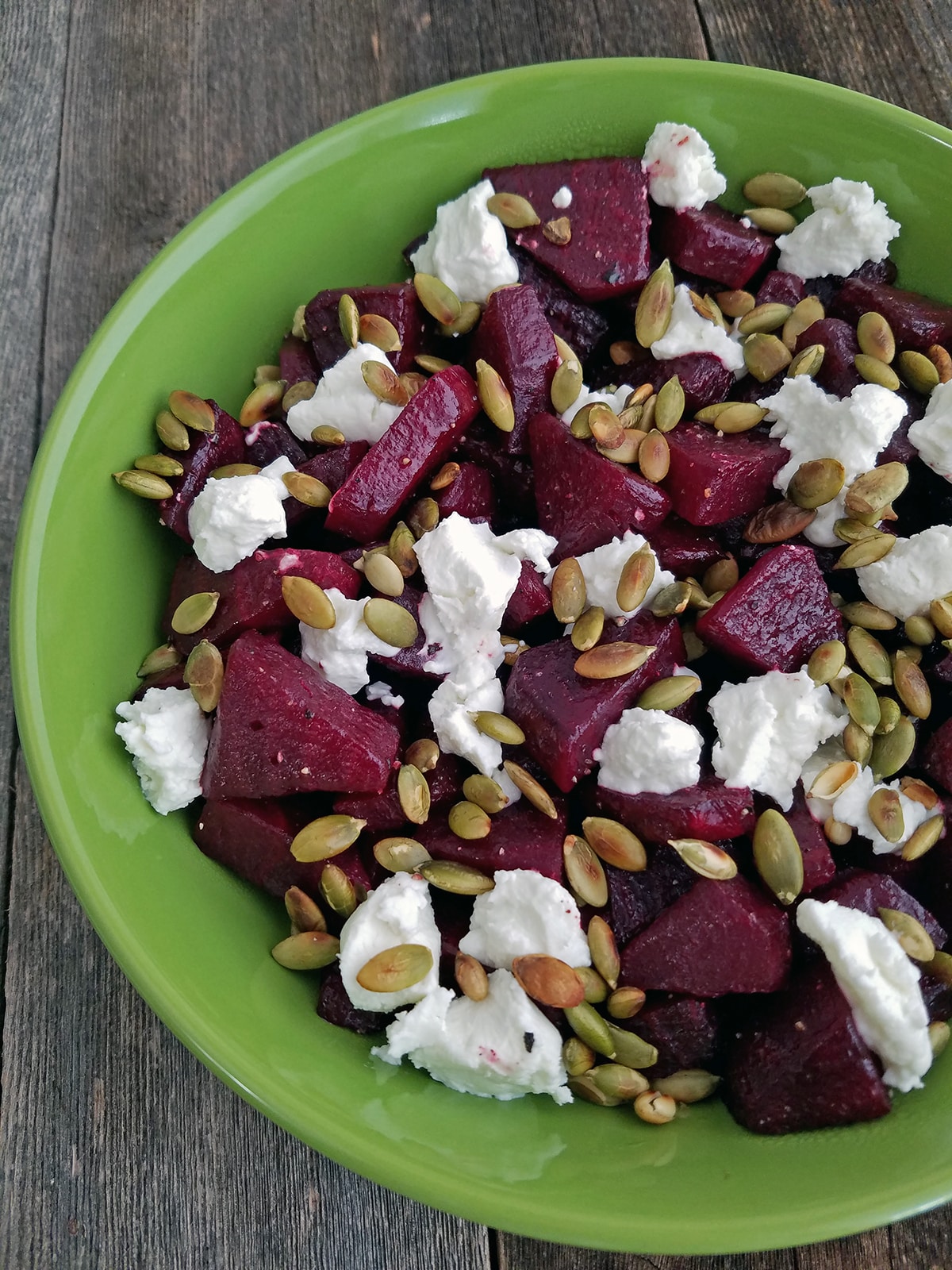 Can I roast frozen vegetables with good results?
With just a few adjustments, you can roast frozen vegetables and still get savory browned edges.
Don't defrost frozen vegetables before roasting
Brush off any ice crystals
Set a higher oven temperature of 425°F (Convection is best)
Preheat the pan before adding the vegetables and if you have cast iron, use it instead of stainless steel for better browning
Leave more room between the vegetables for better evaporation of moisture
Keep an eye on them while cooking at the higher temperature
What to make with leftover roasted vegetables?
So you made this awesome vegetarian meal or healthy side dish and have a few leftovers? Of course, you can gently reheat roasted vegetables to enjoy again, but I think they do best mixed into salads, tossed into soup, or sprinkled on a homemade pizza.
We also mix leftover vegetables in breakfast frittatas and puree them into a dip like hummus or baba ganoush. There are so many ways to use up every last nugget!
Can I make this recipe ahead of time?
Yes, you can make this recipe ahead in two ways.
For best results, chop all vegetables up to 3 days in advance (keep refrigerated), and then oil and season them to roast in the oven whenever you are ready.
Roast the vegetables ahead of time and cook until not quite done. Then throw them in the oven under the broiler for 5 minutes to finish them when you are ready to eat. I would do this with vegetables cooked the same day or one day prior. They may not be as robust or crispy, but they will be delicious.
Can I freeze roasted vegetables?
The only time I recommend freezing fully cooked vegetables is if you were planning on adding them to a soup later on, otherwise use up leftovers in a breakfast frittata or on homemade pizza!
More Vegetable Side Dish Recipes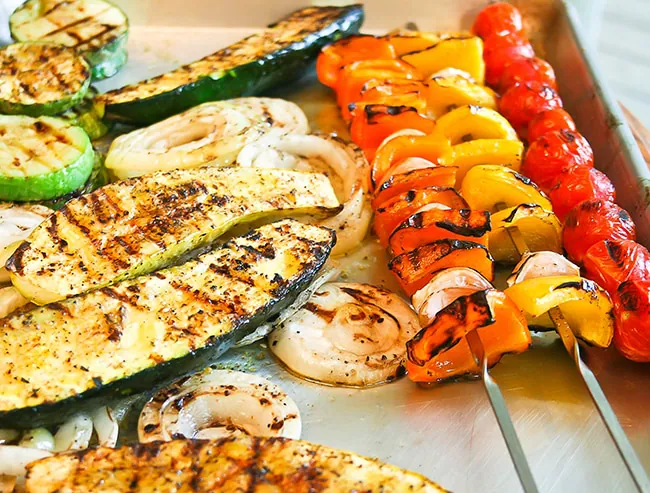 Roasted Vegetable Medley with Rosemary and Thyme
A medley of vegetables and mushrooms oven-roasted with herbs and crushed red pepper for a simple and tasty side dish.
Ingredients
5

cups

rough cut vegetables

cauliflower, broccoli, carrots, and radishes, bell pepper, and mushrooms (use any combination of vegetables, combined to equal 5 cups)

3

cloves 

garlic

sliced thin

2

tablespoons 

avocado oil

or extra-virgin olive oil

1

teaspoon 

dried rosemary

, crushed

1

teaspoon 

dried thyme

1

teaspoon

sea salt

1

teaspoon

freshly ground pepper

1/4

teaspoon

crushed red pepper
Optional Toppers
Parmesan cheese

Feta or goat cheese

Toasted Pepitas or Sliced Almonds
Instructions
Heat oven to 400°F. Convection will cook faster than regular heat.

Cut vegetables into similar sizes based on density. Root vegetables alike (smaller), and softer vegetables alike (a little bigger) so they cook at the same rate.

In a medium mixing bowl, toss the prepped vegetables and garlic with oil, dried herbs, salt, pepper, and crushed red pepper until evenly coated with the oil and herbs.

Spread the vegetables out on a rimmed baking sheet so there is a little room between them.

Roast for 25 to 30 minutes, stirring halfway through the cooking time until vegetables are crisp-tender and lightly browned in spots. Remove from the oven and transfer to a serving bowl or platter. Sprinkle with optional toppings and serve.
Video Displays Here or In Post
Notes
Vegetables can be prepared for roasting two or three days in advance and refrigerated until ready to use. 
Nutrition
Calories:
76
kcal
|
Carbohydrates:
2
g
|
Protein:
0.3
g
|
Fat:
8
g
|
Saturated Fat:
1
g
|
Polyunsaturated Fat:
1
g
|
Monounsaturated Fat:
5
g
|
Sodium:
585
mg
|
Potassium:
34
mg
|
Fiber:
1
g
|
Sugar:
0.04
g
|
Vitamin A:
125
IU
|
Vitamin C:
2
mg
|
Calcium:
43
mg
|
Iron:
2
mg