This Grilled Vegetable Medley delights with cheerful hues of bell pepper, plump cherry tomatoes, and emerald zucchini.
The refining fire of the grill creates an easy, delicious grilled side dish out of the summer harvest.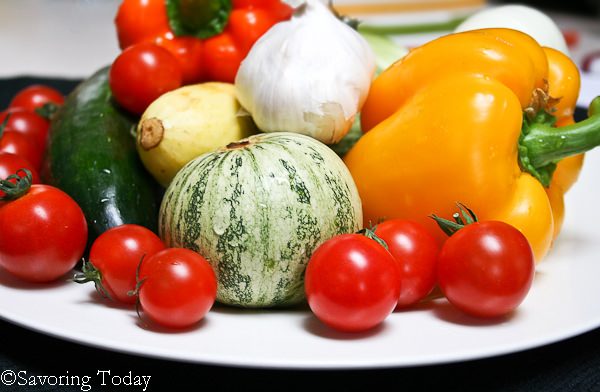 I'll tell you straight away, vegetables are not my first thought when the coals are hot and the wine is flowing—it's steak, always steak. But juicy steak needs crisp-tender vegetables in a rainbow of colors for healthy balance.
The key to grilling vegetables is pairing like items–tomatoes with tomatoes, peppers with peppers–so each one can be removed from the heat as needed.
No one looks forward to limp squash or under-cooked onions and you want those charred tomatoes ready to burst.
TIP: Grill them separately, but toss together when serving for a perfectly cooked, beautiful side dish.
Oh, and keep them warm in the oven while you let that steak rest. 😉
---
This post may contain affiliate links. For more information, please see our Disclosure Policy.
---
The Best Grilling Tools for Vegetables
Skewers give you the ability to place and remove vegetables quickly as well as monitor different types with more precision. I prefer metal skewers over wood skewers because they are bigger and don't require soaking. NOTE: Don't forget to use tongs or an oven mitt when they're hot!
Grilling trays are ideal when cooking vegetables with similar cooking times. Grilling a wide variety of vegetables on a tray may not allow for the individual attention each may need. I prefer trays over baskets so the vegetables can be spread out over a larger surface area to prevent steaming.
Grilling tongs with a good grip and scalloped edges are the best tool for turning sliced squash or onions that go directly on the grill. Good grilling tongs should be 16-inches long, have edges that stay aligned, and easily handle small items like garlic cloves or delicate, soft tomatoes.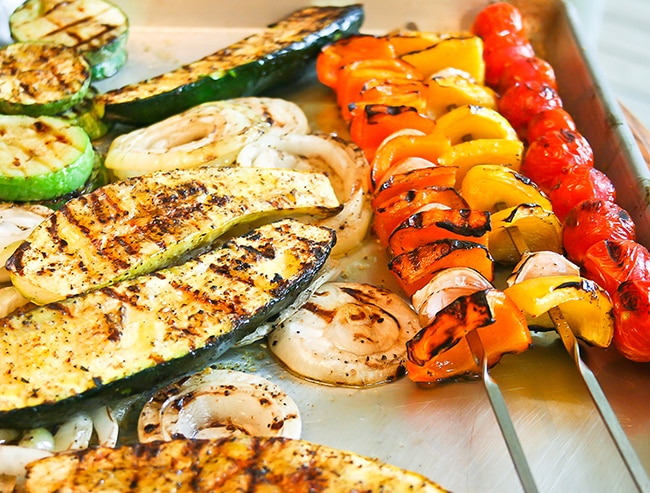 Grilled Vegetable Medley
These grilled veggies have so much flavor and make a great side dish with grilled meats or fish.

Ingredients
2

medium

medium zucchini

, sliced 1/4" thick, lengthwise or in discs if round

1

medium

yellow summer squash

, sliced 1/4" thick, lengthwise

2

large

large sweet onions

, sliced 1/4" thick, in rings

1

red bell pepper

, cut into 2" pieces

1

yellow bell pepper

, cut into 2" pieces

1

pound

cherry tomatoes

, stems removed

10

cloves

garlic

, unpeeled

Olive oil

Sea salt and ground black pepper

Favorite herbs or spice such as Italian

, curry, salt-free seasoning

Special items: Skewers or grill tray
Instructions
Prep vegetables as indicated. Assemble peppers, cherry tomatoes, and garlic cloves on separate skewers. (If using a grill pan, make sure the vegetables are not crowded and will cook evenly.)

[url href="undefined"][/url]

Arrange sliced squash, onion discs, and skewers on a rimmed baking sheet and brush with olive oil to lightly coat. Season generously with salt and pepper, then sprinkle with herbs.


Grill over med-high heat until browned with grill marks on each side until crisp-tender, 6-8 minutes. Brush with olive oil on uncooked side just before turning. Remove each type of vegetable when done and place back on the rimmed baking sheet.

Remove skewers from tomatoes, peppers, and garlic. Squeeze the ends of the garlic to remove peel (roasted garlic should pop right out) and slice squash into bite-size pieces.


Keep in a warm oven until ready to serve. Mix vegetables together on a large serving tray, taste and season with salt and pepper, as needed; serve warm.
Notes
Suggestions for leftovers:
Use leftovers for frittatas, soups, Alfredo, pizza, rice pilaf, fajitas, and salads.
Grilled vegetables can be frozen, however there is a change in texture. Once frozen, use in recipes like soups, casseroles, or a frittata where the texture is not as pronounced.
Nutrition
Calories:
101
kcal
|
Carbohydrates:
22
g
|
Protein:
4
g
|
Sodium:
30
mg
|
Potassium:
787
mg
|
Fiber:
3
g
|
Sugar:
12
g
|
Vitamin A:
1470
IU
|
Vitamin C:
123.7
mg
|
Calcium:
68
mg
|
Iron:
1.7
mg
More Grilling Recipes You'll Love