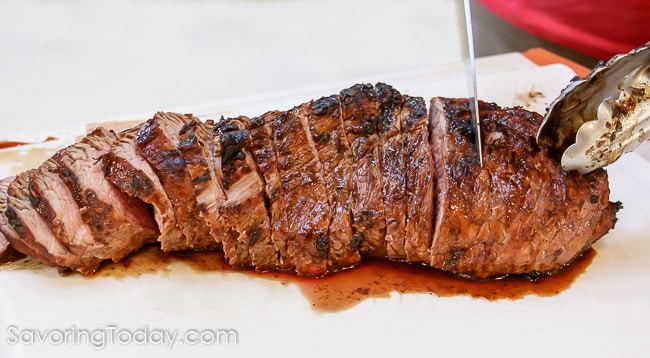 A local specialty in Santa Maria in the 1950s, tri-tip has continued to grow in popularity. Also known as Newport steaks and triangle steaks or roasts, it's now routinely sliced for fajitas, grilled as a whole Tri-Tip Roast (like the recipe below) or steaks, and even replacing ground beef in chili. We discovered this tasty cut of beef when we lived in California years ago, and it remains a favorite on our table.
You know what it is like cooking for a family—you cannot please everybody all the time. There is rarely 100% agreement over what to have for dinner, except when Grilled Tri-Tip is on the menu. Its flavor and texture is more like steak than a traditional Sunday roast and is best cooked medium to medium-rare.
The uneven thickness—thicker in the middle, thinner at the tapered ends—makes it an ideal cut when trying to please a variety of preferences. Around our house, the kids liked the ends, which were more done, while my husband and I enjoy the medium-rare middle.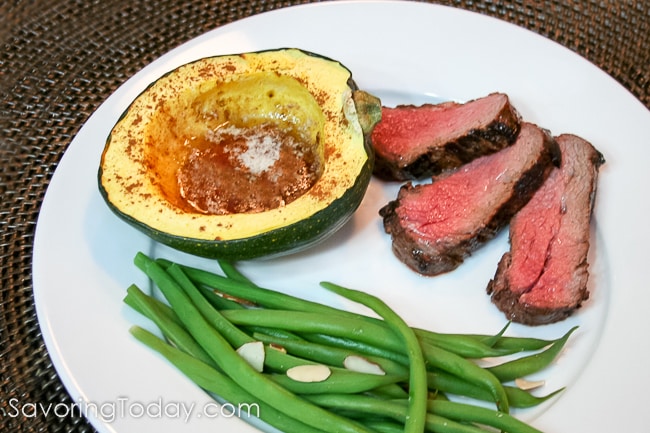 Print
Grilled Tri-Tip Roast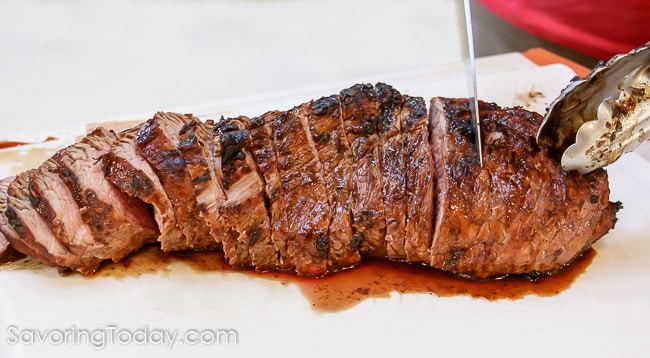 Prep Time:

1 hour

Cook Time:

45 min

Total Time:

2 hours, including resting time

Yield:

Serves 4-6
Ingredients
2-3 pounds tri-tip roast
4-5 cloves garlic — minced
2 tablespoons lime juice
1 tablespoon liquid smoke flavoring
2 teaspoons onion powder
2 teaspoons sea salt
1 teaspoon smoked paprika
1 teaspoon freshly ground black pepper
Splash of apple juice
Instructions
Some tri-tip roasts are sold untrimmed which means there can be a fairly thick layer of fat on one side. If that is the case, trim this layer until it is a little less than 1/4″ thick, but leaving enough to flavor the meat when grilled.
In a small bowl or using a mortar & pestle, mix the garlic, lime juice, liquid smoke, onion powder, sea salt, paprika and pepper to form a paste. Add enough apple juice to make the paste easy to spread. Spread paste evenly over the meat and allow to sit at least 1 hour, longer is better.
When ready to grill, heat a gas grill on high until over 400 degrees (10-15 minutes) or light wood briquettes in a charcoal chimney and allow to burn until glowing and hot (15-20 minutes). Once hot, create two zones of heat. For a gas grill with at least three burners, turn off one side and keep the other side on high. For charcoal, dump hot coals into one side of the grill, leaving the other side open.
Start tri-tip fat side up and sear the meat directly over the hot side of the grill for about 5 minutes. Turn and sear the other side for 5 minutes as well. Move the meat to the cooler side, over indirect heat, on the grill and continue to cook for 10 minutes on each side until the thickest part is medium rare (130-140ºF), about 20 more minutes total. The thickness of the roast and desired doneness will dictate the remaining cooking time.
Once the roast reaches the desired temperature, remove from the grill, tent loosely with aluminum foil, and allow to rest for 10 minutes. Carve by slicing against or across the grain and serve.
Notes
For a special finish, top the Tri-Tip roast or steaks with herbed compound butter once removed from the grill.
Delicious Side Dishes for Grilled Tri-Tip:
Tuscan Roasted Broccoli: Thanksgiving (or Anytime) Side Dish
Bid Winter Adieu with Spinach-Strawberry Salad
Spaghetti Squash with Tomato, Basil, & Feta
Maple Acorn Squash
Vegetable Tian: Classic Gratin Comfort
Broccoli-Cauliflower Gratin Recipe: September Sides
Savory Sweet Potatoes
Caesar Salad: A Tableside Classic
Grilled Cabbage with Classic Caesar Dressing
Southwest Cauliflower Rice Pilaf with Toasted Pepitas