Beef Pot Roast, Beef Burgundy, Beef Bourguignon, and Sunday Roast are different names for the same thing—tender, slow-braised beef resting in rich mushroom gravy that tops potatoes like none other.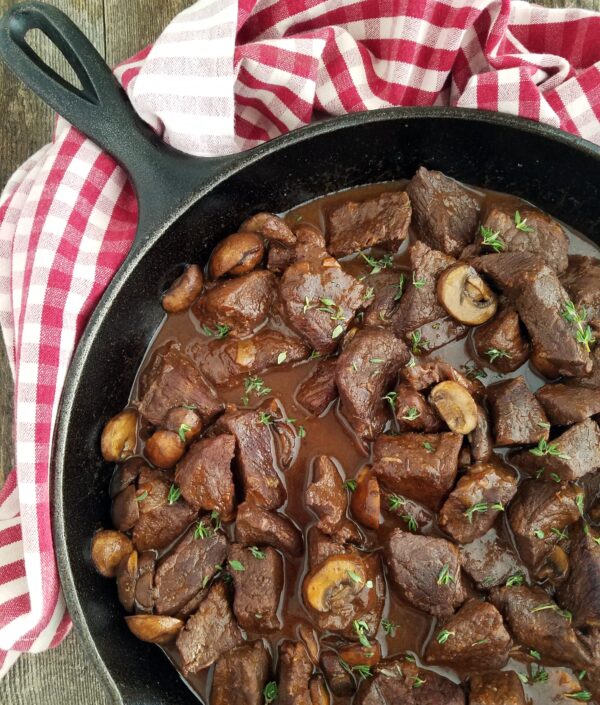 What began as a French peasant dish became a dinnertime staple in America, welcoming cooler weather with aroma promising a hearty meal.
On Sundays, families would leave for church and return home to (mostly dry, over-cooked) roast for dinner, or supper, depending on the part of the country.
Let me first clarify, beef pot roast is not roast beef.
Pot roast is braised (less liquid) or stewed (more liquid) at low temperature in either an oven, slow cooker, or simmered on the stove until the meat is fully cooked and fork-tender.
Roast beef is dry-roasted in the oven until medium-rare and sliced to serve. The ideal cuts of meat differ for each method, but here we are focusing on Beef Pot Roast.
The movie Julie & Julia brought new attention to mastering technique as an investment in everyday meals. Home cooks have tried to simplify this classic with soup mix or the throw-it-all-in-a-pot approach that does not compare in flavor or texture.
Tips for the Best Beef Bot Roast
Brown the meat to develop its deep, beefy flavor necessary for sumptuous gravy. In this recipe the meat is trimmed and cut into 2-3 inch chunks, allowing for more browned surface area and efficient cooking time. A slow cooker or an oven is suitable for slow roasting in STEP 8; just don't skip browning the meat properly.
Choose the right cut of meat. The best cuts for pot roast come from the shoulder or rump of the cow, the most worked muscles with lots of connective tissue requiring longer cooking time to break down. Look for chuck or rump roast, which come in various forms and names, so check this handy illustrated guide from Gourmet Sleuth.
Boneless beef short ribs are a good choice too, though you may have to do more trimming of the fat. Some fat is necessary for great tasting pot roast, but it doesn't need to swim in it.
Trim some fat. If the meat has a thick ribbon of fat—the type separating muscle, not marbling—thicker than 1/8-inch, it should be trimmed. This fat is not the type to melt within the meat to add to tenderness or flavor.
Cook a 3-4 pound roast for 2 1/2 to 3 1/2 hours, but not all day. This article at Serious Eats makes it easy to see how the meat changes when cooked too long—it becomes dry and mealy, even though it's soaked in liquid.
Timing the vegetables is also important to ensure the potatoes and carrots are fork-tender, not mushy. I know, the dump-it concept is easy and if you cannot tell the difference, or prefer extra soft carrots, go for it. Otherwise, hold those veggies until the last hour of cooking.
---
This post may contain affiliate links. For more information, please see our Disclosure Policy.
Tender Beef and Mushroom Gravy
Browning the mushrooms for the gravy is an important step and will add to the deeply flavored beef. Our family prefers crimini mushrooms for their deeper taste and firm texture.
Thickeners are not necessary for rich gravy, but can help if you're tight on time. Keep it gluten-free with NON-GMO cornstarch or arrowroot powder.
Beef Pot Roast Recipe
Slow braised beef pot roast with tender potatoes, carrots, and savory mushroom gravy is comfort food perfection.
Ingredients
3-4

lb

boneless chuck roast

, cut in 2-3 inch pieces

4

tablespoons

extra virgin olive oil

, used throughout cooking process

1

teaspoon

sea salt

1

teaspoon

freshly ground pepper

1

teaspoon

dried thyme

1

teaspoon

granulated onion

1

teaspoon

smoked paprika

1/2

teaspoon

granulated garlic

1

medium

yellow sweet onion

, chopped or sliced

3

stalks

celery

, coarsely chopped

6

cloves

garlic

, peeled, coarsely chopped

3

large

carrots

, peeled and cut lengthwise

5

medium

potatoes

, cubed or 12-15 fingerling potatoes, cut into 1 inch pieces

1

bay leaf

1

tablespoon

tomato paste

2

cups

red wine

2

cups

beef stock

16

ounces

crimini mushrooms

, sliced thick

2

tablespoons

butter

, for serving potatoes

Cornstarch

optional for gravy
Instructions
Preheat oven to 325°. Cut meat into 2-3 inch pieces and dry all sides with paper towels. Meat will not brown well if it is damp. Mix salt, pepper, thyme, granulated onion, granulated garlic, and paprika in a small bowl.

Use an oven safe covered pot, such as a Dutch oven, just large enough to hold roast and vegetables. Heat 2 tbsp of oil over medium heat (hot enough to sear the meat).


Brown roast pieces several minutes on each side, in small batches, until well browned. It is important not to overcrowd the meat while browning so it browns well and does not steam. Set browned meat aside on a platter and sprinkle with spice mix.

While meat is browning, prepare vegetables by coarsely chopping onion, celery, and garlic. Carrots can be cut into 1/2 x 2 1/2-inch pieces (sticks) and potatoes into 1 1/2-inch cubes in order to cook more quickly; set aside until ready to add to the pot later in the cooking process.

Once all the meat is browned, add celery and chopped onion to the pan to soften and caramelize over medium heat about 5 minutes or until light golden brown (additional oil can be added if the pan is too dry), add the garlic at the end of the caramelizing process.

Return the roast to the pot, including any juices that accumulated on the platter; let rest on top of the onions and celery.

Add the bay leaf, tomato paste, wine, and enough of the beef stock to barely cover the meat. Cover and bring to a simmer on top of the stove.

Once simmering, remove from the stove, cover with a lid, and place the pot in the lower third of a preheated oven. Cook for 3 hours, or until meat is tender and a fork pierces it easily.

During the last hour of cooking time, add the carrots and potatoes to the pot right, resting on top of the meat. Cover and return to the oven to cook until tender, about 45 minutes. 

While the potatoes and carrots are cooking, prepare and sauté mushrooms in a large skillet in 2 tablespoons of olive oil until browned. Work in small batches if needed to be sure the mushrooms brown well. Return all mushrooms to skillet and set aside, off heat, until roast is done.

Once the roast is tender and the potatoes and carrots are fork tender, remove potatoes and carrots from the pot and transfer to a serving bowl, add butter to the top and cover with a lid to keep warm. Place roasted meat in the skillet with mushrooms.

Strain the remaining contents of the pot to capture the liquid for gravy. Once strained, skim the top to remove fat or use a fat separator. Now taste it.


Add water if it's too intense or reduce in a sauce pan over medium heat until it lightly coats a spoon. For thicker gravy, thickened with a teaspoon or two of cornstarch mixed with a little water; stir into sauce and bring to a low boil.

Once the desired thickness is reached, add gravy to the skillet with the meat and mushrooms; let simmer uncovered 2-3 minutes while basting the meat. Salt and pepper as needed.

Serve the buttered potatoes and carrots on the side or arrange them on a large platter with the meat for family-style dining.
Notes
Serve with French green beans and hot dinner rolls.
Equipment
Nutrition
Calories:
750
kcal
|
Carbohydrates:
34
g
|
Protein:
52
g
|
Fat:
39
g
|
Saturated Fat:
15
g
|
Cholesterol:
166
mg
|
Sodium:
847
mg
|
Potassium:
2270
mg
|
Fiber:
6
g
|
Sugar:
5
g
|
Vitamin A:
5535
IU
|
Vitamin C:
24.2
mg
|
Calcium:
145
mg
|
Iron:
12
mg
More Comfort Food Recipes You'll Love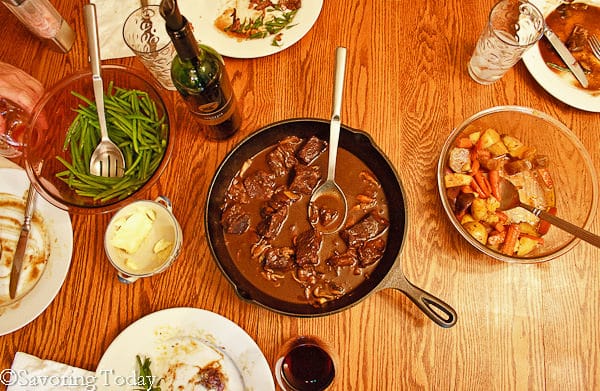 Just in case you have a leftovers, follow-up with a pot of Roast Beef & Vegetable Soup!