I think most of us would consider crab legs a splurge, the kind of meal you order when celebrating a special occasion or a bonus check.
Special because the rich, succulent meat is unmatched and the expense is considerable for a single meal.
What if you could make an amazing crab leg dinner at home for half the cost?
Menu prices vary, but you can expect to pay somewhere between $35-$55 for a crab legs dinner at a restaurant, depending on the type of crab and weight offered.
If you have a Costco or Sam's Club membership, it's worth checking there for a reasonably sized package. Often on the weekends, Costco has crab legs available individually at their seafood kiosk rather than in larger quantities.
Kroger and Whole Foods are also accommodating in this way which makes it easy to buy just what you need and is far better on a budget.
The prices at any of these stores range between $16-24 per pound, depending on the type of crab and seasonal sales.
How much crab do you get from crab legs?
The yield for crab legs is about 50% meat, so if you purchase 16-24 ounces for two people, you will end up with between 8-12 ounces of crab meat.
That is roughly 4-6 ounces per person.
For us, that is always enough because the meat is so rich and we prepare two side dishes or save room for dessert.
The bottom line is you can enjoy a fabulous dinner for two at home for about $60, including wine.
1 to 1 1/2 pounds (16-24 ounces) of crab legs (about $25), including garlic butter
two of the recommended side dishes below ($6-8)
dessert, homemade or purchased ($5)
Do you know how easy it is to cook crab legs? 
It's ridiculously easy. In the oven for less than 15 minutes, easy. Barely enough time to sip a little wine, easy.
No kidding. I wouldn't even call it cooking since they're already cooked, and you're simply reheating (recipe below).
Yes, they're all pre-cooked unless you're buying.
As long as your side dish is quick too, dinner is on the table in under 20 minutes because garlic butter doesn't take long to melt and release its heavenly bouquet.
I carry no guilt over the copious amount of butter the briny, sweet crab meat soaks up like a sponge.
Okay, you're celebrating, but is it right for date night?
This is a serious question if your stomach is a butterfly cage. Date food is the kind of noshing that keeps you in the safe zone and doesn't inspire finger licking, bib-wearing or face stuffing.
By this definition, you might rule out crab legs because it really is a hands-on, roll up your sleeves, get physical with your food kind of meal.
But there's another way to look at it; food can give you insight into people, at least, that's the way it worked for me.
At the time my husband and I were dating, we lived in Las Vegas during the era of all-you-can-eat hotel buffets (almost 30 years ago). I didn't realize until many years later what an impression I'd made during dinner one night at one of these crab leg buffets.
It's surprising I didn't scare him off as I polished off those buckets of crab (they brought them to the table in tin pails). He says he was in awe of how much I relished eating them; it delighted him that I could enjoy it that much.
Isn't that what you want—someone who is delighted by your happiness? Like I said, food can give you insight into people, so in my opinion, it's absolutely date food.
Choosing a side dish for crab legs.
When choosing a side dish for your crab leg dinner you want bright, clean flavors to balance the richness of the crab and easy to eat with your fingers.
You can just feel stress melting away, right?!
Side dishes for Crab Leg Dinner you can eat with your hands.
Artichokes
Roasted Asparagus
Brussels Sprouts
Rosemary Roasted Fingerling Potatoes
Risotto Cakes
Sweet Potato Fritters
Cheesy Quinoa & Broccoli Patties
Crispy Smashed Roasted Potatoes
Crudité Platter
They'll even taste good dipped in the garlic butter.
If you don't mind picking up a fork, consider one of these beautiful side dishes:
Roasted Beets with Blackberry-Ginger Balsamic & Feta
Spinach-Strawberry Salad
Citrus Salad with Maple Candied Walnuts and Orange-Dijon Dressing  (photo below)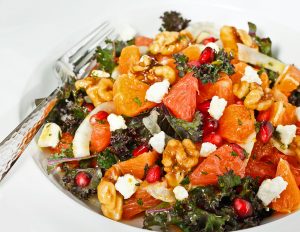 And don't forget dessert!
We love Double Chocolate Truffles and Cheesecake Strawberries because they are crazy good, simple to make, and maintain the eat-with-your-hands theme.
Bring even more WOW with one of these Valentine's Day Desserts to impress from start to finish.
All you need now is a hot, damp towel for your hands—simply wet washcloths with warm water and keep warm in a slow cooker until dinner is done.
How-To Prepare a Crab Leg Dinner:
Buying Crab Legs
The yield for crab legs is about 50% meat, so if you purchase 16-24 ounces for two people you will end up with between 8-12 ounces of crab meat, roughly 4-6 ounces serving size per person.
Snow Crab (shown in the second photo) has a smooth shell that is relatively easy to handle or even cut with scissors before serving.
It is harvested during the winter from January through March. The meat is sweet and silky, delicately hidden but easy to capture.
King Crab (shown in the first photo) is quite a specimen with its spiny, hard shells, and considerably longer legs.
It is harvested from the North Pacific and the Bering Sea from November through February, and during brief periods in July and September.
The meat is sweet and substantial due to the size of the legs—once you get to it, you'll have prized, man-pleasing bites of crab.
We're talking about frozen or previously frozen crab here—it's already cooked—and the most readily available.
If you are lucky enough to live in a location where live crabs are coming off the boat and your fish monger is cooking them fresh for you, kudos!
For the rest of us, they ALL arrive frozen at the store and the ones you see in the case at the seafood counter have simply been defrosted.
Unless I am preparing the crab legs the same day, I buy them frozen. You want them to taste as fresh as possible, so it's best that they aren't lounging in the fridge long after being defrosted.
Look for crab legs bright in color and relatively free of clumps of ice crystals or freezer burn. In the photo below you can see the ice looks more like a glaze, which is ideal.
Crab meat is delicate and won't taste fresh if the crab has been in the freezer too long or allowed to defrost and refreeze (which means you don't want to refreeze yours either).
Cooking / Reheating Crab Legs
You can grill, boil, or steam crab legs but there is nothing easier than the oven method described below, and it's the best way to keep them warm without drying them out if you're waiting for a side dish.
Oven Method: Allow crab legs to defrost in the refrigerator overnight and briefly rinse with cold water. Score or cut King Crab shells before heating with crab & seafood shears or a good pair of kitchen shears. Snow Crab shells are softer and easier to break and eat at the table.
Print
Crab Legs & Garlic Butter for Two
Author:

Prep Time:

5 mins

Cook Time:

10 mins

Total Time:

15 minutes

Yield:

Serves 2

Category:

Main Course, Seafood

Method:

Oven

Cuisine:

American
---
Description
Crab legs easily prepared in the oven in under 10 minutes.
---
Ingredients
16-24 ounces crab legs
water or beer
1/3 cup butter
1/2 teaspoon crushed garlic
1/2 lemon, cut into wedges
---
Instructions
Heat oven to 350 degrees. Arrange crab legs in a single layer on a large rimmed baking sheet.
Pour about a cup of water or beer into the bottom of the pan and cover tightly with aluminum foil.
Bake in the center of the oven for 8-10 minutes—you will begin to smell them when done.
Remove from oven, carefully fold back a corner of the foil to vent. Serve on the pan with the crab partially covered to keep it warm longer, or remove the foil completely and transfer to a large platter or bowl. Squeeze lemon wedges over crab when served. Dip crab into butter and swoon.
For the garlic butter:
Place butter and crushed garlic in a small oven-safe dish and slide into the oven with the crab legs on a separate rack (above or below doesn't matter). The butter should be melted when the crab is ready.
Divide into smaller, individual ramekins or share the same dish for dipping.
Keywords: How to Cook Crab Legs
Tips for Cracking Crab Legs
Depending on the type of crab, getting through the shell barrier can land somewhere between frustrating and painful.
Scoring or cutting King Crab shells before reheating with crab & seafood shears or a good pair of kitchen shears will make cracking them at the table a breeze.
Provide two extra cloth napkins (one for each hand) or small towels for each person when serving King Crab. Even if you score the shells, a napkin helps protect hands.
It's okay if you don't have crab cracking tools, a nut cracker works too (it's what we use).
To free the meat in whole segments, start at the smallest joint and work your way up the leg, as such:
Grab the leg on each side of the joint and bend backward to separate; as you pull the segments apart, there is a thin tendon that should stay attached to the joint as you pull it out of the larger section.
Holding the single segment between both hands, use your thumbs to apply pressure as you bend it just enough to break one side (you don't want to rip it in half); turn the leg segment over and repeat on the other side for a clean break without breaking the meat.
Pull the shell apart to expose the meat and then gently pull the crab meat out of the shell.
Crack the claws with a crab tool or nut cracker by squeezing the shell with the tool until the shell can be pried open with your fingers.
That's it! Easy to make and fantastic to eat.
Recipes for leftover crab meat: 
Crab-Stuffed Mushrooms
Jalapeno & Gouda Crab Dip
Crab Salad with Pear and Hazelnuts
Eggs Benedict with Crab & Asparagus
Crab Stuffed Whitefish
---
This post contains affiliate links. Thank you for supporting what I do here at Savoring Today. For more information, please see our Disclosure Policy.

This post may contain affiliate links. Read our