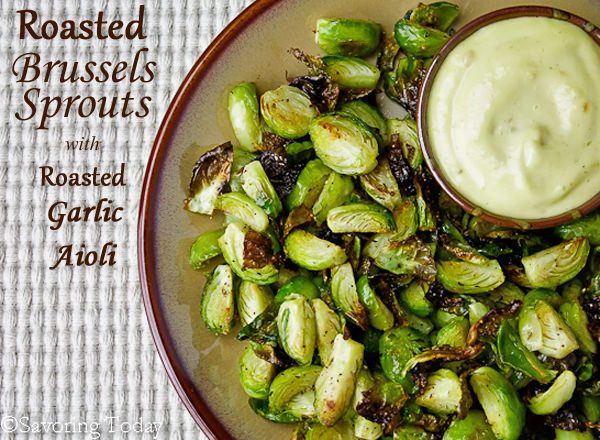 Oven Roasted Brussels Sprouts are worth another try.
If you grew up hating Brussels sprouts, give them a turn in a hot oven. Forget the hydrogen sulfide gas lingering in the air if you've only had them boiled. Ugh. Gross. Roasted Brussels Sprouts will not have the unpleasant smell or the limp, soggy texture you remember.
According to food trend gurus, Brussels sprouts are on the rise. Considering these little cabbage buds fall just behind a visit to the dentist on the least favorite list, there's little fear of world domination.
Food trend predictions remind me of the movie The Devil Wears Prada, when Miranda educates Andy about the independent choice she thought she was making by wearing a blue sweater was actually predicated upon the color choice of designers.
As menus and magazines emphasize one food item over another, I wonder if these food trends have as much influence on individual diet choices as they do on farmers and related jobs. I guess we'll see.
You may have already seen proclamations like, kale is out; Brussels sprouts are in.
What does that even mean? If you like kale will you suddenly exchange it for Brussels sprouts because it isn't popular anymore? Or is it as simple as embracing the inspiration (and recipes) to try something we might not otherwise?
I have to admit, kale wasn't on my radar until the plethora of salads, chips, smoothies, and soup recipes pinged my inbox and invaded print media. How else would I have learned to give leafy greens a massage?
Skip boiling and turn to the oven (and more salt).
For anyone open to giving Brussels sprouts another try, roasting and generously salting is a good place to start. (Think salt on French fries.) While doing research for a Supertaster post, it was suggested that salt (or sugar) can be an equalizer for bitter foods like Brussels sprouts.
This is why bacon (salty) and balsamic (sweet) both work. However, if you want to avoid the bacon bit hunt and simplify your feasting, just salt to taste. Get them dark brown and crisp while you're at it, and you'll experience Brussels sprouts at their best.
The Roasted Garlic Aioli is optional but highly recommended. Not only is it splendid with Roasted Brussels Sprouts, you'll have enough to serve it on sandwiches, grilled meats, hearty soups, potatoes, or wraps (even kale chips)—it's amazing stuff.
This recipe is so easy I've popped them in the oven for an afternoon snack or appetizer before dinner. The first few crispy-salty leaves to come out are choice nibbles, not to be missed.
Are you ready for the Brussels sprouts bandwagon?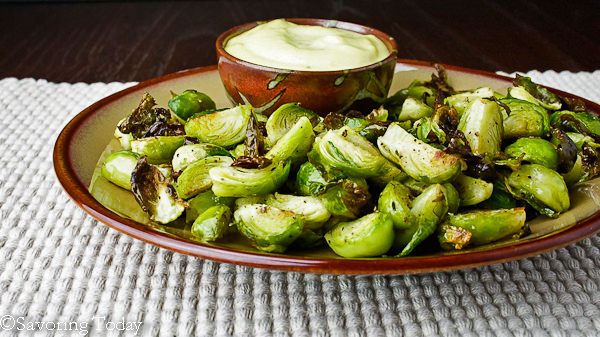 Roasted Brussels Sprouts
Brussels Sprouts roasted with olive oil, salt, and pepper for simple, delicious side dish or appetizer.
Ingredients
3

cups

Brussels sprouts

, halved, or quartered if large

2

tablespoons

avocado oil

, or coconut, or olive oil

1/2

teaspoon

sea salt

1/2

teaspoon

ground black pepper
Instructions
Toss sprouts in a mixing bowl with

2 tablespoons

oil. I like to use my hands to rub the oil over the sprouts and leaves until evenly coated. Spread them out on a rimmed baking sheet leaving space for better browning. Sprinkle with 1/2 teaspoon salt and pepper and bake at 400°F for

15-20 minutes

, or until the edges of most of the sprouts are golden brown and crisp.

Check every 5 minutes to stir as needed for even browning, transferring browned leaves to a platter while the rest finishes roasting. (It is hard to not eat these crisp leaves while waiting and watching--they are the best part.)

Once the Brussels sprouts are roasted, taste and add more salt and pepper as desired (adequate salt helps balance bitterness). Serve immediately.
Nutrition
Calories:
90
kcal
|
Carbohydrates:
6
g
|
Protein:
2
g
|
Fat:
7
g
|
Saturated Fat:
1
g
|
Sodium:
307
mg
|
Potassium:
256
mg
|
Fiber:
2
g
|
Sugar:
1
g
|
Vitamin A:
500
IU
|
Vitamin C:
56.1
mg
|
Calcium:
28
mg
|
Iron:
0.9
mg
Roasted Garlic Aioli
Creamy, rich aioli with the flavor of roasted garlic.
Ingredients
8-10

cloves

roasted garlic

2

tablespoons

olive oil

1

whole egg

1

egg yolk

1

teaspoon

dijon mustard

1 1/2

tablespoons

lemon juice

3/4

cup

avocado oil

1/4

teaspoon

sea salt

pinch

freshly ground pepper
Instructions
Roast garlic by cutting the top of the bulb off, exposing the tops of the garlic cloves; place in a small oven safe dish, drizzle olive oil over garlic bulb and roast in oven at 375° for 30-40 minutes until garlic is fragrant, lightly browned, and soft. Allow to cool until easy to handle. To remove the roasted garlic from the bulb, squeeze the bulb at the bottom releasing the cloves out the cut end. Cloves should pop right out. Separate out 5-6 cloves for the aioli and save remaining cloves for another recipe, or freeze for later use.

If using an immersion blender, add roasted garlic and remaining ingredients to a tall cup or jar large enough at the base for the blender to fit with at least an inch of space around the blender. Immerse the blender in the jar, using the blender to gently lift and stir while processing on high until the aioli is well mixed and creamy. If using a food processor, add garlic and remaining ingredients except oil to food processor bowl and pulse to combine. Then, while the machine is running, slowly pour oil in a steady stream while processing until aioli is well mixed and creamy.

The aioli will thicken when refrigerated. Use within one week.
Notes
Although a food processor does a fine job, an immersion blender is ideal and foolproof. The ingredients can all go in together, eliminating the step "slowly add the oil" so the oil can emulsify.
The garlic can be roasted ahead of time and refrigerated until ready to make the Aioli.
More Appetizer Recipes You'll Love:
Rosemary Roasted Fingerling Potatoes with Gochujang Aioli
Parmesan & Herb Zucchini Sticks Appetizer
Hot Artichoke Dip Appetizer
Shared on the following Blog Hops:
Hearth & Soul Hop