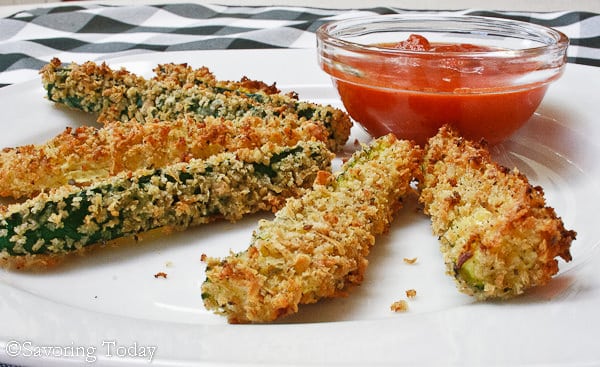 It was a delicious day in the kitchen working on appetizer recipes with Parmesan & Herb Zucchini Sticks as the next recipe highlight. Crispy coating, fragrant herbs, tender zucchini, and rich marinara create a fabulous vegetable delivery system.
Baked to crunchy perfection, Parmesan & Herb Zucchini Sticks are a healthy alternative to fried mozzarella sticks on your party table.
Variations of this recipe are all over the Internet; however, there is a technique included here to take this to a whole new level of crispy-from-the-oven goodness.
TIPS for Making the BEST Zucchini Sticks
First, we take care of the extra moisture in the zucchini, which can wilt the best of breadcrumb intentions.
Next, the olive oil is lightly mixed into the breadcrumbs and herbs to not only help it crisp in the oven but also keep the herbs and seasoning evenly suspended in the breadcrumbs rather than settling in the bottom of the bowl.
Finally, it's baked on a cooling rack set over a pan so the heat can circulate on every side, eliminating the need to turn the sticks while baking.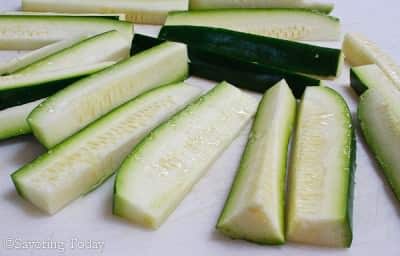 I ate half of what I made before plating them for photos, wondering how soggy the remaining pieces might be by the time I was done (ready to finish them off).
20 minutes later when they were done modeling for me, I put them back in the oven to rewarm for lunch and they were as perfectly crisp as when I first took them out of the oven.
Yes, I ate a dozen of these zukes and don't feel the least bit guilty.
Panko breadcrumbs are a must here; the texture is just not the same as regular crumbs. Serve them hot from the oven with your favorite marinara sauce or creamy ranch dressing; just don't be surprised if you can't stop eating them.
Adapted from Aggies Kitchen's Baked Parmesan Zucchini Sticks
More Healthy Zucchini Recipes:
Parmesan & Herb Zucchini Sticks
Baked to crunchy perfection, Parmesan & Herb Zucchini Sticks are a healthy alternative to fried mozzarella sticks on your party table.
Ingredients
2

medium

zucchini

cut into 1/2" inch sticks

1/2

teaspoon

sea salt

2

large

eggs

whisked

3/4

cup

Panko crumbs

unseasoned

3/4

cup

grated Parmesan

1 1/2

teaspoons

dried oregano

1/2

teaspoon

dried basil

1/2

teaspoon

dried thyme

3/4

teaspoon

granulated garlic

pinch

salt and pepper

2

tablespoons

extra virgin olive oil
Instructions
Preheat oven to 425°.

Trim the ends of the zucchini and then cut into 1/2″ sticks by first cutting it in half and then cutting each half into 8 4″sticks per half. Lay zucchini out on a sheet of paper towels and sprinkle cut edges with salt. Let rest 10-15 minutes to allow salt to draw out excess moisture.

Whisk egg in a shallow bowl until blended. If you have a mortar and pestle, crush the dried oregano, thyme, and basil leaves to release fragrant oils.

Mix bread crumbs, cheese, herbs, garlic, salt and pepper in another shallow bowl. Drizzle with 1-2 tablespoons of olive oil to lightly moisten breading, mixing thoroughly with a spoon until all the bread crumbs are lightly oiled and the same consistency.


The breading should still be light and fluffy like a bread crumb topping, not soggy.

Once the zucchini has released some of its liquid, blot with paper towels to remove excess moisture.

Dip each zucchini stick in egg and then roll in the bread crumbs, gently pressing the breading onto the zucchini. Place on a rack-lined baking sheet or on a parchment lined baking sheet.

Bake for 10-12 minutes or until golden brown. If using parchment, turn zucchini half way through the baking time. Serve with marinara sauce or ranch dressing.
Notes
I consider an 8″ x 1 1/2″ zucchini to be a medium, ideal size. When cut in half it will provide 4″ long sticks.
Nutrition
Calories:
29
kcal
|
Carbohydrates:
1
g
|
Protein:
1
g
|
Fat:
1
g
|
Cholesterol:
11
mg
|
Sodium:
89
mg
|
Potassium:
41
mg
|
Vitamin A:
60
IU
|
Vitamin C:
2.2
mg
|
Calcium:
36
mg
|
Iron:
0.3
mg