What do you get when you ignore your garden for a few days?
Zucchini revenge.
I tend to pick zucchini once they reach about 6 inches long for their consistent texture, but when we returned from our long weekend in Estes, there was one zuke well beyond its tender youth. (Oh man, can I relate.) This one could be seen from the office window, mocking me for my neglect.
From what I can gather, I'm not the only one with larger than life zucchini on the counter—as soon as I posted a photo of our Italian-Style Stuffed Zucchini on Facebook, friends confessed their own zucchini dilemma. It's one of those vegetables that gets out of hand quickly and it's passed along to friends, neighbors, and co-workers at every opportunity. Just about everyone with a garden makes the naive miscalculation about the number of zucchini to plant. Been there. Once.
So what do you do when you find yourself with a squash the size of your arm? You thank your lucky stars and stuff that puppy, that's what! Then you pass along the recipe to your friends because you know it's the time of year they're likely to end up with one too.
Besides, eating well is the best revenge … or something like that. 😉
So this recipe is for all my friends harvesting a little later than you intended and for all my other friends on the receiving end of your harvest. Italian-Style Stuffed Zucchini almost tastes like pizza, my husband said, but it is certainly his favorite way to eat squash. The zucchini is overflowing with savory vegetables and classic Italian flavors of Kalamata olives, fennel sweetened sausage, and fresh basil. There is just enough cheese to hold it all together atop the crisp-tender squash for a meal everyone will savor.
As you can see in the photo, we enjoyed this as a one-dish meal, but you can add bread and a fruit salad to stretch the servings—leftovers warm up beautifully. As you can imagine, the stuffing ingredients are easy to customize, include the flavors you like best and enjoy!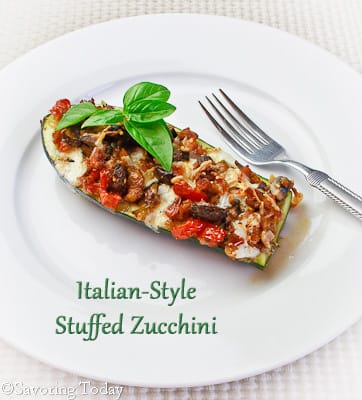 Italian-Style Stuffed Zucchini
Zucchini overflowing with savory vegetables and the classic Italian flavors of Kalamata olives, fennel sweetened sausage, and fresh basil.
Ingredients
1

large

12-inch zucchini

(or 4 smaller squash) cut in half lengthwise, seeds and center scooped out to leave 1/4 inch thickness

1/2

pound

sweet Italian sausage

browned and drained

1/2

teaspoon

crushed red pepper flakes

use 1/4 teaspoon for less spice

1/2

cup

sweet onion

chopped

2

cloves

garlic

minced

2

tablespoons

olive oil

1/2

medium

medium green pepper

diced

8

ounces

mushrooms

coarsely chopped

1/2

teaspoon

dried oregano

1

cup

fresh tomatoes

chopped

1/2

cup

pitted kalamata olives

cut in half

1/4

cup

fresh basil

chopped

1/2

cup

grated Parmesan cheese

plus more to sprinkle on top

1

cup

mozzarella cheese

cut into 1/2 inch cubes

Sea salt and pepper
Instructions
Preheat oven to 375°. To prepare the zucchini, cut in half lengthwise, then scoop out the seeds and part of the flesh in the center to create a hollowed-out section for the stuffing, leaving about a 1/4" edge. A small teaspoon with a narrow or pointed end works well for this. Save and freeze the part removed to add to soups or quick breads at a later time. Salt and pepper the zucchini and set aside.

Brown the sausage in a skillet with the red pepper flakes, breaking up the sausage into small crumbles as it browns. Once done, drain on paper towels and set aside.

In the same skillet, cook the onions in the fat from the sausage over medium heat until translucent, about 5 minutes (add olive oil if the skillet is too dry). Add the garlic, stir and cook until fragrant, about 2 minutes. Add the olive oil, green pepper, mushrooms, and oregano in with the onions and garlic; cook over medium heat until mushrooms release their liquid and wilt. Remove skillet from heat and allow vegetables to cool.

In a large bowl, mix the sausage, mushroom mixture, tomato, olives, basil, and Parmesan until combined. Gently stir-in the mozzarella cheese.

Pat zucchini dry with paper towels if liquid has collected in the centers. Turn zucchini over and brush the skin side with olive oil. Place in a casserole dish large enough to hold the zucchini and fill with the stuffing, mounding it on top and pressing down so it will hold together. Top with parmesan and drizzle with olive oil.

Bake at 375°F for 30 minutes, or until cheese is melted and browned in spots. Note: The size of the zucchini will dictate cooking time, so test with a fork to determine doneness. If a fork pierces the zucchini with only light resistance, it is crisp-tender and ready to remove from the oven. If a softer texture is preferred, bake another 5-10 minutes.
Notes
Zucchini vary in size, so be flexible with the stuffing. This recipe will fill zucchini 12-14 inches long and approximately 3 inches in diameter.
To make this gluten-free, use gluten-free sausage.
To make ahead, the stuffing ingredients can be prepared and refrigerated for up to 3 days, except for the tomatoes and basil.
Substitute 1/2 teaspoon of dried basil for fresh basil, if desired.
Nutrition
Serving:
4
g
|
Calories:
457
kcal
|
Carbohydrates:
10
g
|
Protein:
22
g
|
Fat:
37
g
|
Saturated Fat:
13
g
|
Cholesterol:
73
mg
|
Sodium:
1069
mg
|
Potassium:
653
mg
|
Fiber:
2
g
|
Sugar:
5
g
|
Vitamin A:
850
IU
|
Vitamin C:
32.6
mg
|
Calcium:
335
mg
|
Iron:
1.8
mg