Oh, the cheese—that golden brown, melted goodness laminating the saucy, meaty pan of comfort and joy. Vegetable? Wait, no pasta? Nope.
Not a pasta dish; it's Meat Lover's Zucchini Lasagna.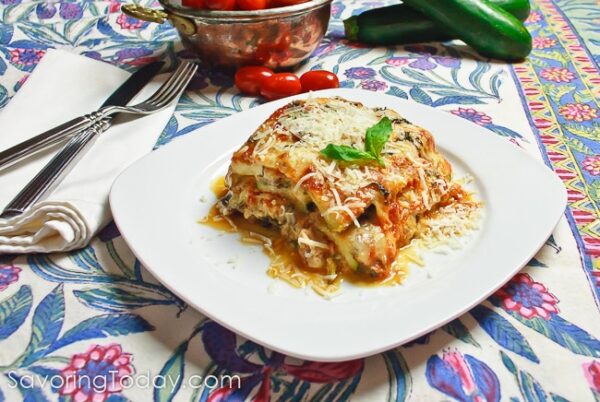 Why meat lovers? Because vegetable noodles are crazy enough, right?! According to my husband, no less than two pounds of meat would be acceptable.
Although, for the less carnivorous, it would be fabulous as a vegetarian dish without the meat.
Zucchini stands in for layers of pasta tucked between layers of cheese and meat for amazing low carb comfort food.
A complete meal in one baking dish.
So you've spent the last hour (or more) making lasagna, and now you realize you should probably toss a salad.
Not a big deal because you have a few minutes while it bakes, but what if the vegetables were already in there and it truly was a one-dish meal?
Like any lasagna, the layering comes together pretty fast once the prep is done. But then, there's that prep, which is why I like that it's a complete meal by the time it's all layered and baked.
This way, you save the salad and the effort.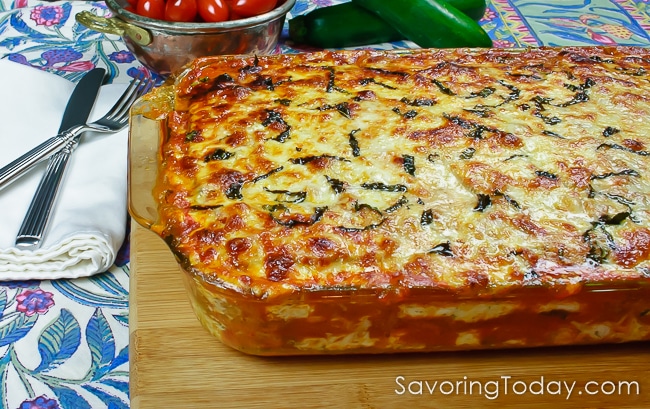 Naturally gluten-free zucchini "noodles" make healthy choices easier.
Swapping the zucchini for the noodles means enjoying the flavors you love while breaking away from the carb overload common with lasagna.
No, we are not on a low-carb diet. We don't diet at all. As I explain on my Food Philosophy page, healthy eating is a lifestyle of (daily) good food choices, not food fads.
We always try to incorporate more vegetables in our meals deliciously, and this recipe hits the mark.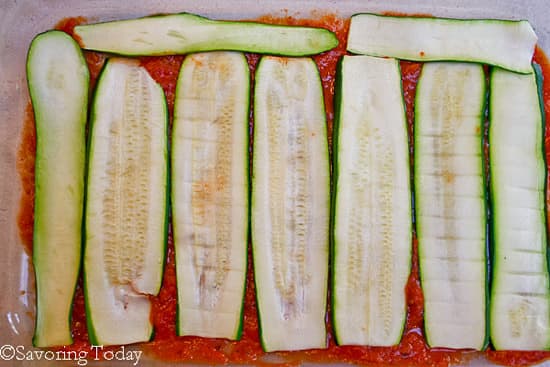 How to slice zucchini for lasagna
Zucchini is remarkably easy to slice when you stand it up as you would slice kernels from an ear of corn. It's easy enough to slice, but it does require a little prep before layering.
High in water content, fresh zucchini must be salted to draw out moisture, so the lasagna isn't too sloppy, which is easy to do while prepping the other ingredients.
Once it goes into the oven, you'll have time to light a few candles and pour some wine—savoring your time as much as the meal itself.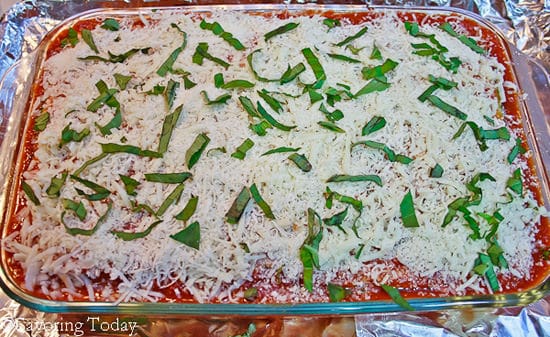 More Savory Zucchini Recipes You'll Love: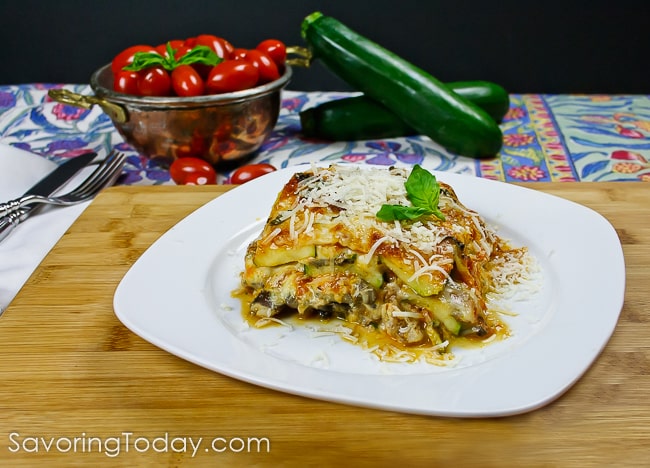 Meat Lover's Zucchini Lasagna
Zucchini stands in for layers of pasta, tucked in between layers of cheese and meat for amazing low carb comfort food.
Ingredients
1

small

garlic bulb

roasted

Extra-virgin olive oil

2

pounds

zucchini

(1 1/2 x 8-inch)

1

teaspoon

sea salt

1

pound

sweet Italian sausage

browned and crumbled

1

pound

hot Italian sausage

browned and crumbled

16

ounces

sliced mushrooms

15

ounces

ricotta cheese

5

cups

shredded mozzarella cheese 

(about 1 lb)

1

cup

grated Parmesan cheese

1

large

egg

1/4

cup

chopped fresh parsley

1/3

cup

chopped fresh basil 

32

ounces

spaghetti sauce

(any favorite, thicker is better)
Instructions
Roast garlic by cutting the top of the bulb off, exposing the tops of the garlic cloves (reserve trimmed garlic tips — about 1 teaspoon, minced);

place bulb in a small oven safe dish, drizzle enough oil over garlic bulb to coat the top and surface; roast in oven at 375° for 30-40 minutes until garlic is fragrant, lightly browned, and soft. Remove from oven and allow to cool until easy to handle.


To remove the roasted garlic from the bulb, squeeze the bulb at the bottom releasing the cloves out the cut end — cloves should pop right out. Coarsely chop and mix with the mushrooms, once cooked. Reserve any remaining oil from the roasted garlic to grease the baking pan.

Trim ends from squash, then slice a sliver off one side to create a flat side. Stand squash up on a cutting surface like an ear of corn and carefully slice the squash lengthwise along the flat side into 1/8″ slices, running a knife just inside the original trimmed edge to create flat, wide "noodles".

Lay out squash on a paper towel lined pan, sprinkle with salt, and let set 30 minutes to sweat. Once garlic is roasted, increase oven temperature to 400°F. Brown sausage in a large skillet over medium heat.


Once browned, mix the two types of sausage together and set aside. Using the fat from the sausage (add oil if needed), cook the mushrooms and garlic over medium heat until the mushrooms are wilted and release their moisture.


Transfer mushrooms to a paper towel lined bowl and toss with roasted garlic. Set aside until ready to use.

Rinse zucchini and pat dry with paper towels. Arrange zucchini on a rack set over a rimmed baking sheet and bake for 15 minutes. Remove from oven and reduce oven temperature to 350°F.

Mix the ricotta cheese, egg, parsley, and nutmeg until well blended. Stir in 3/4 cup of the Parmesan and 2 cups of the mozzarella.

Lightly grease a 9×13 pan and layer with 2/3 cup sauce, zucchini, half the sausage, half the mushroom and roasted garlic, 1/2 the basil, 1 cup mozzarella, and all the ricotta mixture.

Continue to layer with 2/3 cup sauce, remaining zucchini, sausage, mushrooms and roasted garlic. Top with 1 1/2 cup sauce, 2 cups mozzarella, and remaining basil

Bake for 35-40 minutes, or until cheese is melted and golden brown on top. Remove from oven and let stand for 10 minutes before serving.
Notes
This lasagna will release more liquid than lasagna made with pasta. Serve with crusty French bread to soak up every drop.
Nutrition
Calories:
813
kcal
|
Carbohydrates:
16
g
|
Protein:
47
g
|
Fat:
62
g
|
Saturated Fat:
28
g
|
Cholesterol:
200
mg
|
Sodium:
2128
mg
|
Potassium:
1278
mg
|
Fiber:
3
g
|
Sugar:
9
g
|
Vitamin A:
1770
IU
|
Vitamin C:
34.5
mg
|
Calcium:
674
mg
|
Iron:
4.1
mg