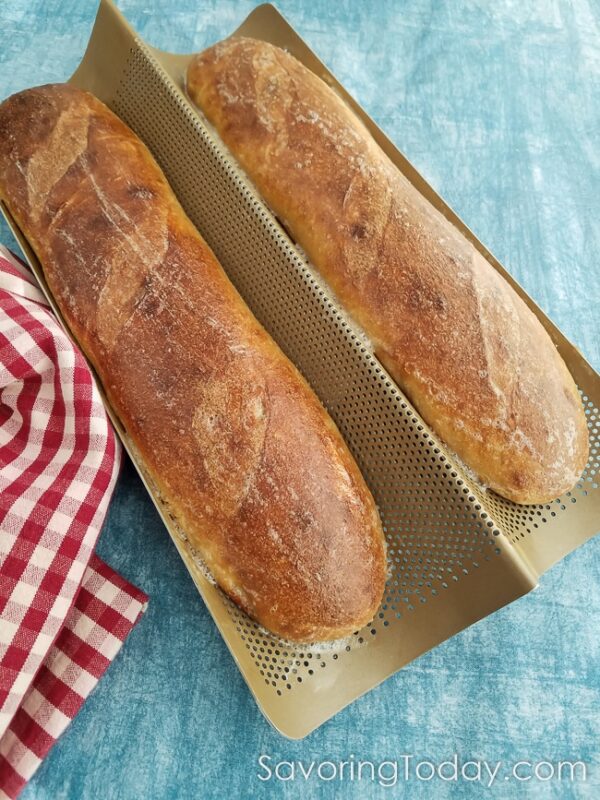 When we decided to eliminate white flour from our diet years ago, a good French baguette was the one thing I missed most.
Bread with soup, bruschetta, crostinis with baked brie, homemade croutons, and garlic bread were all off the menu until I could find or make a better alternative.
Converting from white to whole wheat was not enough; there was the issue of the phytic acid in untreated grains that I also wanted to avoid.
This Sprouted Wheat French Bread was just the healthier choice I was looking to find.
Sprouted Whole Wheat Bread is a Better Alternative
Phytic acid in grain combines with key minerals, especially calcium, magnesium, copper, iron, and zinc preventing their absorption. Soaking or sprouting the grain before baking neutralizes this acid, releasing the full benefit of the grain.
This simple step also aids digestion, avoiding that too-full feeling often experienced after eating bread products. Although it was easy enough to find sprouted sandwich bread at the health food store, a sprouted wheat baguette was nonexistent.
At first, I was intimidated by the idea of soaking flour (8-10 hours) or sprouting grain to make a loaf of bread. It was easier to just avoid bread at dinnertime all together, but as I said, I missed it.
With a little research and determination, I converted a French bread recipe to include the soaking method with great success, yielding a wonderful loaf with the classic pull and chew I always loved about French bread.
Buying Sprouted White Whole Wheat Makes it Easier
The only down side was my own spontaneity when cooking—I don't always know a day in advance what I'm going to prepare. My mom, who is rich in colloquialisms, calls it "getting a wild hair."
So, when I conveniently found sprouted whole wheat flour at Whole Foods and on-line, ready for recipes without soaking, I was pretty excited. My bread basket can now be filled any day of the week.
This recipe requires a little time to let the dough rest, but the work is minimal and the loaves are beautiful and delicious. I often bake and freeze several at a time, so it is easy to enjoy healthy, whole grain bread any time the mood strikes.
Fresh baked French bread warms the house and draws everyone to the kitchen with hope for tasting—just be sure there is extra-virgin olive oil nearby for dipping.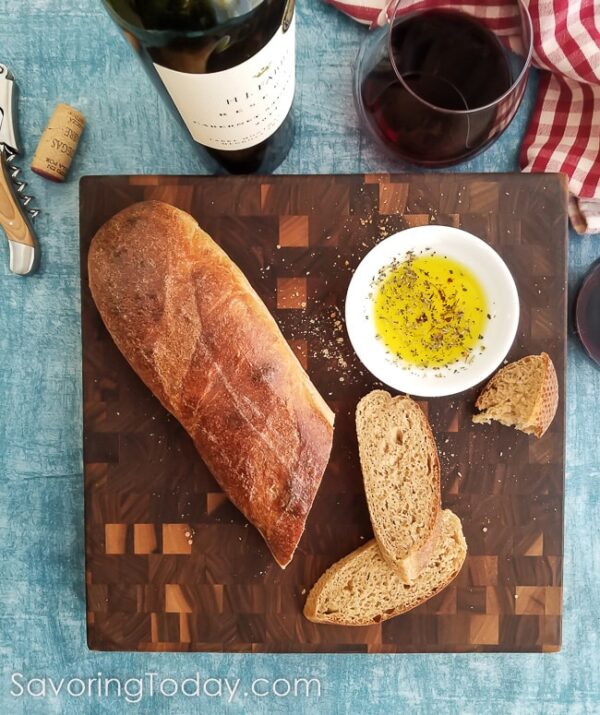 FOLLOW THESE TIPS TO MAKING THE BEST SPROUTED WHEAT FRENCH BREAD:
Sprouted White Whole Wheat Flour. You absolutely can make this recipe with any sprouted whole wheat flour. However, I highly recommend the white wheat variety, which is what I used.White and red wheat have the same levels of nutrition, but white has a sweeter, mild flavor (less wheat-y) and produces a lighter texture in softer baked goods like rolls and pastries.
Patience. The trick is to be patient during the folding process and allow the flour to absorb the liquid in the recipe—and you may need to let it rise a little longer.
Resist the urge to to add more flour. The dough is sticky, so you'll be tempted to overcome the sticky-ness with more flour, but if you do that the finished product will be heavier and dry.Pay close attention to whether it is "holding its shape" as described in the recipe. Once the dough slump is minimal, it's time to switch from flour to oil. Watch the video here:
More recipes using Sprouted Wheat French Bread:
Caprese Panzanella Recipe
Tomato and Basil Bruschetta
Shrimp Scampi
7 Tips for Hosting a Wine & Cheese Party
Sprouted Wheat French Bread
A French bread with pull and pleasantly chewy soft interior. Its mild wheat flavor yields to the bright green tang of extra-virgin olive oil used for dipping.
Ingredients
4 1/2

cups

sprouted white wheat flour

1 3/4

cups

warm water -- 110°F

2 1/4

teaspoons

active dry yeast

, or 1 package

1

tablespoon

honey

2

teaspoons

sea salt

1

egg white -- for egg wash
Instructions
In a large bowl or stand mixer, combine water, yeast, and honey. Allow to stand 5 minutes for yeast to soften and begin to bubble. Mix in the salt and half the flour (about 2 1/2 cups) until smooth. Cover and set aside at room temperature for 3 hours.

Mix in the remaining flour 1/4 cup at at time, up to a total of 4 1/2 cups, mixing thoroughly, until dough begins to hold its shape. The dough should be sticky but not runny.


Don't be tempted to continue adding flour or the bread will be dense -- using a mixer to knead helps prevent adding too much flour to the sticky dough.

Once the dough is mixed and beginning to hold its shape, spread a little oil on the counter and turn out the dough onto the counter to rest for 5 minutes. This is important to allow the flour to fully hydrate

. With a little oil on your hands or using a pastry knife, lift and fold the dough onto itself 4 or 5 times. Repeat the 5 minute rest, followed by folding, three more times.


(This process will take about 20 minutes.) During this folding and resting process, the dough should continue to stabilize and form a soft ball, though it will still be somewhat sticky.

Lightly oil a bowl with olive oil. Place dough in bowl, then turn over so oiled surface faces up. Cover with plastic wrap and a dish towel and let rise for 1-1 1/2 hours, or until double in size.

Turn dough onto a lightly floured surface and gently knead again. Divide dough into two parts.

Roll each half between your hands and the counter (you may need to flour or oil the counter) to stretch the dough into a long loaf shape, about 15" in length. Place on a baking sheet or in a baguette pan (see photo).


Slice the tops of the loaves diagonally about 1/4" deep with a razor blade or sharp knife. Let rise for about an hour, until doubled in size.

Heat oven to 450°. Place a shallow pan of hot water (about 1 1/2 cups) on the lowest bottom rack in the preheated oven.

Bake baguettes on the middle rack for 12-14 minutes, watch to be sure the loaves do not become too browned--tent with foil if browning too fast. While the loaves are baking, prepare the egg wash by gently mixing 1 egg white and 1 tablespoon of cold water.

Remove the pan of water and brush the loaves with the egg wash. Return loaves to the oven and bake for 3-5 more minutes or until loaves are golden brown.

Cool completely before slicing. Serve with butter or olive oil or dipping.
Notes
Baking the bread with a pan of water to replicate the steam ovens used in French baking creates a crust that has pull and is pleasantly chewy. However, in areas of high humidity, it is not necessary and can make the bread seem under-baked when finished. Simply bake the bread as directed without that step.
Nutrition
Calories:
974
kcal
|
Carbohydrates:
203
g
|
Protein:
41
g
|
Fat:
5
g
|
Sodium:
2343
mg
|
Potassium:
425
mg
|
Fiber:
30
g
|
Sugar:
8
g
|
Calcium:
187
mg
|
Iron:
6.6
mg
More recipes using sprouted wheat flour:


Shared on the following Blog Hops:
Premeditated Leftovers Hearth & Soul Hop
---
This post contains affiliate links. Thank you for supporting what I do here at Savoring Today. For more information, please see our Disclosure Policy.