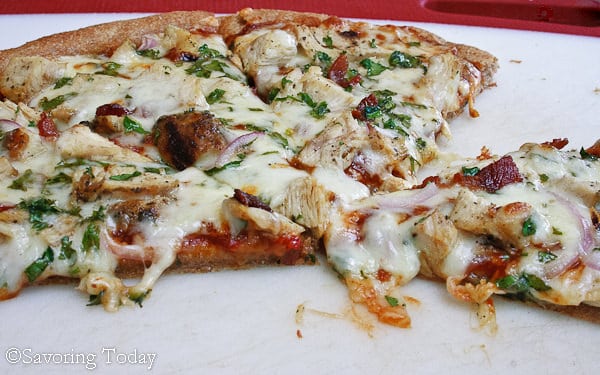 Oh my, pizza pie!
My sisters and I learned to make pizza from our mom, who had Italian neighbors as a child and visited the pizzerias in New York as an adult. As a child, she developed such an affinity for the neighbor's cooking, that she tried to hang around just about dinner time to finagle an invite. Evidently, her friend's parents only spoke broken English, but Mom could still understand she was wearing out her welcome. Mom's first taste of pizza was on Coney Island when she was 16; the experience is still fresh in her mind even now at 81. She later learned to make pizza from her sister who lived in New York for many years.
She brought her love for Italian food and pizza with her to our farm in Missouri. Making pizza became a Christmas tradition, a special time for family and friends. Everyone loved Mom's pizza so much, there was the usual chatter at the table about how she should open a pizzeria, but she was happy to host an annual feast in her kitchen of 8 or 10 custom pies. Guests were easily beguiled by the flavors, over indulging, unaware of the "swell" that can follow pizza eaten too fast with a soda chaser. One year, my sister's boyfriend ate so much he got sick, unwilling to heed the warning and pace himself. Like I said, everyone loved Mom's pizza.
As we got older, we could do more than grate cheese, so we learned to make the dough by hand, mix the sauce, and eventually make the pizza at every step. Although the topping combinations changed, certain things were consistent, important to my enjoyment of pizza to this day. Regardless of toppings, each pizza was finished with Romano cheese, oregano, and a drizzle of olive oil. A sprinkle of Parmesan was fine at the table, but a generous handful of Romano crowned the pies like a delicate halo, bringing the pizza to life.
Over time, our favorites expanded beyond sausage and pepperoni or regular white flour crust to include gourmet toppings and crusts made with no flour at all. That's one of the things I love about pizza, it is so easy to customize. This series is inspired by my mother's lessons all those years ago, mixed with my own creativity into a virtual pizza feast, Five Pies in Five Days—a collection of pies just for my on-line friends. You are welcome to join-in with a link to your own pizza recipe—feel free to do so in the comments, or just chime-in with your favorite topping combinations.
The first pizza in this series is BBQ Chicken Pizza. This is a family favorite as well as a friend, neighbor, and just about anybody walking down the street favorite.  I've had this type of pizza a number of times in restaurants and in my opinion, it's never quite right. Too often the sauce is so strong it overpowers everything or there seems to be a cilantro shortage because there is barely enough to land on every slice. I think you'll like how these flavors complement, yet allow each one to remain distinct. A mild tomato-barbeque sauce, tender chicken, smoky bacon, creamy Jack cheese, a hint of red onion, and fresh cilantro is a blend of hearty, satisfying flavors your family will ask for again and again.
BBQ Chicken Pizza
Smoky barbecue sauce cradling grilled chicken, purple onion and cheese, topped with fresh cilantro.
Ingredients
4

slices

bacon

cooked and crumbled

2

grilled chicken breast

chopped

2/3

cup

tomato sauce

1/3

cup

smoky barbecue sauce

1/2

cup

thinly sliced red onion

1

cup

fresh cilantro

coarsely chopped

6

cups

shredded Monterey Jack cheese
Instructions
Make pizza dough (recipe below) or use 2 preformed medium 14 to 16-inch crusts.
Prep the Chicken and Bacon
Heat oven to 450°F for at least 30 minutes or longer if using a pizza stone or steel. Heat grill to 400°F for the chicken.

Season chicken with salt and pepper and drizzle with olive oil (this can be done up to a day in advance). Cook chicken on grill over medium-low heat for

4-5 minutes

on each side until cooked through (160°F in the center); chop into bite-size pieces. TIP: Save time with pre-made grilled chicken breast.

Fry the bacon in a large skillet over medium heat until crispy. Cool and crumble into small pieces.
Roll the Dough
Roll out pizza dough into desired shape and size. TIP: If using whole wheat crust, pre-bake pizza crust alone until set but not browned, about

5 minutes

this will make the crust crispier when the pizza is baked. 

Mix the tomato sauce with barbecue sauce (more of either can be added, to taste). Spread approximately 1/2 cup of sauce over pizza crust with the back of a spoon to thinly cover the crust, as desired.
Top and Bake (Single Medium Pizza)
Sprinkle 3 cups of cheese, 1 cup of chicken, 1/4 cup of onion, half the crumbled bacon on top of the sauce.

Bake at 450° for

10-12 minutes

until the crust is browned and the cheese is melted and bubbly.

Remove pizza from the oven and top with fresh cilantro. Cut and serve.
Notes
This recipe makes 2 medium pizzas that can easily be frozen once all the toppings (except cilantro) are placed and baked at a later time. To freeze, wrap with plastic wrap and then with aluminum foil. Freeze until ready to bake, do not thaw to bake.
Nutrition
Calories:
462
kcal
|
Carbohydrates:
7
g
|
Protein:
35
g
|
Fat:
31
g
|
Saturated Fat:
18
g
|
Cholesterol:
119
mg
|
Sodium:
789
mg
|
Potassium:
320
mg
|
Sugar:
5
g
|
Vitamin A:
910
IU
|
Vitamin C:
2.7
mg
|
Calcium:
649
mg
|
Iron:
1.4
mg
There is a wide range of opinions about pizza crust—thin, hand-tossed, pan pizza, low-carb, gluten-free—we will highlight several of these throughout the week. One thing I think we can all agree on is, the crust is important, so choose the one that you fancy the most and go with it. At our house, we avoid using white flour, so this pizza is shown with a hand-tossed, sprouted wheat crust. Of course, you can always make it with whatever flour you choose. Either way, I recommend using a seasoned pizza stone or dark pan for pizza, shiny or light colored pans do not allow the crust to reach the desired golden brown color or crispness.
Sprouted Wheat Pizza Dough
Tender pizza crust with whole grain sprouted wheat.
Ingredients
2 1/2

teaspoons

active dry yeast

1

cup

warm water

(110°)

1

tablespoon

honey

2

tablespoons

extra-virgin olive oil

1

teaspoon

sea salt

3

cups

sprouted wheat flour
Instructions
In a large bowl or in the bowl of a stand mixer, sprinkle yeast over warm water and honey. Let stand for 5 minutes to soften.

Stir in olive oil, then add salt and 1 1/2 cup of the flour. With a large spoon or mixer, mix until dough is elastic, about 5 minutes. Let dough rest 20 minutes.

Mix-in remaining flour 1/2 cup at a time until dough forms a soft ball of dough. Although the dough will be more shaggy than regular white flour dough, if it appears to be too soft or won't hold its shape, add 1/4 cup more flour.

Place in a greased bowl; turn dough to grease top. Cover tightly with plastic wrap and let rise in a warm place until doubled, about an hour.

Roll into desire shape or press into pan for pizza.
Notes
Makes (2) 14-inch hand-tossed pizza crusts or 4 thin crust pizzas
In order to create a more crisp texture, pre-bake the crust 5-6 minutes before topping, then top and bake as directed. This crust can also be pre-baked and frozen for future use. Bake 5-6 minutes at 450° until dough is set, but not browned. Let cool completely on wire racks, then cover completely with plastic wrap. If you can't lay the crust on a flat shelf, wrap a piece of cardboard with aluminum foil and lay the pizza on the cardboard for support before wrapping with plastic wrap. When ready to prepare the pizza, place the pre-baked crust on a pizza pan, add toppings, and bake.
Nutrition
Calories:
200
kcal
|
Carbohydrates:
35
g
|
Protein:
7
g
|
Fat:
4
g
|
Sodium:
292
mg
|
Potassium:
85
mg
|
Fiber:
5
g
|
Sugar:
2
g
|
Calcium:
30
mg
|
Iron:
1.1
mg