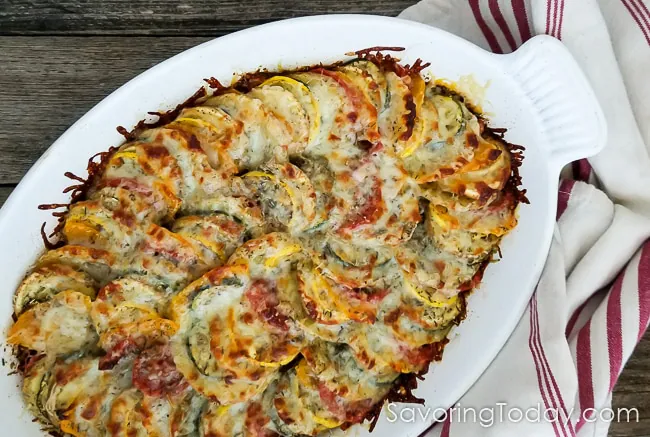 Prepping the vegetables for Vegetable Tian is a little like unloading the dishwasher—it always feels like it will take longer than it actually does. And having the counter cleared of all those dirty dishes is a lot like eating more vegetables … it just feels good.
In this case, it's an amazing side dish too! I think you'll enjoy it so much, you'll want to add it to your holiday side dishes and impress your friends and family.
Vegetable Tian is a striking dish and deliciously uncomplicated for healthy holiday dinners.
What exactly is a Tian?
Tian is a reference to the type and shape of the actual baking dish used also known as an Au Gratin Baking Dish
. It is a shallow, wider dish at the top, sloping down to a narrower bottom versus a casserole pan
with taller, straight sides.
Either type pan is suitable for this recipe, it's just good to know that each produces slightly different results.
The wider top allows for more moisture to evaporate and more surface area for the crust. Deeper, straight sides of a casserole will produce slightly more juices in the bottom of the pan (see photo below).
A tian is also called a gratin because of the classic browned layer of cheese or breadcrumb topping. To keep the recipe gluten-free, I chose a simple topping of cheese. It may look like ratatouille, especially the one depicted in the animated movie, but it isn't—ratatouille is more like a stew.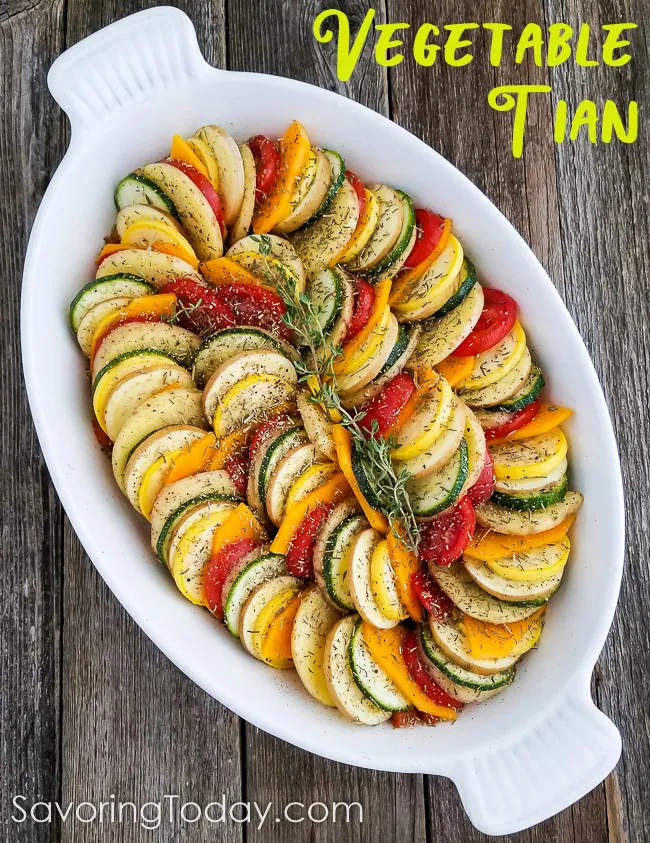 Versatility is just one more thing I love about this easy vegetable side dish. The Provençal version is made with alternating rows of sliced zucchini, eggplant, and tomato. I am not a fan of eggplant, so I've customized the recipe for even more eye-catching color. 
Tips for the best Vegetable Tian:
Choose a mix of vegetables with high and low water content. Zucchini, yellow summer squash, and tomato are all high water content; sweet potato, Yukon gold, and butternut squash are low water content. Using both will balance the amount of liquid.
Slice dense winter squash a little thinner in order for everything to cook evenly, because high water content veggies cook faster than the low water content type.  A mandolin slicer is an efficient tool, but a sharp Chef's knife does the job just fine.
The vegetables do not have to be perfectly round; any shape is suitable as long as it can be sliced for layering. Larger rounds, like butternut squash, are cut in half or quartered for a better fit.
Create the layering pattern alternating between high and low water content. Alternate the layering pattern as such: zucchini, sweet potato, yellow squash, butternut, tomato, potato.
Select a quality melting cheese. (See printable below.)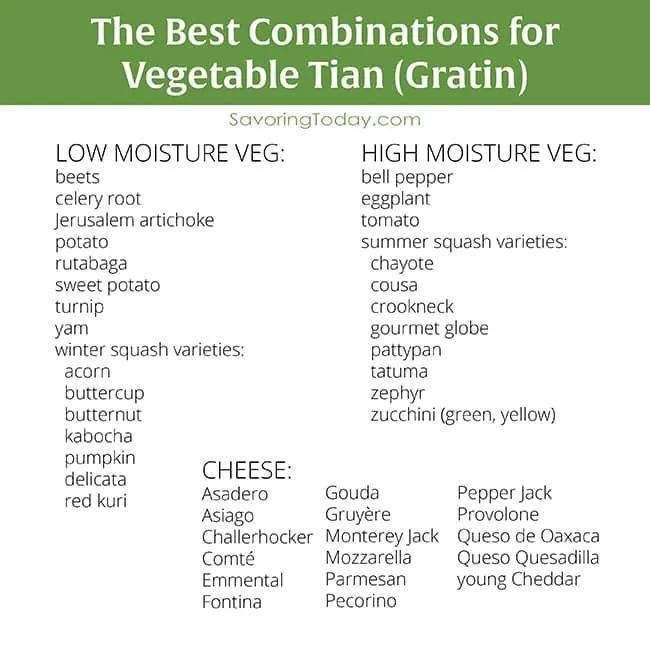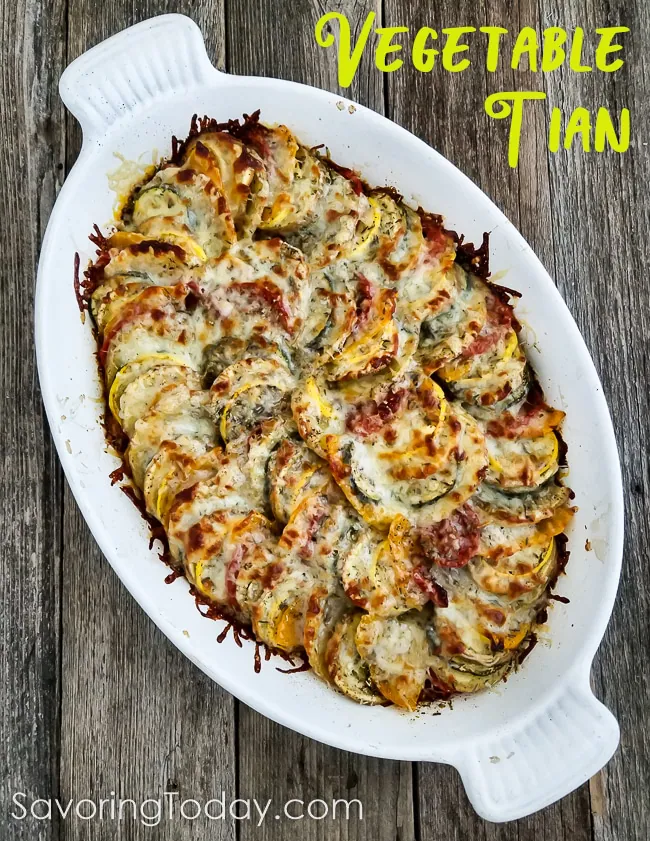 Vegetable Tian: Classic Gratin Comfort
Alternating rows of sweet potato, zucchini, butternut and tomato under a delicate cheese topping creates a stunning classic gratin.
Ingredients
2

tablespoons

extra-virgin olive oil

plus more for preparing pan

1

small

sweet yellow onion -- diced

, about 1 cup

1

small

red bell pepper -- diced

, about 1 cup

2

cloves

garlic -- minced

1

med

zucchini

(about 8 ounces) -- unpeeled, sliced 1/8-inch thick

1

med

yellow squash

(about 8 ounces) -- unpeeled, sliced 1/8-inch thick

3

small

Yukon Gold potatoes

(about 10 ounces) -- unpeeled, sliced 1/8-inch thick

1

small

sweet potato

(about 10 ounces) -- unpeeled, sliced 1/8-inch thick

5

small

tomatoes

(about 12 ounces) -- sliced 1/4-inch thick

1

small

butternut squash

, sliced 1/8-inch thick -- peeled

1 1/2

teaspoons

sea salt

1 1/2

teaspoons

ground black pepper

2

teaspoons

dried thyme

1 1/4

teaspoons

dried rosemary -- crushed

1 1/2

cups

shredded cheese -- Gruyere

, Fontina, or Gouda (see notes)
Instructions
Heat oven to 400 degrees. Brush a light coat of olive oil in a 12-inch au gratin baking dish or 9x11-inch casserole dish.

Cook the onions and bell pepper in 2 tablespoons of olive oil over medium heat until onion is translucent and soft, about 8 minutes. Season with 1/2 teaspoon of salt and pepper, stirring occasionally. Add the garlic and cook 2 more minutes.

While the onions are cooking, slice the vegetables (low water content can be thinner than higher water content). Once prepped, spread the vegetables out on a rimmed baking sheet and season evenly with 1 teaspoon of salt and pepper.

Spread the onion mixture evenly in the bottom of the baking dish and sprinkle with 1 teaspoon thyme and 3/4 teaspoon rosemary. Place the sliced vegetables in the baking dish vertically, in an alternating pattern, until the dish is filled (save any leftover sliced vegetables for another recipe).

Sprinkle the remaining 1 teaspoon thyme and 1/2 rosemary over the top of the vegetables. Season with any salt or pepper remaining on the rimmed baking sheet.

Bake uncovered for 30 minutes. Top with cheese and continue to bake another 15 minutes or until the vegetables are soft and the cheese is beginning to brown. Serve immediately.
Notes
Choose vegetables similar in diameter to make the finished dish more even. However, if it is difficult to find potatoes or tomatoes smaller in diameter, cut the slices in half for a better fit. Expect to have slightly more vegetables than will fit in the dish, save them for a quick stir-fry.
Cheese suggestions: Any combination of Comté, Emmental, Challerhocker, Parmesan, aged Gouda, Gruyère, Fontina, Asiago, Pecorino or young Cheddar complement the mild aromatics without overwhelming.
Nutrition
Calories:
348
kcal
|
Carbohydrates:
39
g
|
Protein:
15
g
|
Fat:
16
g
|
Saturated Fat:
7
g
|
Cholesterol:
36
mg
|
Sodium:
728
mg
|
Potassium:
1379
mg
|
Fiber:
8
g
|
Sugar:
9
g
|
Vitamin A:
18290
IU
|
Vitamin C:
89.1
mg
|
Calcium:
461
mg
|
Iron:
4.9
mg
More Vegetable Side Dish Favorites:
Tuscan Roasted Broccoli
Roasted Brussels Sprouts with Roasted Garlic Aioli
Curry Roasted Acorn Squash & Pecans
Roasted Beets with Blackberry-Ginger Balsamic & Feta
Savory Sweet Potatoes
Broccoli-Cauliflower Gratin
Roasted Vegetable Medley with Rosemary & Thyme
Mashed Sweet Potatoes with Roasted Garlic

Wondering what to do with the extra vegetables?
Vegetables are rarely the same size, producing just the right amount. No worries! Use those extras for a stir-fry, Frittata or Breakfast Casserole.
Got Vegetable Tian leftovers?
This dish is as comforting and tasty warmed up as it is fresh. You'll enjoy seeing it in your lunch, or added to Quiche and soups. Our favorite way to enjoy the leftovers is topped with a sunny-side-up egg for breakfast!
---
This post contains affiliate links. I receive compensation from purchases made through these links without any added cost to my readers. For more information regarding ads and advertising affiliations, please see our Disclosure Policy. Thank you for supporting what I do here at Savoring Today.