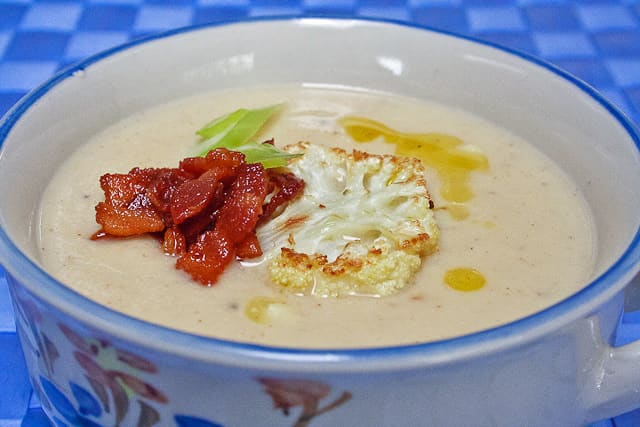 Yesterday, with the storm blowing outside, I was ready with a fist full of recipes. Sausage and Lentil Soup were already on the docket, along with sprouted wheat bread recipes, both dinner rolls, and French bread.  Mid-morning, the creative process kicked in and this recipe lined up in my head like a military march.
I often wonder why these flashes of creativity strike during a shower, at 3:00 a.m., or when I am already committed to something else for the day.
Oh well, I have learned to grab a pen and something to scratch it out on, because you can bet money on the fact it will NOT come back to me later. Fortunately, I had more than the back of an envelope at hand, so the recipe made its way from my head to the paper.
Roasted cauliflower and roasted garlic …

these

would carry the show.
Wanting it as creamy white as possible, I chose parsnips over carrots and declined the notion of celery. Cauliflower creates a creamy texture all on its own once pureed, so a small amount of cream is all it took to hit the mark for texture.  Roasted garlic brings a smooth, deep flavor to quick soups, making it taste like it has simmered all day. Stir in extra roasted cauliflower just before serving, garnished with bacon and scallions for a little crunch and satisfying finish.
This recipe was so easy to put together it was ready in time for lunch with plenty of energy for my bread and lentil soup, which we had for dinner.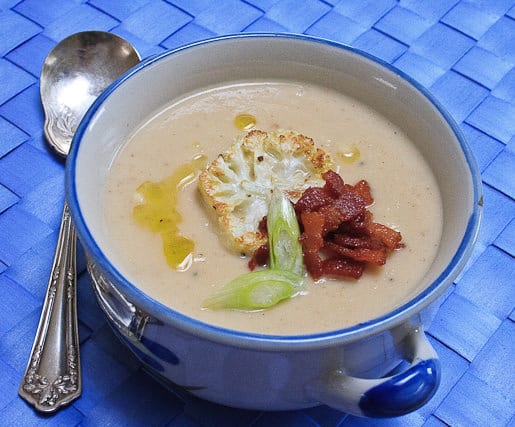 Roasted Cauliflower & Garlic Soup
Creamy roasted garlic and cauliflower soup garnished with bacon and scallions.
Ingredients
1

small

bulb garlic

(8-10 cloves) — roasted

2

tablespoons

extra-virgin olive oil

1/2

small

head cauliflower

, sliced 1/4″ thick

lemon pepper

2

slices

bacon

, fried and crumbled

3/4

cup

parsnip

, peeled and diced

1/2

cup

chopped sweet onion

2

cups

chicken stock

2

tablespoons

cream

Chopped scallions

, for garnish

Sea salt

Freshly ground pepper
Instructions
Heat oven to 400°F Cut top of garlic bulb off so that the majority of the cloves are exposed. Place in a small oven proof dish, pour 2 tablespoons olive oil over garlic bulb, and roast at for

30 minutes

or until garlic is soft.

Arrange sliced cauliflower on a rimmed baking sheet, brush with additional olive oil and sprinkle with 1/2-1 teaspoon of the lemon pepper. Place in the oven beside the garlic and roast for about

10 minutes

, stirring midway through, until cauliflower is lightly browned. Remove cauliflower from oven and set aside. When garlic is soft and top is lightly browned, remove from oven, place garlic bulb on a plate and let cool. Reserve roasted garlic oil for garnish, if desired.

Cook bacon in a medium sauce pan until crisp and fat is rendered. Drain on paper towel, crumble, and set aside. While bacon is cooking, finely chop 1/2 cup of the roasted cauliflower and reserve.

Cook onion and parsnip in bacon fat in the same sauce pan over med heat until vegetables are softened, about

5-6 minutes

. Add cauliflower except for the reserved 1/2 cup to the onions and parsnips. Squeeze the garlic bulb from the bottom to remove garlic cloves and add cloves to the pot.

Pour 1 1/2 cups of the broth over the vegetables and simmer for

8-10 minutes

or until vegetables are all cooked through. Puree soup in a blender until smooth, return to sauce pan and add remaining broth, reserved cauliflower, and cream.

Heat on low for 2 minutes to heat through. Serve in warmed bowls and garnish with crumbled bacon, scallions, and drizzle with reserved roasted garlic olive oil.
Nutrition
Serving:
4
g
|
Calories:
211
kcal
|
Carbohydrates:
12
g
|
Protein:
5
g
|
Fat:
15
g
|
Saturated Fat:
4
g
|
Cholesterol:
21
mg
|
Sodium:
261
mg
|
Potassium:
364
mg
|
Fiber:
2
g
|
Sugar:
4
g
|
Vitamin A:
110
IU
|
Vitamin C:
21.6
mg
|
Calcium:
29
mg
|
Iron:
0.6
mg