A few months ago I hosted a birthday brunch for a friend and the moment we were all together it was like a breath of fresh air. Most of the ladies around the table were part of the group warmly, yet reluctantly, referred to as the Elephant Ladies—a few friends who got together for lunch at the Elephant Bar Restaurant once a month. No one was wild about the title, but we were comfortable enough in our own skin to deal with the insinuation and it made us laugh. Over the past six months or so, schedules changed, busy Holidays got in the way, and financial strain took its toll, so we hadn't gathered around a table in a while.
As we greet one another the sweet fragrance of catching-up fills the room. We need our girlfriends.
When I was a young bride, my perception was that my husband would fulfill all my relationship needs. Poor guy. That wasn't just a two-ton truckload of pressure for him, but woefully unrealistic on my part. This perception created tension and left both of us frustrated. What I needed were girlfriends in my life so I'd know I wasn't crazy, yet could break it to me gently when I was approaching the threshold, because they truly understand. My life has been so enriched by their friendship—my cup runneth over whenever we're together.
What do girlfriends have to do with Egg & Sausage Casserole?
Well, the need for girlfriend time created the need for a good breakfast casserole because after spending nearly six hours together at the birthday brunch, it was obvious we needed to do this more often. So our original Elephant Ladies, with the addition of a few more, became a Brunch of Friends meeting at my house without worry about staying too long at a table (we've outlasted the wait staff), schedule conflicts, or tight budgets. The coffee is hot and the table is reserved for the day.
Hosting a monthly brunch has inspired me to look for recipes to feed a crowd, but still keep it light enough for breakfast/lunch type dining. Egg & Sausage Casserole is once such recipe, deliciously pared with fruit, yogurt, or a light salad. Any leftovers reheat well, so you can be sure nothing is wasted if fewer show up than expected. The original recipe was sent to me in a text message, which tells you how easy it is, but made it hard to pass along. After receiving multiple requests for this recipe, it seemed only fitting to create a proper way to share it with all my friends—those close by and on-line. 🙂
Perfect for an Easter brunch buffet or easy breakfast for out-of-town guests, "it's a keeper" kind of recipe to serve any number quite well.

Commonly referred to as a frittata (a crustless quiche), I chose to serve it in a deeper casserole dish rather than a pie shape, but the idea is very similar. You can customize the add-ins to your heart's content and there is no crust to fool with, so it is perfect for gluten-free friends. To ease the preparation time on the morning you plan to serve it, prep the add-ins the day before or several days in advance so it is just a quick step of mixing and into the oven. When serving quiche, frittata, omelets, or egg casserole, bits of tomato, sliced avocado, fresh herbs, and a sprinkle of feta elevates the entire dish—simple, yet worthy of treasured guests.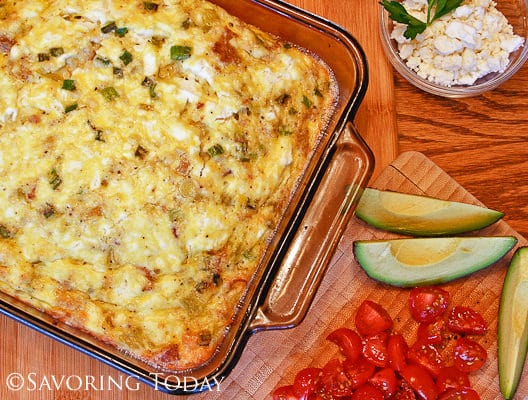 Egg & Sausage Breakfast Casserole
An easy make-ahead breakfast with eggs, sausage and cheese topped with avocado and fresh tomato.
Ingredients
2

tablespoons

butter

, divided for skillet and baking pan

3

green onion

, diced

1

clove

garlic

, minced

8

large

eggs

1/3

cup

cream

, or sour cream

1/2

teaspoon

sea salt and freshly ground pepper

3

sausage patties

, cooked and crumbled

1/4

cup

diced green chilies

2

ounces

goat cheese

2

avocado

, sliced for garnish

2

tomatoes

, chopped for garnish

1/2

cup

feta cheese

, for garnish
Instructions
Preheat oven to 350°F. Prepare 8x8-inch baking dish with butter.

Saute green onion and garlic with 1 tablespoon butter in small skillet until onion is softened.

Mix eggs, cream, green onion, garlic, salt, pepper, sausage, and green chilies in a mixing bowl until well combined.

Pour egg mixture into prepared baking dish. Dot with crumbled goat cheese and bake for

30-40 minutes

. If eggs jiggle in the middle when moved, continue baking until eggs are 'just set', but not browned. Remove from oven and allow to rest for 5 minutes before serving.

Garnish each serving with fresh avocado slices, tomato, and feta cheese, as desired. Salt and pepper, to taste.
Notes
Any combination of add-ins can be substituted for the sausage, green chilies, and goat cheese.
If using firmer cheeses like cheddar, mix into the eggs rather than sprinkling on top before baking.
Before adding chopped vegetables, sauté in a skillet with butter for 3-5 minutes to soften and allow moisture to evaporate before adding to the eggs.
Nutrition
Calories:
428
kcal
|
Carbohydrates:
9
g
|
Protein:
18
g
|
Fat:
36
g
|
Saturated Fat:
14
g
|
Cholesterol:
340
mg
|
Sodium:
657
mg
|
Potassium:
632
mg
|
Fiber:
5
g
|
Sugar:
2
g
|
Vitamin A:
1395
IU
|
Vitamin C:
14.7
mg
|
Calcium:
147
mg
|
Iron:
2.5
mg
Shared on the following Blog Hops:
Real Food Whole Health Fresh Bites Friday
The Nourishing Gourmet Pennywise Platter Thursday
Real Food Forager Fat Tuesday
Hearth & Soul Hop