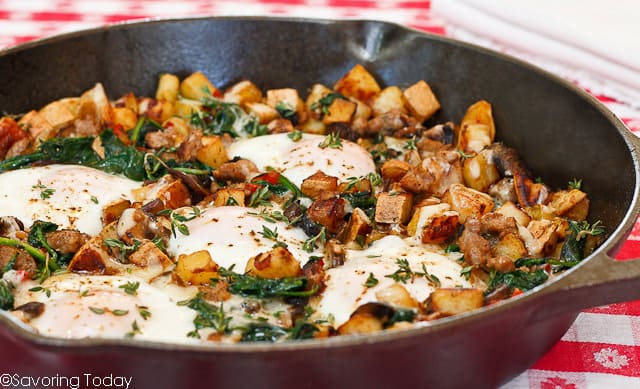 Sorting recipes for a cookbook is a little bit like sorting photos into family albums. Sometimes there's the cutest picture but it doesn't go with the album theme, so you stick it on the refrigerator until it can find a permanent home. This Savory Breakfast Skillet was one such casualty when the final cut was made for our Serve and Savor Cookbook. I chose to go with less conventional chapters based more on cooking motivations—simplicity, make-ahead, gathering, adventure—so this hearty breakfast treasure didn't quite fit.
Too good to keep to myself any longer, I am setting the table for breakfast and you're invited. I need everyone to show up on time because it tastes best when fresh out of the oven.
You can swap regular potatoes for the sweet potatoes, just don't skimp on the salt. Potatoes of any kind need salt. I imagine if Bill Murray's character in What About Bob? were a potato talking about salt, it would sound something like this:
I hope that was funny and not weird. We watched that movie last week and I just had to work it in somewhere. It's an oldie but a goodie.
Okay, back to breakfast (or brunch) and skillets loaded with hearty sausage, sweet potato, mushrooms, peppers, and sunny golden eggs. My favorite part is watching the yolk meander and mingle with everything else once it's safely corralled on my plate. That pretty much gets the day off to a great start.
Print
Savory Breakfast Skillet
Author:

Prep Time:

15 mins

Cook Time:

30 mins

Total Time:

45 minutes

Yield:

5

Category:

Breakfast, Brunch, Eggs
---
Ingredients
1/2 pound sausage or bacon, browned and drained
2 tablespoons coconut oil
1 large sweet potato or regular potato, scrubbed, cut into 1/2″ cubes (about 1 pound)
1 teaspoon salt
1/2 teaspoon pepper
2 tablespoons butter
1/2 cup diced sweet onion
1/2 cup diced red bell pepper
6 ounces mushrooms, sliced (about 2 cups)
2 garlic cloves, minced
1/2 teaspoon dried thyme
5 ounces spinach leaves, washed and patted dry
5 large eggs
1 cup shredded sharp cheddar cheese
Fresh thyme, for garnish
Chopped tomatoes, for garnish
---
Instructions
Heat oven to 350°F. Brown the sausage in a 12-inch cast iron skillet until fat is rendered and sausage is crumbled and cooked through (if cooked in patties, crumble with your hands once cooled). Transfer to a plate and set aside.
If less than 2 tablespoons rendered fat remain in the skillet, add coconut oil and cook the sweet potato over medium-low heat, stirring frequently, until browned and tender, 10-12 minutes. (Even if you start with a little fat from the sausage, you may need to add coconut oil if the pan becomes is too dry.) Transfer to a plate and season with salt and pepper.
In the same skillet, saute the onion and bell pepper in the butter over medium heat until softened, about 8 minutes. Add the mushrooms, garlic, and thyme; continue to cook until the mushrooms wilt, about 3 minutes. Stir-in the spinach and cook until the spinach wilts.
Add the crumbled sausage and potatoes back to the skillet, stirring to blend the ingredients. Sprinkle cheese over the top and make 5 small pockets for the eggs. Break 1 egg into each pocket. Season eggs with salt and pepper.
Bake for 10 to 12 minutes or until eggs are just set. Serve immediately with fresh thyme and chopped tomatoes and to garnish.
---
Notes
To save time, use leftover grilled or roasted vegetables, potatoes, or sausages.
More Healthy Breakfast Recipes:
Sweet Potato Hash Browns: Extra-Ordinary Breakfast Food
Butternut Squash Quiche with Italian Sausage and Sage
Amazing Gluten-Free Buttermilk Pancakes
25 Healthy Breakfast Ideas for an Inspired Menu Plan
Sweet Potato Home Fries