Healthy gluten-free whole grain and almond flour pancakes your family will love and you feel good about serving. This recipe is our new standard for fluffy Buttermilk Pancakes.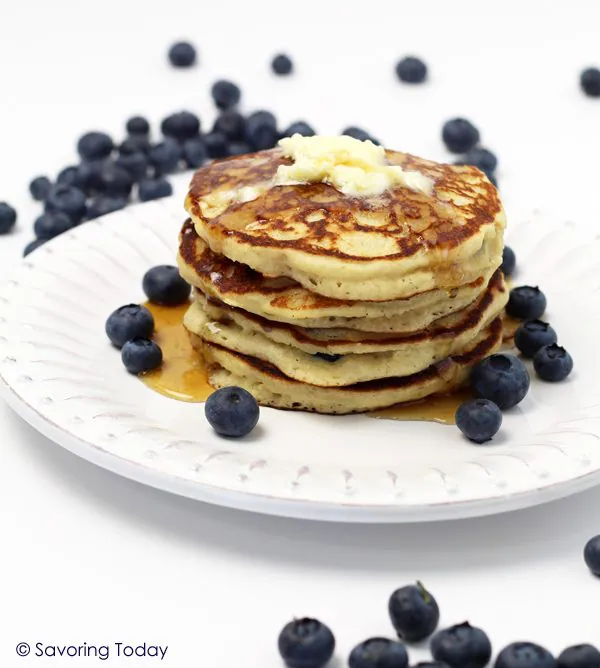 Our daughter decided to avoid gluten and sugar for a month to support a friend doing the same. Within the first week, she noticed she didn't feel fatigued as she had, yet dreading the idea this may be a new way of life for her. Flipping through an issue of Fine Cooking, Gluten-Free Buttermilk Pancakes caught my attention and since I wanted to support her desire to live healthier, I was set to try them.
Folks, they are delicious. Really.
Pancakes are my husband's favorite breakfast food. "It's cake, in a pan," He says. Add blueberries and I could use it as leverage to ask for just about anything. 😉 But you know me, it needs to be healthier cake in a pan. Well, the Fine Cooking recipe served as a great start and with a few adjustments to the flours, oil and sugar we found a new standard for Buttermilk Pancakes. 
This post may contain affiliate links. For more information, please see our Disclosure Policy.
What did my pancake man say?
Once he got past the "Mmm" was, "Those are the best pancakes I've had in a long time, maybe ever."  When our daughter's friend tried them, she asked, "How is this possible?" Evidently, other bread-type gluten-free products she had eaten for the past two weeks were like bricks.
I was happy to find sprouted brown rice flour and sprouted oat flour at Whole Foods to raise the nutritional value—the results were fluffy, crave-worthy pancakes the whole family enjoys and I feel good about serving. Yes, these are whole grain and almond flour pancakes that will rock your breakfast world.
Know what else? You can make them ahead and pop them in the freezer for later too! I think you'll be impressed with how nicely they reheat in the microwave or toaster (even with blueberries) to satisfy your pancake mood on a whim.
For more make-ahead meals or breakfast ideas, follow my Make-ahead Meals Board or Breakfast & Brunch Board on Pinterest where we add new ideas almost daily.
Did you know this recipe is also in my Serve and Savor cookbook? I share updated recipes from the blog in the book as well new recipes you won't find here, like Sprouted Whole Wheat Waffles with Mixed Berries—another great make-ahead breakfast. Get a signed print copy when you order from my cookbooks page. 🙂
Buttermilk Pancakes [Gluten-Free]
Fluffy, delicious gluten-free pancakes made with sprouted whole grains and almond flour.
Instructions
In a large bowl, whisk the brown rice flour, almond meal, oat flour, cornstarch, baking powder, and salt. In a medium bowl, whisk the buttermilk, eggs, butter, honey, and vanilla. Stir the wet ingredients into the dry ingredients until combined.

Coat a griddle or skillet with coconut oil and heat over medium heat until hot. Working in batches, ladle 1/4 cup of the batter per pancake onto the griddle or skillet, leaving a few inches of space between each to allow for spreading.


Cook until golden-brown on the bottom, 1 to 2 minutes (if adding blueberries, drop several on top of the pancake before turning). Flip and cook the pancakes until the other side is golden-brown, 1 to 2 minutes more.

Serve immediately, or transfer to a cooling rack set over a large baking sheet and keep warm in the oven. Apply more coconut oil between each batch as needed. Serve the pancakes with butter and pure maple syrup.
Notes
Regular brown rice flour or oat flour can be substituted for the sprouted flours.
Nutrition
Calories:
315
kcal
|
Carbohydrates:
39
g
|
Protein:
9
g
|
Fat:
13
g
|
Saturated Fat:
4
g
|
Cholesterol:
95
mg
|
Sodium:
416
mg
|
Potassium:
426
mg
|
Fiber:
2
g
|
Sugar:
8
g
|
Vitamin A:
305
IU
|
Calcium:
195
mg
|
Iron:
1.8
mg
Note: If the sprouted flour is not available at your local health food store, it is available online. Regular brown rice flour, oat flour, and almond flour is available at most King Soopers (Kroger) stores. 
Have you figured out the secret to the perfect first pancake? … have you ever noticed how the first two pancakes always seem to be "testers" that don't quite turn out the rest of them? No matter the batter, it never fails to be that way for me.