If you're a fan of potato skins, you'll love the crisp, slightly chewy texture of these skinny spuds and how sturdy they are for dips and appetizers.
Take these Rosemary Roasted Fingerling Potatoes with Gochujang Aioli to parties for a tasty grain-free dipper, perfect for two or three bites.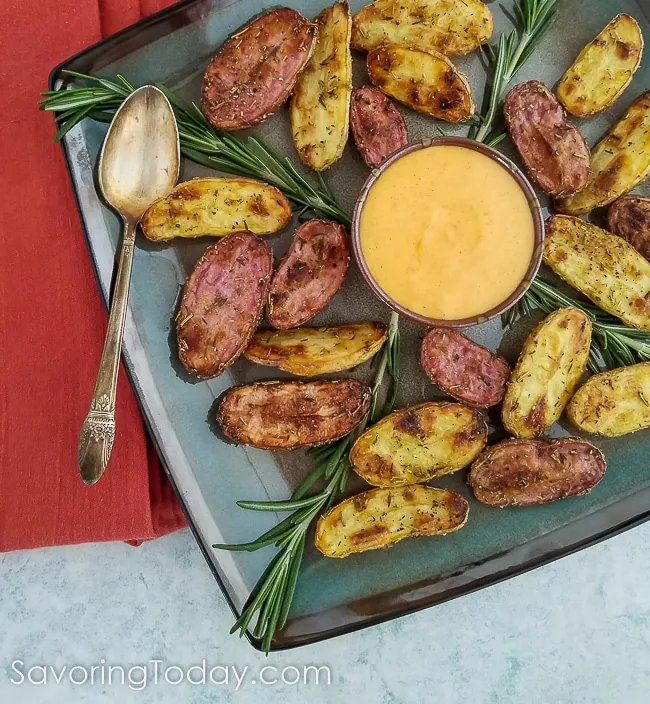 Roasted fingerling potatoes score big points around our table as an easy appetizer or side dish. Typically, we eat lower-carb vegetables, but when we do add potatoes to the menu, it's fingerlings I reach for most.
What are fingerling potatoes?
As you might guess,
fingerling potatoes
get their name from their shape—they look like knobby fingers. These tubers are an
heirloom variety
and unlike new (baby) potatoes, fingerlings are fully mature when harvested.
The most common are Russian Banana, Butterfinger, French Fingerling, Rose Finn Apple, and Purple Peruvian. The colorful mixed bag makes the most visually interesting dishes!
Why choose fingerlings over other varieties?
Easy prep—the delicate skin doesn't need peeling (this is where I'm pickier about buying organic). Because of their small size, most recipes require minimal cuts.
Like other waxy potatoes, fingerlings are lower in starch so when eaten in small quantities, can be a better choice.
Their unique shape adds interest to ordinary meals without much effort. Leave whole for roasts, slice in half for quick baking, or cut into coins for salads.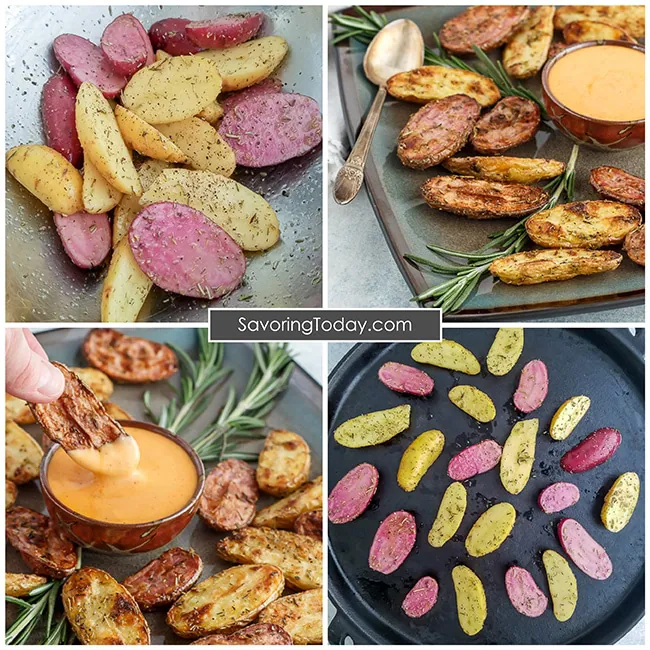 This post contains affiliate links. For more information regarding ads and advertising affiliations, please see our Disclosure Policy.
Using a cast iron pizza pan for roasting vegetables:
Just to be clear, this is not a plug for a brand and you can use any baking pan for this recipe. However, you'll notice in the photos I am using a cast iron pizza pan so I thought I'd tell you about it.
I received it as a gift to a replace a pizza stone that broke, and I love it!
Like all cast iron, it does an excellent job browning so it's ideal for pizza crust, but I use it most often for roasting vegetables or as a griddle on the stove top.
Convenience TIP: It stays in the bottom of the oven to maintain even heat when baking, just like the stones do, but there's no worries about it breaking.
You can find
cast iron pizza pans on Amazon here
, and in most department stores.
Rosemary Roasted Fingerling Potatoes
Fingerling potatoes dusted with rosemary and roasted on a cast iron pan for a crisp, yet slightly chewy texture to serve with dips, appetizers, or fondue.
Ingredients
10

fingerling potatoes

(about 1 pound) -- sliced in half (larger potatoes quartered lengthwise)

1 to 2

tablespoons

avocado oil

(or duck fat, coconut oil)

1

heaping teaspoon

dried rosemary

crushed or chopped

1/2

heaping teaspoon

dried thyme

1/2

teaspoon

sea salt

, plus more for dusting before serving

1/2

teaspoon

freshly ground pepper
Instructions
Heat oven to 400°F.

In a large bowl, toss the halved potatoes with enough oil to thinly coat. Sprinkle the herbs, salt and pepper over the potatoes and toss again to evenly cover.

Arrange on a cast iron pizza stone or rimmed baking sheet and bake 20 to 30 minutes, until golden brown. For more even browning, turn the potatoes over on the pan halfway through the roasting process.

Remove from the oven and season again with sea salt, to taste. Serve warm with dipping sauce.
Nutrition
Serving:
4
pieces
|
Calories:
122
kcal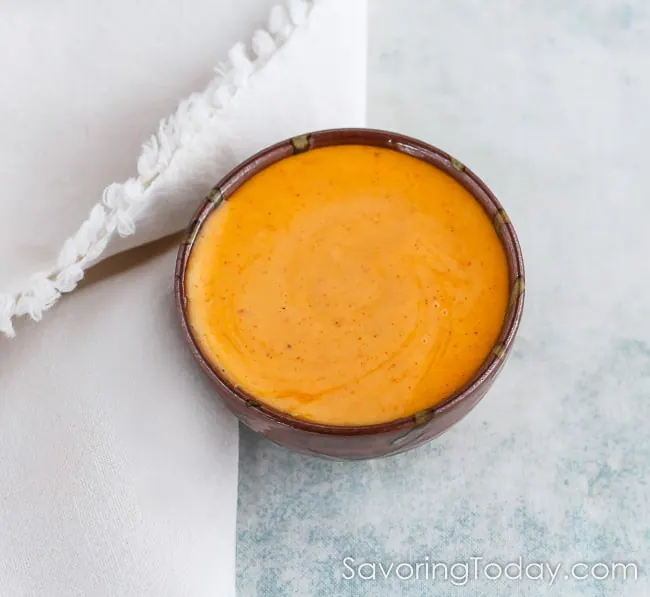 Gochujang Aioli is homemade condiment awesomeness.
I first got hooked on this savory Korean red chile paste when I made Korean Barbecued Skirt Steak and quickly recognized its superpowers as a garnish with roasted butternut squash.
Its complex, sweet heat perks up any dish whether it's a dip, garnish or sandwich spread.
If you're looking for a little more adventure in cooking, this is the condiment to add to your pantry. Mother-In-Laws Gochujang Fermented Chile Paste
and Sempio Gochujang
are two delicious brands I've tried and recommend.
You can even make authentic gochujang at home!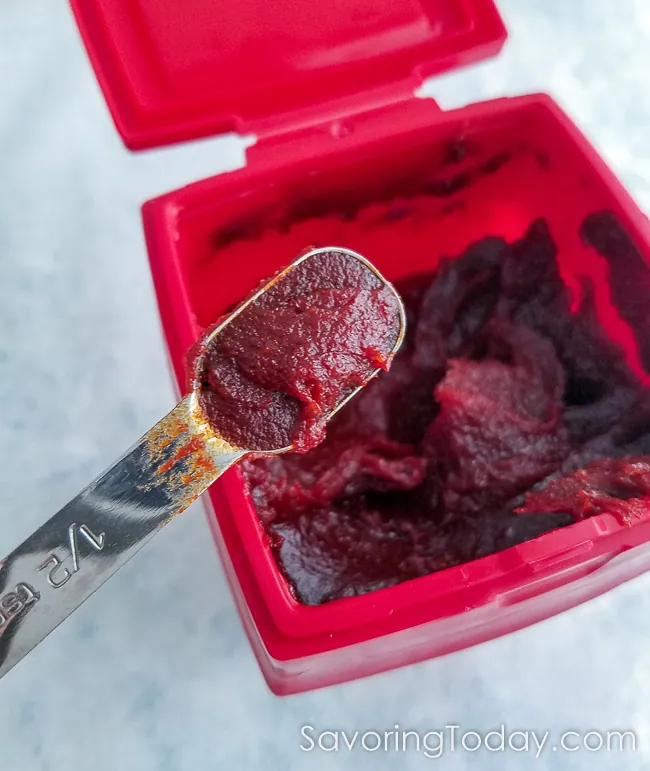 Note: This gochujang aioli recipe is based on my Healthy Homemade Mayonnaise, which is the way to go!
BUT, if you choose not to consume raw eggs, substitute 1 cup of regular mayo for everything except the gochujang and garlic.
Gochujang Aioli
The savory, earthy spice of this unique red chile paste blends seamlessly with the subtle garlic notes of aioli. Use as a dip, garnish or sandwich spread.
Ingredients
1

large

whole *egg

1

large

*egg yolk

1 1/2

tablespoons

lemon juice

2

teaspoons

gochujang chile paste

(See note for Paleo)

1

teaspoon

Dijon mustard

1

teaspoon

minced garlic -- about 1 clove

1/4

teaspoon

sea salt

Pinch

freshly ground pepper

3/4

cup

avocado oil

(or olive oil)
Instructions
If using an immersion blender:

Add all ingredients to a tall (6-inch) cup or jar large enough at the base for the blender to fit with at least an inch of space around the blender. Immerse the blender in the ingredients in the jar, using the blender to gently lift and stir while processing on high until well blended and creamy.

If using a food processor:

 Add all ingredients

except oil

to food processor bowl and pulse to combine. Then, while the machine is running, slowly pour oil in a steady stream while processing until well blended and creamy.

Taste and add more chile paste or salt, as desired.
Notes
*Raw egg is not recommended for infants, the elderly, pregnant women, and people with weakened immune systems. To minimize the risk of salmonella, use pasteurized eggs available in some supermarkets or easily pasteurize eggs at home.
Although a food processor does a fine job, an immersion blender is ideal and foolproof as the ingredients can all go in together so "slowly adding the oil" isn't necessary.
The aioli will thicken even more when refrigerated. Use within one week.
For Paleo: Check gochujang labels carefully or create your own delicious homemade Paleo-friendly gochujang paste.
Nutrition
Serving:
1
tablespoon
|
Calories:
30
kcal
More ways to enjoy roasted fingerlings: