Holiday baking is a big deal at our house, a time when chocolates, cookies, and Christmas Stollen are penciled into the calendar just like parties. As much as I love our tradition of baking and candy making, it isn't without a fair amount of compromise to our food philosophy of avoiding refined flour and sugar.
Except chocolate truffles made with coconut oil and dark chocolate.
These Double Chocolate Truffles satisfy the chocolate lovers in our house (which is everyone)—adding coconut oil and dark chocolate (containing 70% cocoa) brings health benefits to our candy platter without compromise (or guilt). Not only are these Double Chocolate Truffles eyes-roll-up-in-your-head delicious, but anyone, I mean anyone can make these babies and look like a pro.
Just don't rush when you eat one.
I remember having this debate with my brother-in-law about truffle eating when I saw him chewing, yes, chewing a Lindt chocolate truffle as he was unwrapping another—it is still a joke between us and he is sure to taunt me with his truffle snarfing whenever possible. As I told him, this isn't dime store candy to be gobbled up, chocolate truffles should be savored. Bite if you must, but allowing its silkiness to cascade over your tongue in gentle chocolate waves is far more satisfying. I suppose if you roll them in nuts or toffee you may be tempted to chew, but do try to resist, lingering as long as possible in velvety chocolate bliss.
Chocolate truffle recipes vary little from source to source; this recipe is adapted from The Nourishing Gourmet. There are only a handful of ingredients with a few basic instructions, so quality is key. Buy the finest chocolate you can afford—after all, it is the main attraction. Add flavored liqueurs or any number of coatings, mix milk or dark chocolate as you wish, this recipe is easy to customize. Naturally gluten-free, these can also be made dairy-free (see recipe notes), making it easy to share custom homemade gifts.
Chocolate Buying Info:
Selecting the Best Chocolate for Your Recipe at Gourmet Candy Maker.com is a helpful primer on chocolate.
Chocosphere and GYGI are on-line sources offering various brands of fine chocolate.
I call these Double Chocolate Truffles because I use a mix of bittersweet chocolate and semi-sweet chocolate. Even though a simple dusting of unsweetened cocoa remains my favorite way to enjoy chocolate truffles, other coatings are a nice complement to the chocolate and create a festive tray for parties:
unsweetened cocoa powder
chopped hazelnuts
chopped peanuts
chopped pistachios
chopped almonds
coconut flakes
crushed peppermint
crushed pretzels
toffee bits
colorful sprinkles
white chocolate (freeze truffles before dipping)
milk chocolate (freeze truffles before dipping)
Print
Double Chocolate Truffles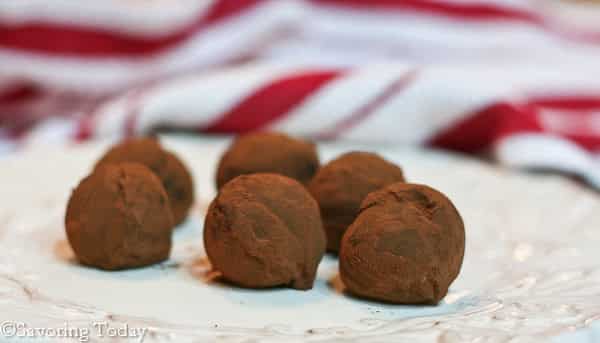 Yield:

Approximately 30 truffles
Ingredients
1/3 cup heavy whipping cream
1/3 cup coconut oil — unrefined
1 cup bittersweet chocolate — about 5.5 oz chopped or in chips
1 cup semisweet chocolate — about 5.5 oz chopped or in chips
2 teaspoons vanilla extract — or other flavorings
Instructions
Mix heavy cream and coconut oil in a small pot over med-low heat and bring to a strong simmer. Remove from heat and add the vanilla and chocolates.
Stir until chocolate is melted and smooth.
Pour into a bowl and refrigerate for for at least two hours, or until mixture is firm to the touch.
Prepare desired toppings and place in separate bowls. Once the chocolate is hardened, use a melon baller or a small cookie scoop to create balls of chocolate–we like bite-size truffles. Roll each ball in your hands to round and smooth, but don't worry about trying to make them perfectly round.
Roll each truffle ball in desired coating, pressing lightly to help adhere, and arrange in an air tight container to store in the refrigerator until ready to serve.
Allow to sit at room temperature for 5-10 minutes before serving for a silkier texture.
Notes
Unsalted butter can be used as a substitute for the coconut oil for more traditional truffles. To make dairy-free truffles, substitute coconut cream for the heavy whipping cream and use chocolate that does not contain milk products.
I will be taking a break from blogging to indulge in time with family and friends for the next couple of weeks …
I want to wish you all a very
Merry Christmas and Happy New Year!
Shared on the following Blog Hops:
Real Food Forager Fat Tuesday