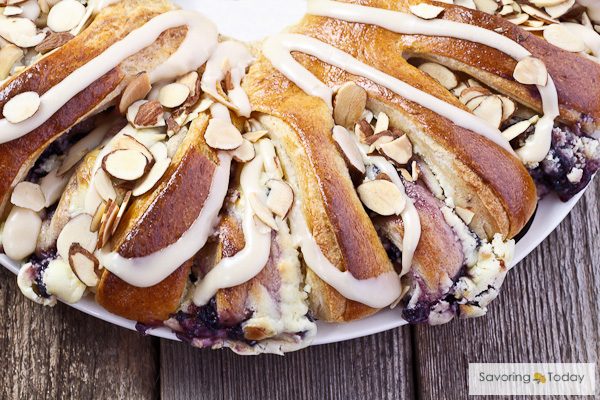 For as long as I can remember, my mom made what she called Stollen every year at Christmas. Traditionalists would not recognize our family's rendition of Stollen, which is similar to fruitcake. Ours would be described best as a tender sweet roll pastry cradling fresh or canned fruit, with nuts and a sweet glaze topping.
Our Holiday "Christmas Stollen" Story
I can still remember the aroma of the yeast bread as a child and the large roasting pan we used to mix the dough in by hand. Cherry, blueberry, almond, apple, peach, and apricot flavors would make it hard to choose just one, so we would fill our plates with slivers of them all.
Of course, each of us had a different favorite and Mom faithfully indulged us. She learned to make this delightful pastry from her sister, Louise, who was a tremendous cook.
My sister, Debbie, and I have carried on the tradition with our own families, teaching our children to make it as well.  It is part of our family's Christmas breakfast every year and we often give it as a gift to friends.
Although we use the same dough recipe and similar fillings, Debbie shapes her dough in the unique way our mother did—similar to a boat holding the fruit center with a lattice top.
Making this Stollen recipe as gifts, she has made dozens of them at a time (usually by request), so this method made it easier to create more varieties with custom sizes.
Years ago, mine deviated in shape to resemble a Swedish Tea Ring or what some call a Christmas wreath. I liked the presentation and I can divide the dough to make smaller rings for gifts, about the size of a dinner plate.  Our family and friends settled on just a few favorite flavors—Blueberry, Cherry, and Blueberry-Cream Cheese (recipe below)—so this method has worked well for us. I have also experimented with different flour mixes to incorporate whole wheat here and there, or layered butter into the dough like a croissant to give it a richer texture from time to time.
It is heartwarming to know my mom, extended family, and close friends are enjoying this delicious Christmas breakfast just as we are.  Although separated by distance, we relish each bite of this family tradition, as though for just a moment, we are together again.
Blueberry-Cream Cheese Stollen
Sweet blueberries and cream cheese fill tender pastry bread for Christmas morning breakfast.
Ingredients
1/2

Recipe Sweet Roll Dough

(recipe below)

1

can

Comstock Morefruit Blueberry Pie Filling

1/2

Cup

sliced Almonds
Glaze:
1

Cup

Powdered Sugar

1

Tablespoon

Milk

1/2

Teaspoon

Vanilla
Cheese Filling:
8

ounces

cream cheese

, Softened

1/4

Cup

Sugar

3

Tablespoons

Flour

1

Egg Yolk

1/2

Teaspoon

Grated Lemon Peel

1

Tablespoon

Lemon Juice
Instructions
BLUEBERRY FILLING: Put pie filling in a colander with fairly large holes. Shake colander from side to side to remove as much filling as you can so that mainly the fruit remains. Lightly chop berries to make a very chunky paste.

CHEESE FILLING: Beat cream cheese and sugar until light and fluffy. Stir in flour, egg yolk, lemon peel and lemon juice.

Roll 1/2 Sweet Roll Dough into rectangle, 15x9 inches, on a lightly floured surface. Spread cream cheese filling over dough with spatula. Spread blueberries over cream cheese leaving 1 inch clear of edge of dough. Roll up tightly, beginning at 15-inch side. Pinch edge of dough to seal well. Stretch roll to make even. With sealed edge down, shape into ring on lightly greased cookie sheet. Pinch ends together to seal ring. With scissors, make cuts 2/3 of the way through the ring at 1 inch intervals. Turn each cut section on its side. Let rise until double, about 40 minutes.

Heat oven to 375. Bake until golden brown, 25-30 minutes. (If tea ring browns too quickly, cover loosely with foil.) Let cool on wire rack and glaze.

GLAZE: Mix 1 cup powdered sugar, 1 tablespoon milk and 1/4 almond extract until glaze is smooth. Place in a zip-loc bag and press down toward a bottom corner. Snip the end when you are ready to glaze and simply squeeze desired amount of glaze onto ring. Sprinkle with sliced almonds while glaze is still wet.
Notes
Up to 1/2 of the all-purpose flour can be substituted with white whole wheat flour for a wheat pastry.
Nutrition
Calories:
386
kcal
|
Carbohydrates:
49
g
|
Protein:
9
g
|
Fat:
15
g
|
Saturated Fat:
3
g
|
Cholesterol:
37
mg
|
Sodium:
162
mg
|
Potassium:
57
mg
|
Sugar:
30
g
|
Vitamin A:
275
IU
|
Vitamin C:
0.5
mg
|
Calcium:
34
mg
|
Iron:
0.4
mg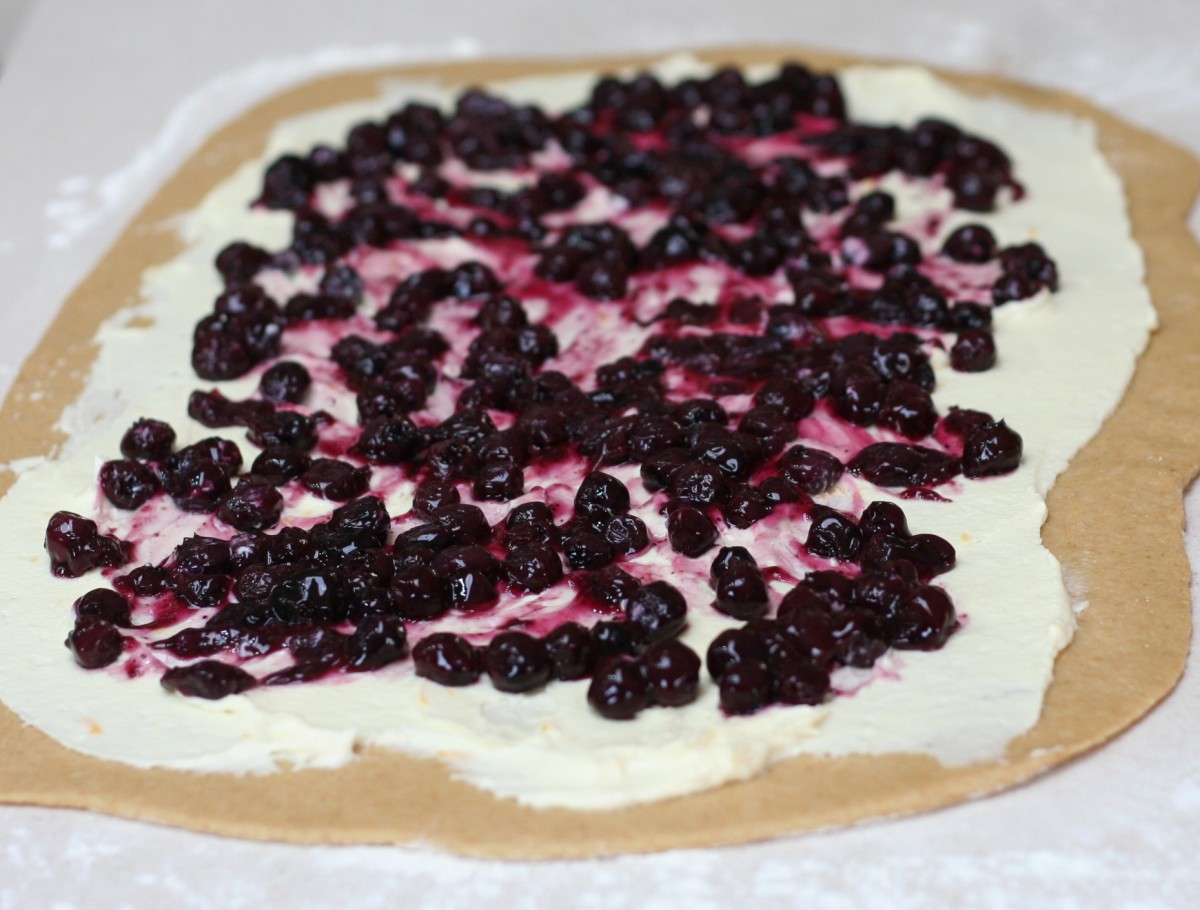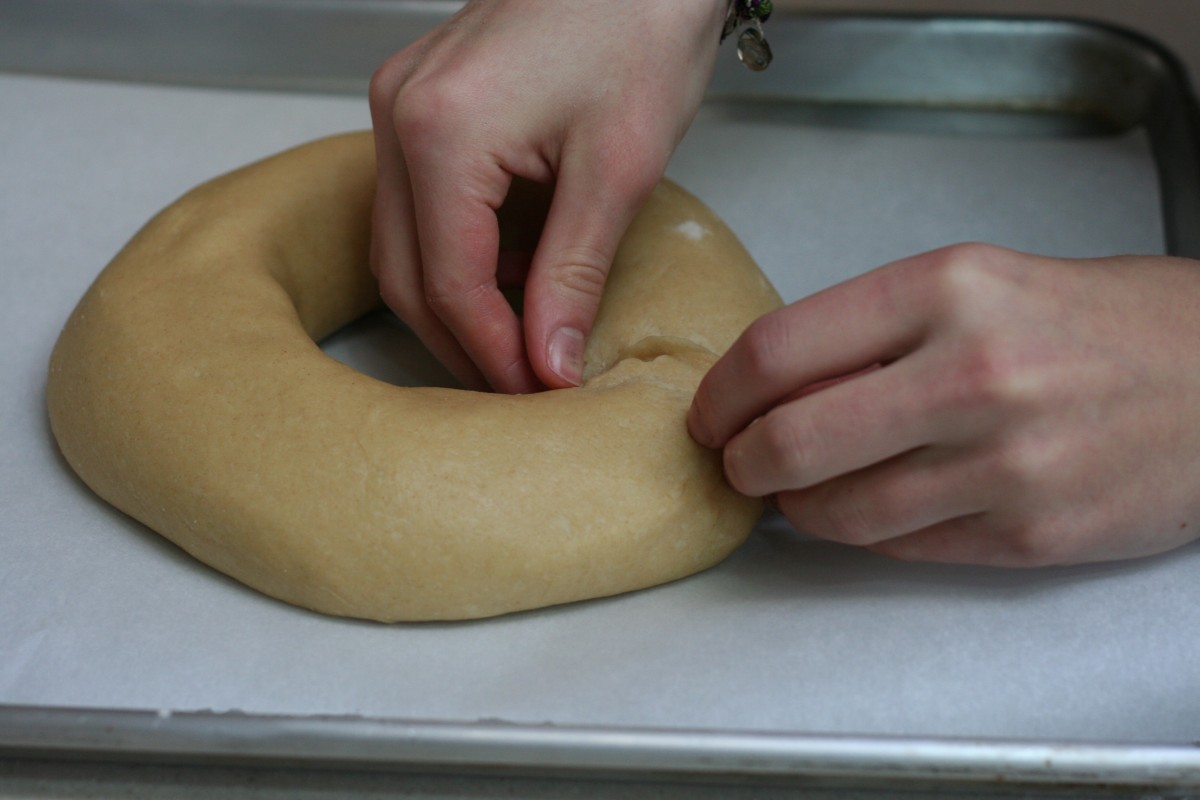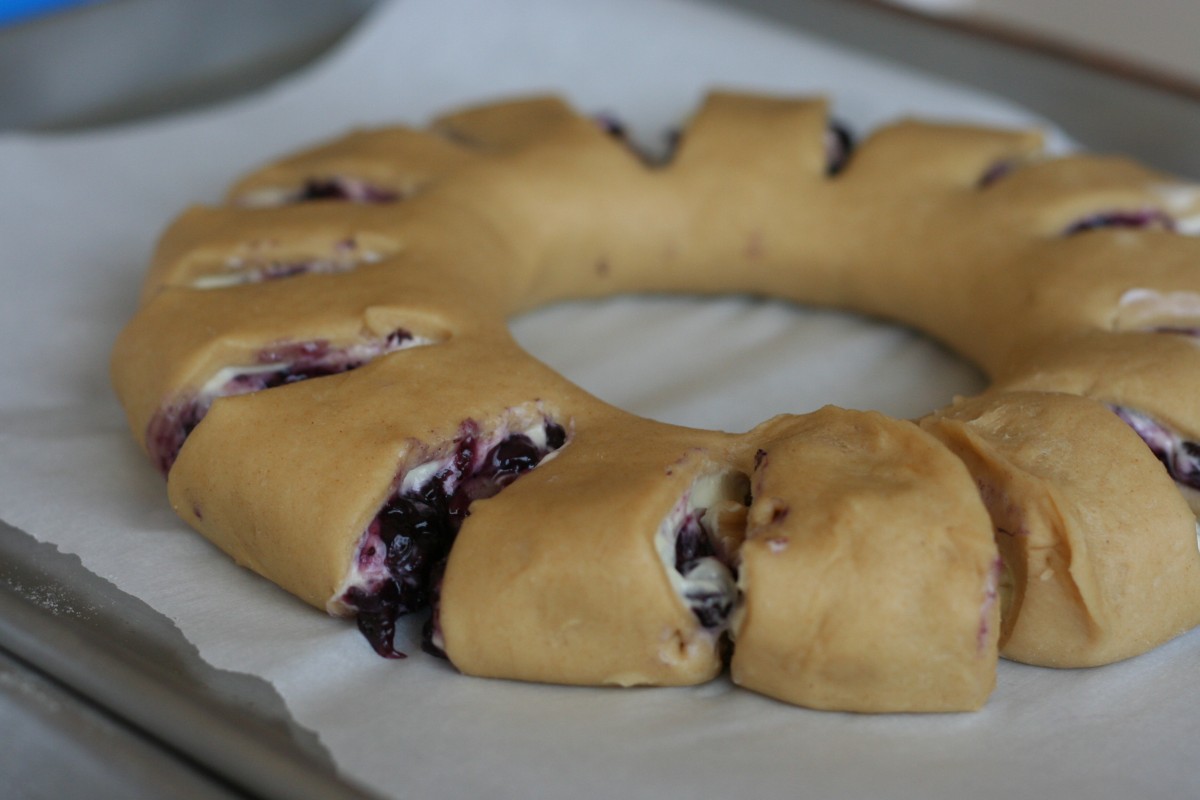 Sweet Roll Dough
Ingredients
1

package

active dry yeast

1/2

cup

warm water

1/2

cup

lukewarm milk

, scalded then cooled

1/3

cup

sugar

1/2

cup

butter

, softened but not melted

1

teaspoon

salt

1

large

egg

3 3/4

cups

all-purpose flour
Instructions
Dissolve yeast in warm water in large bowl. Stir in milk, sugar, butter, salt, egg and 2 cups of the flour. Mix until smooth. Mix-in enough remaining flour to make dough easy to handle with lightly floured hands.

Turn dough onto lightly floured surface; knead until smooth and elastic, about 5 minutes. Place in greased bowl; turn greased side up. Cover; let rise in warm place until double, about 1 1/2 hours.

Punch down dough. Shape, let rise and bake as directed.

Do-ahead Tip: After kneading, dough can be covered and refrigerated in greased bowl no longer than 4 days. Refrigerating the dough will help develop the flavor of the dough, but is not necessary.
Notes
Up to 1/2 of the all-purpose flour can be substituted with white whole wheat flour for a wheat pastry.
Nutrition
Calories:
245
kcal
|
Carbohydrates:
36
g
|
Protein:
5
g
|
Fat:
8
g
|
Saturated Fat:
5
g
|
Cholesterol:
36
mg
|
Sodium:
272
mg
|
Potassium:
66
mg
|
Fiber:
1
g
|
Sugar:
6
g
|
Vitamin A:
275
IU
|
Calcium:
22
mg
|
Iron:
1.9
mg