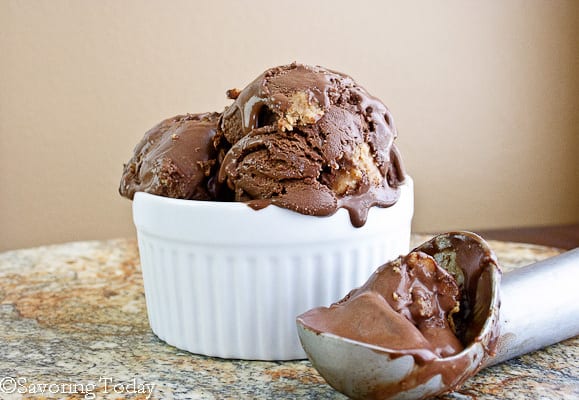 Father's Day at our house means red meat on the grill and something chocolate for dessert. Homemade Chocolate Peanut Butter Chunk Ice Cream was the request to conclude Sunday's man feast and we were happy to oblige.
Last summer I picked up a Cuisinart ice cream maker
at Costco for times such as these. Yes, this recipe requires special equipment worth its dust-covered resting place all winter—I still consider it a form of magic the way it turns basic pudding into chilled velvety bliss.
Are you a smooth, single flavor type, or do you prefer your ice cream loaded and swirled to the max?
The only time I want a single flavor is a scoop of vanilla perched on a slice of pie. I'm not picky about the pie; just warm it up a little.
Otherwise, give me ice cream I can chew and doesn't require a search and rescue mission to find the add-ins.
We've all been there, gazing into the carton, vexed by the broken promise of chipped chocolate, crumbled cookies, or cascading caramel. Copious cookie dough? Fugetaboutit.
Homemade ice cream can be just the way you imagine.
Want more fresh berries in your strawberry? Enough caramel ribbon to tie a bow?
What about peanut butter you can really sink your teeth into? Me too.
That's the beauty of making it yourself. Well, and you know exactly what's in it.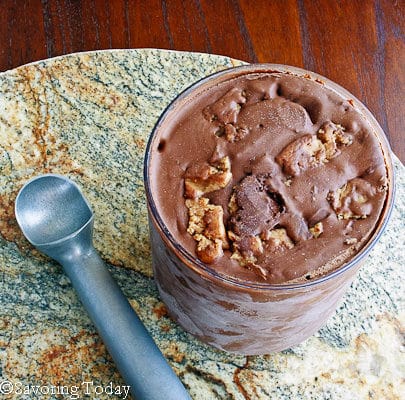 Have you glanced at ice cream labels lately?
On a side note (okay, it's a rant), have you glanced at the ingredient list on a carton of ice cream in the grocery store lately.
I'm not trying to be a buzz kill here, it's just incredibly disappointing when the simplest of food like ice cream includes a variety of gums and high fructose corn syrup.
I love it when consumers question the manufactures like this blogger at A Daily Scoop did, otherwise they might assume anything goes.
It is sad to see in the manufacturer's response that the gums are added because of consumer complaints about the texture—shipping and shelf life affect cold products. There are still a few premium brands that keep the ingredient list simple.
Häagen-Dazs is one, but it is hardly economical for a whole family, so you can make it yourself or add ice cream to your "buy local" list if you want to avoid the additives.
There is a slight drawback to homemade ice cream—it's not a quick fix and requires a small appliance.
Homemade ice cream is not the convenient choice and I can't make an argument for it being healthy like vegetables, however, I do think it is a healthier choice than store-bought for a couple of reasons.
One, it does have better ingredients when you choose cream and milk from cows not treated with hormones, unrefined sugar, and in the case of this recipe, natural peanut butter without hydrogenated oils.
Second, it is a healthier habit to plan desserts or indulgences rather than eating out of emotion, deprivation, or impulse. I think this is true of food in general. We use the Cuisinart Automatic 1 1/2 Quart Ice Cream Maker which is easy to operate.
Now how about some ice cream?!
Chocolate Peanut Butter Chunk Ice Cream combines layers of salted peanut butter chunks in bittersweet chocolate, deep and dark as midnight on a country road.
Decadent chocolate enhanced by a touch of espresso with an abundance of honey-sweetened, salt-kissed, peanut butter—all you'll have to look for is a spoon.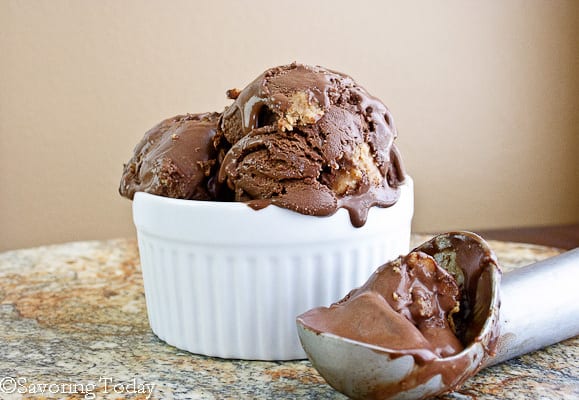 Print Recipe
Chocolate Peanut Butter Chunk Ice Cream
Decadent chocolate enhanced by a touch of espresso with an abundance of honey-sweetened, salt-kissed, peanut butter.
Servings:
10
-12 servings
Ingredients
1 1/3

cups

whole milk

1 1/3

cups

heavy cream

1

cup

coconut palm sugar

or honey

1/2

cup

cocoa powder

1/2

teaspoon

instant espresso

2

large eggs

2

large egg yolks

8

ounces

bittersweet chocolate

chopped

1

teaspoon

pure vanilla extract
For the Peanut Butter Chunks:
1 1/2

cups

natural peanut butter

1/4

cup

honey

to taste

3/4

teaspoon

sea salt

to taste
Instructions
In a medium sauce pan, heat milk and cream over medium heat until steam appears and milk is warm, about 5 minutes.

Combine the sugar, cocoa, instant espresso, eggs, and egg yolks in the bowl of a mixer and mix on medium speed until thickened, somewhat like cake batter.

Measure 1 cup of the hot milk/cream mixture and slowly add it to the eggs and sugar while the mixer is running on low speed. Mix until the 1 cup of milk/cream is completely incorporated.

Stir the chopped chocolate into the remaining hot milk/cream in the saucepan then add the egg mixture into the saucepan; stir to melt chocolate and combine ingredients. Cook over med-low heat, stirring gently and consistently, until the custard begins to thicken and coats the back of a spoon or reaches about 180 degrees, 10-12 minutes. Be careful to not boil or the eggs could curdle.

When the custard is ready, remove from heat. Set a fine mesh strainer inside a medium bowl or large measuring cup, set in a bowl containing ice and water. (Using a bowl with a pour spout or a large measuring cup - 4 cups or larger - will make it easier to pour the custard once it is cooled).

Strain the custard into the bowl set in the ice bath. (Be careful that the bowl is set firmly in the ice bath and not floating so that water cannot slosh into the custard.) Stir the vanilla into the custard then allow to cool to room temperature, stirring occasionally (about 30 minutes). (It is important to cool the custard to room temperature so it doesn't sweat once it goes into the refrigerator.)

Cover the custard with plastic wrap and refrigerate at least 3 hours or until completely cold (40 degrees or lower). At the same time, place the bowl or container you will use to mix and store the ice cream into the freezer to chill.

While the custard is cooling, mix the peanut butter, honey, and salt with a mixer on medium speed until smooth and somewhat fluffed. Refrigerate until ready to churn the ice cream.

Once cooled, pour the custard into an ice cream machine and churn, according to the manufacturer's instructions. While ice cream is churning, remove the peanut butter from the refrigerator and cut into chunks.

Transfer the ice cream to the chilled storage container, layering the chunks in the ice cream or gently fold them in -- work quickly to prevent the ice cream from melting. Cover and place in the freezer until firm, at least two hours.

Serve once the ice cream has hardened to the desired consistency.
Nutrition
Calories:
601
kcal
|
Carbohydrates:
45
g
|
Protein:
15
g
|
Fat:
43
g
|
Saturated Fat:
17
g
|
Cholesterol:
119
mg
|
Sodium:
252
mg
|
Potassium:
532
mg
|
Fiber:
5
g
|
Sugar:
31
g
|
Vitamin A:
12.6
%
|
Vitamin C:
0.2
%
|
Calcium:
10.3
%
|
Iron:
16.9
%
More Chocolate Recipes You'll Love:

Shared on the following Blog Hops:
Hearth & Soul Hop
---
This post contains affiliate links. Thank you for supporting what I do here at Savoring Today. For more information, please see our Disclosure Policy.