Updated with gluten-free substitutions and a recipe for Mashed Cauliflower.
A while back, at one of our favorite restaurants, Paravicini's Italian Bistro, we ordered the special—beef short ribs, osso buco style—and it was one of the best Italian dinners we have had. We asked how it was prepared, of course, because my husband suggested I try to make it at home (no pressure, right?!). Owner, Franco Pisani, shared that time was the secret, it must be cooked low and slow 4-6 hours, he said.
Unfortunately, the exact recipe was not forthcoming.
Every osso buco recipe I could find suggested only 2-2 1/2 hours, so I decided to wing-it, which isn't unusual for me, and the adjustments ensued. Osso Buco Milanese by Tyler Florence was the basis of inspiration for this recipe, though there were many tweaks and modifications. The classic recipe is made with veal shank, but I took a more economical approach with a mix of bone-in and boneless beef short ribs to recreate the magic we experienced at the restaurant.
As it turned out, Mr. Pisani was right—low and slow delivers braised beef perfection, so don't get in a hurry.
Do you ever make a new recipe and feel like you just discovered gold?
This is one of those recipes—succulent beef and tender vegetables gently braised in Marsala, worth every minute of oven time. Beef shank can be substituted for the short ribs, if desired, and the recipe includes gluten-free substitutions as well. We love Osso Buco Style Beef Short Ribs served over a bed of Mashed Cauliflower and you'll find that recipe below too. Oh, and if you happen to have leftovers, you've got a delicious head start in making Beef and Vegetable Soup.
Want to make it look just like the photos? Check out this Roasted Asparagus Recipe for an additional side dish.
Do you love hearing Italian? Listen to how to pronounce osso buco here.
Print
Osso Buco Style Beef Short Ribs
Author:

Judy Purcell

Prep Time:

45 mins

Cook Time:

4 hours 30 mins

Total Time:

5 hours 15 minutes

Yield:

Serves 4

Category:

Dinner, Main Dish, Beef

Cuisine:

Italian
Ingredients
8 pieces beef short ribs — bone-in and boneless mix
3 tablespoons flour — use sweet rice flour for gluten-free
Salt & freshly ground pepper
2 tablespoons olive oil — plus more, as needed
2 tablespoons butter
1 whole onion — diced
3 ribs celery — diced
3 large carrots — cut into 1/2″ discs
1 pound crimini mushrooms — thick sliced
1 medium red pepper — chopped
6 cloves garlic — minced
2 whole bay leaves
3 tablespoons fresh Italian parsley — finely chopped
6 sprigs fresh thyme — leaves and stems
1/2 teaspoon sea salt
1/2 teaspoon pepper
1 cup dry Marsala wine
2 cups organic beef stock (homemade is ideal)
14 ounces stewed tomatoes — Lucini San Marzano — crushed by hand, with juices
1/2 cup Israeli couscous (optional) — uncooked — for gluten-free use Streit's GF Israeli Couscous
Instructions
Position oven rack low in the oven, heat oven to 300°. Trim beef ribs of excess outer fat, careful to leave meat attached to the bone. Dry meat with paper towels, sprinkle with salt and pepper, and dust lightly with flour on all sides.
In a large Dutch oven or oven safe pot with a secure lid, heat the butter over med heat. Sear the ribs on all sides, adding more olive oil as needed. Reserve browned ribs on a platter.
Add onion, celery, carrots, mushrooms, red pepper, and garlic to the pot and cook until softened. Season with salt and pepper. Stir in the bay leaves, thyme, and parsley. Raise the heat and add the wine to deglaze the pan. Return the ribs to the pot and add the stock, and tomatoes. Stir to incorporate and make sure the meat is mostly covered. Bring it to a simmer, and drizzle with a little olive oil. Secure a lid on the pot and place in the preheated oven; cook for 4-41/2 hours.
Optional: Once ribs are fall-apart tender, remove from the oven and turn oven off. If desired, carefully skim any pools of fat on the top with a spoon and discard. Taste and add more salt and pepper, as needed. Stir-in couscous, replace lid and return to the oven (still off), for 10-15 minutes.
Serve over Mashed Cauliflower (as shown) with a side of skillet-seared asparagus.
Notes
It is important to use dry Marsala wine for this recipe rather than sweet Marsala.
Print
Mashed Cauliflower
Author:

Judy Purcell

Prep Time:

10 mins

Cook Time:

10 mins

Total Time:

20 minutes

Yield:

4

Category:

Side Dish, Vegetable
Ingredients
1 tablespoon coconut oil
1 head cauliflower — (about 2 pounds) chopped into small 1/4-inch slices
1 clove garlic — sliced thin
1/4 cup Parmesan cheese — grated
2 ounces cream cheese
1/2 teaspoon kosher salt
1/8 teaspoon freshly ground black pepper
2 tablespoons warmed milk — if needed, to thin
Butter — for garnish
Instructions
Heat oil in a skillet over medium heat, add cauliflower and cook, stirring occassionally for 10-12 minutes. Add the garlic, cover the pan and continue to cook 2-3 more minutes, or until cauliflower is completely tender.
Transfer the cauliflower to a food processor and blend until smooth. Scrape down the sides and add the Parmesan, cream cheese, salt, and black pepper. Continue to blend until smooth, adding the warm milk to thin, if needed. Transfer to a serving bowl, garnish with butter and serve.

Just in case you have a few morsels left over, follow-up with a pot of Roast Beef & Vegetable Soup!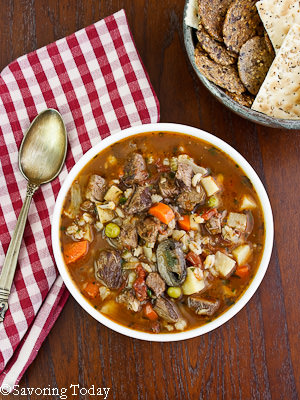 More beef and side dish recipes we think you'll like:
Beef Pot Roast
Beef Stroganoff with Jovial Gluten-Free Egg Pasta
Scampi-Style Steak & Scallops with Roasted Asparagus: Romantic Dinner Recipe for Two
Beef Curry: Massaman Style
Roasted Brussels Sprouts with Roasted Garlic Aioli
Roasted Asparagus with Caramelized Onions & Blue Cheese
Vegetable Tian: Classic Gratin Comfort
Tuscan Roasted Broccoli
---
This post contains affiliate links. If a purchase is made through these links, I receive compensation without any added cost to my readers. Thank you for supporting what I do here at Savoring Today. For more information regarding ads and advertising affiliations, please see our Disclosure Policy.