This amazing Beef Stroganoff Recipe includes egg noodles crowned with succulent beef, mushrooms, and sweet onions resting in a sauce caressed with cognac and creme fraiche.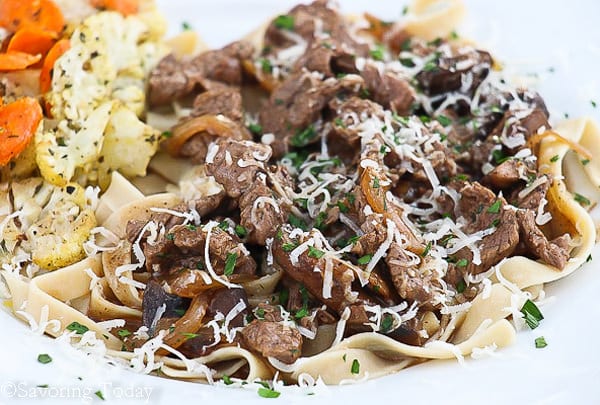 Beef Stroganoff has been modified in so many ways it's difficult to truly pinpoint an original recipe. Many of the recipes today are inspired by Elena Molokhovet's 1861 Original Beef Stroganoff, The Russian Tea Room in New York, or the need to recreate a dish remembered from childhood.
Over time, the ingredient list expanded to include any number of "this is how my mom made it" attempts at greatness … even cream of mushroom soup made it into some recipes, sadly.
This is a dish that's loaded with promise—tender beef and earthy mushrooms in a tangy cream sauce. And there's pasta involved, so that means there's plenty of comfort to go around.
As promising as that sounds, the Beef Stroganoff I've tried has always been good, but not really great. You know what I mean, there are those recipes everyone will eat, but no one requests.
Stirring many variations from oodles of sources hoping to find the one ingredient to bring the wow factor just eluded me.
Until now …
Browsing my stack of food magazines, I discovered a recipe by chef Johnathon Waxman in Food & Wine (Jan 2012), rekindling my hope for great Stroganoff.
The chef's ingredient list seemed almost too short, but that was the beauty of it. There were two things I'd never added to mine—cognac and crème fraîche.
I'm not sure which one made the biggest difference, if not both, but it was the best Stroganoff I'd ever made or eaten.
And did I mention it only takes 30 minutes to make? Yep, delicious and fast.
When I awoke the next morning, the first thing on my mind was the leftovers for lunch—a mark of a great meal.
My other goal was to find gluten-free egg noodles we could love as much as wheat noodles. Stroganoff may be served with rice or potatoes, but serving it over egg noodles has always been our favorite.
Jovial Organic Brown Rice Tagliatelle Egg Pasta lived up to its Italian roots with a toothsome bite and classic egg pasta flavor. Matt said he wouldn't have known it was gluten-free if I hadn't told him—he's a key member of my review staff. 😉
The leftovers reheated well too, which isn't always the case with gluten-free pasta.
There is no doubt gluten-free pasta is more expensive than regular wheat pasta and this less common egg pasta will cost 25% more than other gluten-free shapes—about $5.50 for one box.
For those with celiac, products like this are a real blessing, especially when the taste and texture comes so close to the wheat version. We were pleased to get six servings from one package and delighted with the quality of the pasta, so for us it was a good value.
I highly recommend the Jovial brand. [I purchased the pasta myself, no promotional benefit was received.]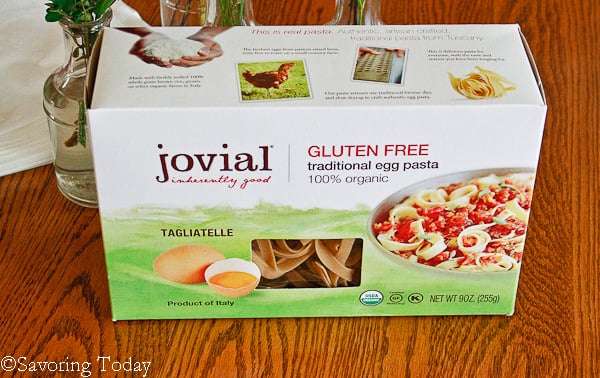 Unless you already have a bottle of Cognac in reserve, a miniature bottle (50 mil.) is more cost effective for a single recipe, as is making your own creme fraiche at home if you find the $4.99 price tag on an 8 ounce container a turn-off.
Hopefully, knowing the mini and the creme will make exactly two of these recipes may help take the sting out of the initial cost—believe me, you'll want to make it at least twice.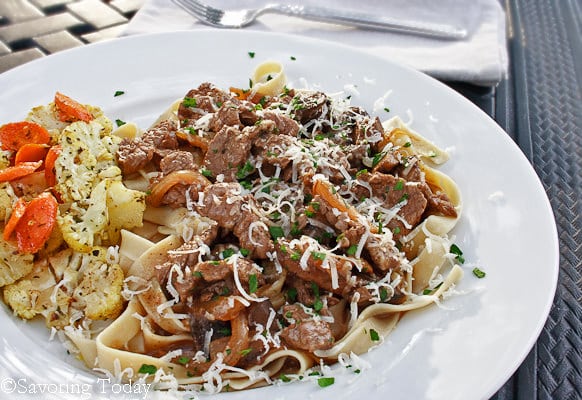 Adapted from Beef Stroganoff by Johnathon Waxman in Food & Wine (Jan 2012) 
Beef Stroganoff
Egg noodles crowned with succulent beef, mushrooms, and sweet onions, resting in a sauce caressed with cognac and creme.
Ingredients
2

tablespoons

extra-virgin olive oil

1 1/4

pounds

Tri-Tip

(or sirloin)—sliced across the grain into strips approximately 1/4 inch x 2 inch strips

4

tablespoons

butter

1/2

large sweet onion -- sliced thin

8

ounces

crimini mushrooms -- sliced

1

clove

garlic -- minced

2

tablespoons

Cognac

1

tablespoon

tomato paste

1

cup

beef stock

1/2

cup

crème fraîche

1/4

cup

grated Parmesan cheese -- for garnish

(optional)

2

tablespoons

chopped fresh parsley -- for garnish

(optional)

Sea salt and freshly ground pepper

, to taste

Egg noodles

, cooked according to package directions
Instructions
Cook egg noodles according to package directions while preparing sauce.

In a large skillet, heat the oil until hot over medium heat, then add the meat to skillet. Season with salt and pepper and cook over med heat, stirring occasionally, until lightly browned in spots but still rare, 3-4 minutes. Transfer meat to a platter, tent with foil, and set aside.

In the same skillet, melt 2 tablespoons of the butter. Add the onion to the skillet, season with salt and pepper, and cook over medium heat until the onions begin to brown at the edges, 5-8 minutes.

Once the onions are translucent and beginning to brown, add the mushrooms and garlic to the skillet with the remaining 2 tablespoons of butter. Season with salt and pepper and cook over medium heat until the mushrooms are tender and the garlic is fragrant, about 5 minutes.

Slide the skillet off the heat and add the Cognac to the mushrooms and onions; stir-in as it evaporates. Return the skillet to medium heat and add the tomato paste and stock; bring to a rapid simmer and cook to reduce for 5 minutes.

Stir in the creme fraîche and gently simmer until thickened, about 5 minutes. Taste the sauce and season with additional salt and pepper, as desired.

Add the meat, including any accumulated juices, to the mushroom sauce and simmer just until heated through, about 2 minutes. Serve over egg noodles and garnished with parsley and Parmesan cheese.
Notes
The cut of meat is important here because the cooking time is brief, these cuts work best: beef tenderloin, tri-tip steak, Teres major a.k.a. petite tender or shoulder tender, skirt steak, bavette or flap meat as indicated in recipe. When using skirt steak or flap meat, be sure the strips are cut across the grain for tenderness.
Nutrition
Calories:
515
kcal
|
Carbohydrates:
8
g
|
Protein:
36
g
|
Fat:
36
g
|
Saturated Fat:
16
g
|
Cholesterol:
138
mg
|
Sodium:
475
mg
|
Potassium:
920
mg
|
Sugar:
4
g
|
Vitamin A:
805
IU
|
Vitamin C:
6
mg
|
Calcium:
144
mg
|
Iron:
3.3
mg
More Great Sauce Recipes:
Stone Ground Mustard-Braised Chicken: 5 Tips for Fail-Proof Sauces
Grilled Steak & Shrimp Scampi Sauce
Fresh Basil Pesto Sauce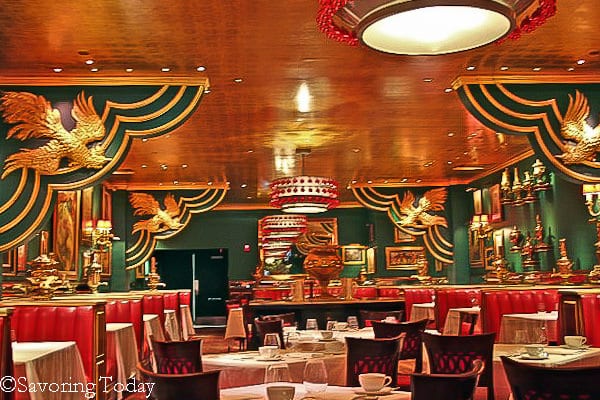 A side story:
Years ago during a family trip to New York, we took the kids to breakfast at The Russian Tea Room (the kids loved the hot chocolate served in a silver tea pot). Since it was breakfast we didn't order the Stroganoff so I can't vouch for that, but the meal was memorable just the same. When our youngest (then 11 years old) and I went to the ladies room, we took a little detour to check out one of the elegant ballrooms. We both marveled at the way each piece of crystal sparkled and shimmered against the mirrored walls like soft diamonds.
"Mom," she says, "I want to have my wedding here." I explained to her that was not in the cards for her unless we won the lottery (which we do not play). When we got back to the table, I passed on this little tidbit to her father, who had just paid the bill (it was the most we have ever paid for breakfast). His look and response was much the same as mine (it's probably a good thing he'd finished eating as not to choke), but I guess a girl can dream, right?!