Make reservations at your own table for an easy romantic dinner at home this Valentine's Day. Even if you're not an experienced cook, Grilled Steak and Shrimp Scampi makes it simple to delight your sweetheart with a homemade feast.
Set out the linens, light the candles and serve this restaurant quality dish in under an hour.
No grill? No problem! This Steak and Scallop Recipe shows you how to prepare steak in a skillet too.
Select the Best Steak:
Tenderloin steak (often sold as filet mignon) was selected for this recipe because it is the most forgiving cut of steak; it is tender even if overcooked. It's also a very lean cut of beef (little marbling or fat), so it is ideally paired with the rich, buttery scampi sauce.
What to look for: A soft, uniform steak with even thickness (about 2-inches) and some marbling (the thin white marks within the muscle), if possible.
Note: Filet mignon is the trimmed, smaller end of the tenderloin. Even though the filet is from the same primal cut, it is more expensive than tenderloin steak cut because of the added labor of trimming.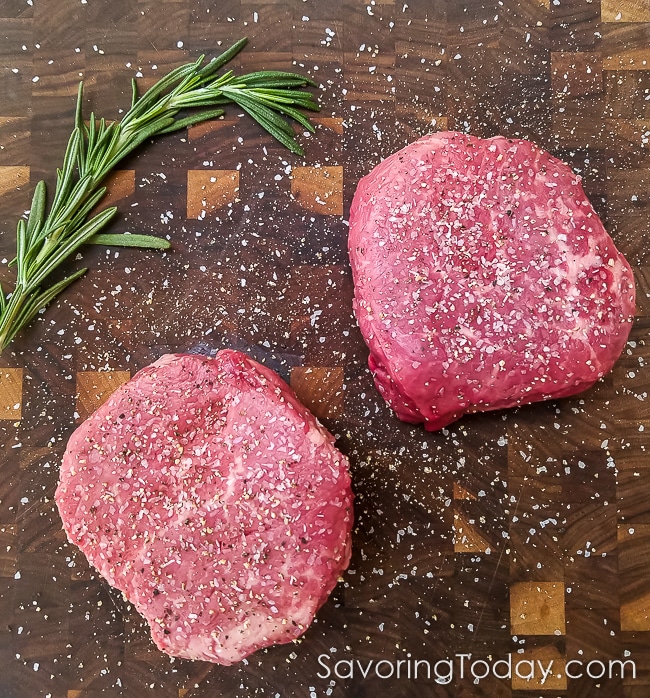 Other Quality High-End Steaks:
Ribeye, T-bone or Porterhouse (the tenderloin and strip steak in one), Kansas City or New York strip steaks are reliably tender and juicy when cooked to medium-rare.
These cuts have more fat and marbling which means more flavor and less need for rich sauces.
In fact, the ribeye is our favorite summer griller with our Smoked Chile Rib Rub—oh how we love summer!
However, they all work with this recipe and taste great with the scampi sauce on the side so the flavor of the meat can shine.
What to look for: A well-marbled steak (lots of thin white marks within the muscle) at least 1 1/2-inches thick, preferably with only a 1/4-inch of fat on the outer edge. Less fat around the edges means fewer flare-ups on the grill. Simply trim the outer layer to 1/4-inch, if needed.
Lesser Known, Butcher's Cut Steaks:
Flap steak (bavette), hanger, flank, flatiron and tri-tip steak deliver on flavor at a lower price point, depending on regional markets.
These steaks are trickier for the beginner due to the unique muscle structure of each one.
Even though these cuts require "just right" doneness and careful carving for satisfying results, they are worth it!
Learn more about these worthwhile, flavorful grilling steaks here.

How to REALLY Know When Steak is Done:
Following the cooking time on a recipe for grilling steak is just plain risky. No two steaks are exactly alike and grilling equipment varies widely, so following time and temp is rarely spot-on.
Do you really want to take chances with those beautiful steaks you just bought?
The only way to really know when a steak is done is to know what's going on inside with an instant-read thermometer.
Get the most accurate reading by insert the probe into the center of the steak straight in from the side, not the top. This way, the entire part of the tip reading the temp (models vary) is at the same level.
ThermoPop is reliable and reasonably priced—it's the one I use myself.
An instant-read is not the same as a leave-in meat thermometer.
An instant–read thermometer is a multi-use gauge, providing a reading within 5 seconds. Its thin shaft makes it easy to insert in dense meats and won't damage fine baked goods.
A leave-in meat thermometer has a thicker, stable shaft to remain inserted during cooking when roasting meats.
How to Pair Wine with Grilled Steak and Shrimp:
Pairing a single wine to complement both grilled steak and seafood is challenging because you're not sure whether to go with a bold Cab or a crisp Pinot Grigio.
I cook with wine often, so I have no problem opening two bottles at one time, but here's how to choose just one for this dish.
To select just one good bottle, follow these steps to narrow it down. 
Decide which is your favorite—red or white.
If red, go for a lighter red wine like a Pinot Noir or Zinfandel, or one of these 11 other common varieties to complement the steak without covering up delicate seafood flavor.
If white, reach for full-bodied, layered white wine with acidity like a Chardonnay, Viognier ("Vee-own-yay") or Champagne that can stand up to grilled steak and rich sauces.
Print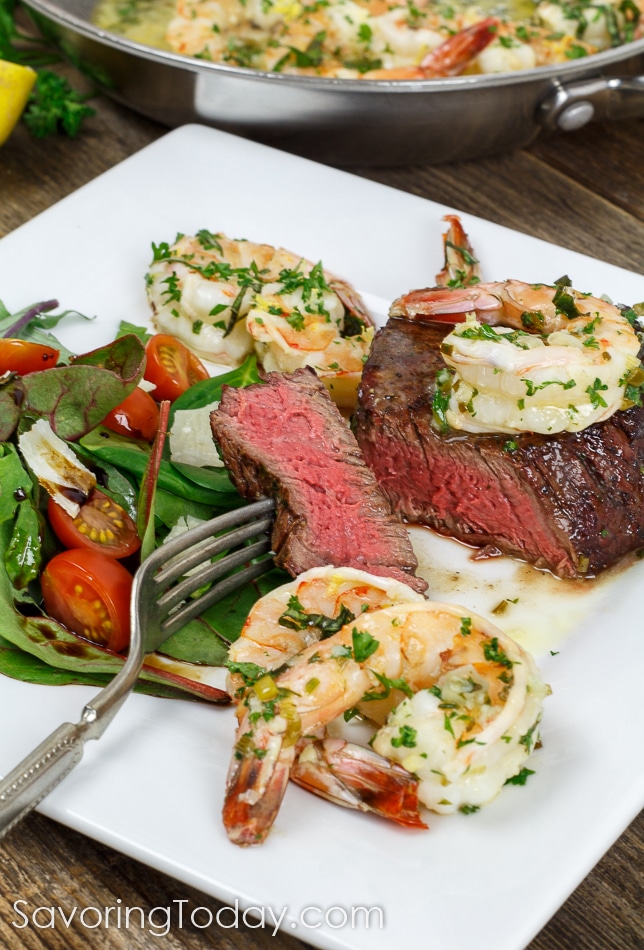 Grilled Tenderloin Steak with Shrimp Scampi Sauce
Author:

Prep Time:

40

Cook Time:

20

Total Time:

40 minutes, including time to salt steaks and light grill

Yield:

Serves 2

Category:

Beef, Main Dish, Seafood

Method:

Grilling
---
---
---
---
Side Dish Recipes for Grilled Steak and Shrimp:
Tuscan Roasted Broccoli
Grilled Vegetable Medley
Grilled Cabbage with Classic Caesar Dressing
Citrus Salad with Maple Candied Walnuts
Roasted Asparagus