Our 2-Minute Creamy Caesar Dressing brings this tableside classic to your family dinners with ease.
We use a hand blender
and it's done in a snap!
It only takes 30 seconds to blend it up and a minute or so to prep the ingredients.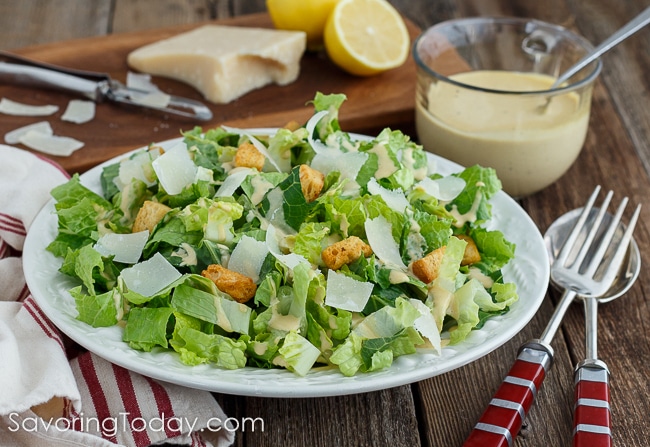 If you've had the pleasure of eating a Classic Caesar Salad prepared table-side at a restaurant, you know that no bottled dressing even comes close.
=> Watch the video in the recipe and see how fast it is to make this savory dressing and serve a classic Caesar salad for dinner.
There are always variations, even for the classics—anchovy or no anchovy, egg or no egg, white wine Worcestershire or regular—the delicious part is finding the one that suits you.
The dressing ingredients are common pantry items except for maybe anchovies, so we'll start there.
Embracing the Anchovy in Caesar Dressing
No, it's not a pizza thing, it's a food hack thing. Anchovy has long been used to bring the magic of umami to sauces, stews, dips, and dressings. One of the original Caesar salads did not include anchovy in the recipe.
The addition of anchovies came later, and in my opinion, creates the distinct depth of flavor we love about this salad.
In my experience, whole anchovies taste less intense than anchovy paste. I prefer oil-packed whole anchovies
in a glass jar over canned, and choose canned over the paste. The ONLY ingredients should be anchovy, olive oil, and salt.
TIP: If you're worried about the dressing tasting fishy, the best way to tame the anchovy is to either reduce the amount or increase the amount of lemon juice.
=>

Use one of these substitutions for anchovies:
soy sauce, kalamata olives, bonito flakes, and miso.
Raw Egg, No Egg, and Quick Egg Substitutes
The egg yolk is what gives the dressing its rich, creamy texture and serves as an emulsifier (lecithin in egg yolk stabilizes the dressing, keeping it from separating).
We appreciate the health benefits of raw pastured eggs, but those avoiding raw eggs due to allergies, immune suppression or pregnancy, may want a substitute.
TIP: Quick Egg Substitutes: 1/3 cup mayonnaise, 3 tablespoons hummus, 2 tablespoons sour cream or Greek yogurt, or 1/4 cup mashed avocado.
=> To make consuming raw eggs as safe as possible, buy pasteurized eggs at the store or pasteurize your own (see the recipe for at-home pasteurizing method).
Of course, you can omit the eggs altogether for a less creamy, but still delicious dressing.
Make no mistake, homemade dressing is worth the 2 minutes!
As a savvy shopper who reads ingredient labels, you already know most bottled salad dressings are not a healthy choice because of the cheap, rancid oils they use.
Our former favorite brand of Caesar dressing is an example: (ingredient list taken directly from their label)
Ingredients: Former Popular Favorite

Soybean Oil, Water, Egg Yolk, Salt, White Wine and Distilled Vinegars, Lemon Juice Concentrate, Spices (Including Mustard Seed), Parmesan Cheese (Part-Skim Milk, Cheese Culture, Salt, Enzymes), Garlic (Dehydrated), Onion (Dehydrated), Olive Oil, Xanthan Gum, Molasses, Corn Syrup, Rosemary Extract, Caramel Color, Sugar, Anchovies, Tamarind, Natural Flavors.
We gave up the bottled stuff for this healthier homemade version and are so glad we did! When we make our own, we have control over every ingredient and the flavor cannot be beat.
Healthy fats are an important part of our diet, so we use avocado oil
whenever we make this recipe. We like the neutral flavor of avocado oil in salad dressing when we don't want the added flavor of extra-virgin olive oil.
Read more about healthy fats and oils in this Healthy Mayonnaise post.

The Best Lettuce for Caesar Salad
Romaine lettuce is the traditional choice of greens with a stout rib in the center of each leaf making it sturdy enough for heavier dressing and providing a pleasing crunch. In one of the original recipes, the leaves were left whole as a natural cradle for the dressing and could be eaten with your fingers.
Beyond the standard romaine, Belgian endive, chicory (curly endive), frisée, radicchio, flat-leaf spinach, and kale also stand up well. These greens are slightly bitter and less sweet than romaine, so they work best when part of a mix.
We love the bold, rich flavor of lemon, anchovy, and Parmesan in this dressing so much, we don't just use it on lettuce greens. Last grilling season we discovered a new favorite side dish when we served the dressing over grilled cabbage wedges.
Take Caesar Salad Over the Top with Homemade Croutons:
Use your favorite French bread, we use Sprouted Wheat French Bread whenever possible.
Cut into bite-size cubes.
Toss with 2 tablespoons melted butter mixed with 2 tablespoons olive oil, per 4 cups of cubed bread.
Arrange in a single layer on a rimmed baking sheet, sprinkle with sea salt and freshly ground pepper, to taste.
Bake at 400°F for about 10 minutes, stirring halfway through, until golden brown.
Go Grain-Free / Gluten-Free with these Keto-friendly crouton recipes:
Homemade Grain-Free Croutons Recipe
Low-Carb Parmesan Croutons
Easy Parmesan Crisps
Print Recipe
Classic Caesar Salad with Homemade Dressing
Classic romaine lettuce dressed with a quick, 2-minute creamy Caesar dressing highlighting savory anchovy, lemon and Parmesan.
Ingredients
2

large heads

romaine lettuce

(about 12 cups) -- washed and dried

1

clove

garlic

(or rounded teaspoon)

1

tablespoons

freshly squeezed lemon juice

5

anchovy fillets

, chopped -- approx 2 tablespoons

1

*egg

, pasture-raised

1

*egg yolk

, pasture-raised

1/3

cup

shredded Reggiano Parmigiano cheese

, plus more of a block to shave for garnish

1 1/2

tablespoons

Dijon mustard

, Annie's GF

2

teaspoons

Worcestershire sauce

1/4

teaspoon

freshly ground black pepper

1/2

cup

avocado oil

, or extra-virgin olive oil

1

cup

croutons

(see quick recipe steps in post)
Instructions
Chop cleaned and dried lettuce into bite-size pieces. Set aside.
Using a food processor:
In a small bowl, stir garlic into lemon juice, set aside. Place anchovies, egg, egg yolk,

1/3 cup Parmesan

,

1 1/2 tablespoons mustard

,

2 teaspoons Worcestershire

,

1/4 teaspoon pepper

in a food processor and blend until anchovy is chopped fine.

Add lemon juice and garlic; blend again until incorporated. While the processor is running, pour in the

1/2 cup avocado oil

in a slow, steady stream until emulsified and incorporated.
Using a hand blender:
Place the combined garlic and lemon juice, anchovies, egg, egg yolk,

1/3 cup Parmesan

,

1 1/2 tablespoons mustard

,

2 teaspoons Worcestershire

,

1/4 teaspoon pepper

, and

1/2 cup avocado oil

in a tall jar. Blend with a hand (immersion) blender on high for about 30 seconds until emulsified and incorporated.

Toss the romaine lettuce and croutons with enough dressing to coat the leaves just before serving. Shave thin pieces of Parmesan cheese from a block with a vegetable peeler for garnish and offer fresh cracked pepper at the table.
Notes
*Raw egg is not recommended for infants, the elderly, pregnant women, and people with weakened immune systems. To minimize the risk of salmonella, 
use pasteurized eggs
 available in 
some supermarkets
 or easily 
pasteurize eggs at home
.
=> To pasteurize large eggs,
 place them in a saucepan filled with enough water to cover by 2-inches. (Monitor the temperature of the water with a digital thermometer.) Turn on the heat and bring the water up to 140F. Keep the water temperature at 140F for 3 minutes (and no more than 142F), reducing the heat or sliding off the burner if necessary. Carefully remove eggs from the hot water and rinse thoroughly with cold water. Store in the refrigerator until needed or use right away. Serve this Classic Caesar Salad recipe as a side dish or top it with
grilled chicken
or
blackened salmon
as a main dish.
Nutrition
Calories:
234
kcal
|
Carbohydrates:
5
g
|
Protein:
4
g
|
Fat:
21
g
|
Saturated Fat:
3
g
|
Cholesterol:
65
mg
|
Sodium:
202
mg
|
Potassium:
68
mg
|
Vitamin A:
18.8
%
|
Vitamin C:
2.1
%
|
Calcium:
9
%
|
Iron:
4.6
%
More Delicious Salad & Homemade Dressing Recipes You'll Love: