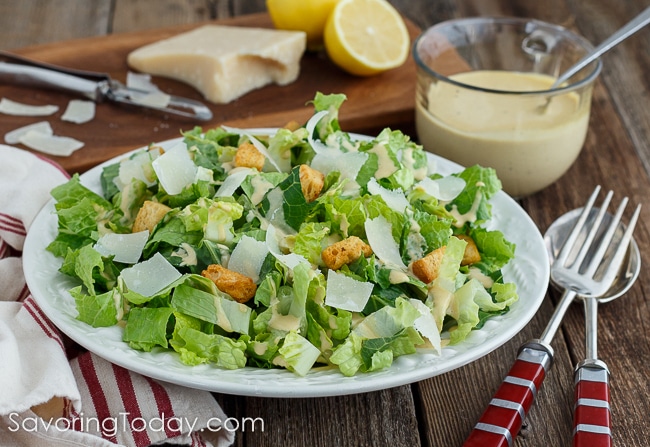 If you've had the pleasure of Classic Caesar Salad prepared table-side at a restaurant or made fresh for dinner, you already know there is no bottled dressing that compares.
It's the homemade dressing that makes a Caesar Salad so special.
Clinging to crisp Romaine, the lemon, anchovy, and Parmesan anchor bold, rich flavor and the egg's creaminess is unmatched.
There are always variations, even for the classics—anchovy or no anchovy, egg or no egg, white wine Worcestershire or regular—the delicious part is finding the one that suits you.
This is our favorite Caesar Salad recipe, served as a side or topped with grilled chicken or blackened salmon as a main dish.

Print
Classic Caesar Salad with Homemade Dressing
Author:

Prep Time:

20

Total Time:

20

Yield:

Serves 4

Category:

salads, side dishes
---
Description
Classic romaine lettuce dressed with Caesar dressing highlighting savory anchovy, lemon and Parmesan.
---
Ingredients
2 large heads of romaine lettuce — washed and dried
1 large garlic clove — minced
1 tablespoons lemon juice — fresh squeezed
5 small anchovy fillet, chopped — approx 2 tablespoons
1 *egg + 1 *egg yolk
1/3 cup shredded Parmesan cheese
1 1/2 tablespoons Dijon mustard
2 teaspoons Worcestershire sauce
1/4 teaspoon pepper — freshly ground
1/2 cup avocado oil, or extra-virgin olive oil
Sea salt, to taste
1 cup croutons
---
Instructions
Chop cleaned and dried lettuce into bite-size pieces. Set aside.
Mix garlic in lemon juice, set aside.
Place anchovies, egg, egg yolk, Parmesan, mustard, Worcestershire sauce, and pepper in a food processor and blend until anchovy is chopped fine. Add lemon juice and garlic; blend until incorporated.
With the processor running, pour in the oil in a slow, steady stream until emulsified and incorporated. Add salt or more lemon juice, to taste. Chill for 15 minutes before dressing salad.
Toss with romaine lettuce and croutons just before serving. Top with additional shaved Parmesan and fresh-cracked pepper, as desired.
---
Notes
*There is potential risk of salmonella bacteria occasionally found in raw egg from cracked or improperly washed eggshells. Raw egg is not recommended for infants, the elderly, pregnant women, and people with weakened immune systems.
*To minimize the risk of salmonella, use pasteurized eggs available in some supermarkets or easily pasteurize eggs at home.
More Delicious Salad Recipes You'll Love:
Bid Winter Adieu with Spinach-Strawberry Salad
Fajita Salad w/ Cilantro-Lime Dressing
Citrus Salad with Maple Candied Walnuts and Orange-Dijon Dressing
Fried Goat Cheese & Grilled Beet Salad
Baby Arugula with Blueberries and Walnuts