This Arugula Watermelon Salad packs a WOW flavor combo as we take it to a whole new level with browned butter-toasted walnuts, blackberries, and tangy feta.
Get ready for a peppery, sweet, tangy, buttery experience as you fill your fork with the perfect bite. Oh yeah, we top it all with aged balsamic for the perfect finish!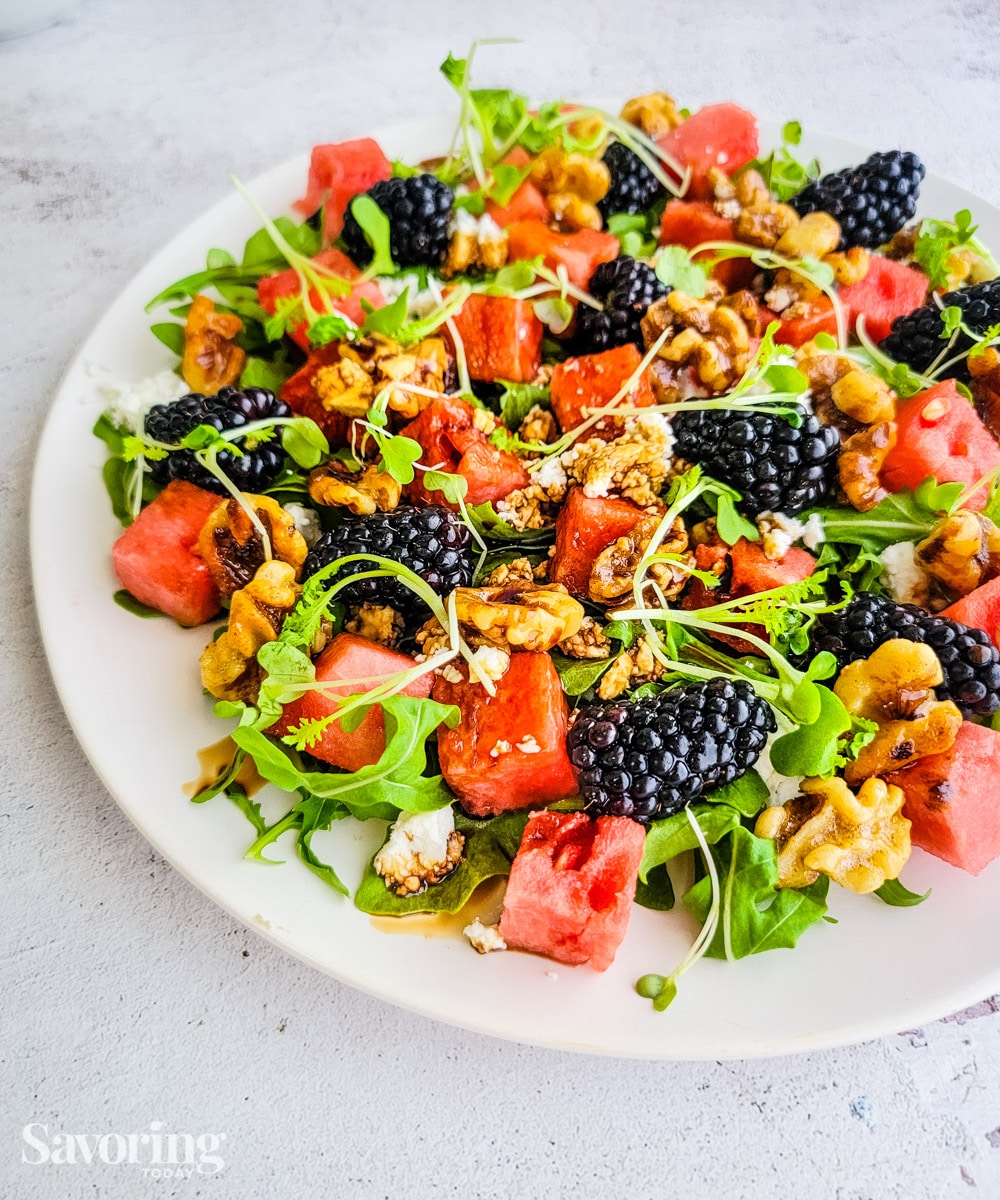 Most salads are best tossed to combine, but we layer this salad so it can be served without the smaller ingredients falling to the bottom of a bowl. Because you can't build the perfect bite if all the tasty bits are at the bottom.
Each ingredient in an arugula and watermelon salad brings a distinct flavor so take the time to stack your fork with all the goodies.
The peppery flavor of arugula finds perfect balance with sweet watermelon, crispy walnuts, and salty feta. The ingredient list is so short and straightforward that it hardly calls for a recipe so think of it as more of an idea to springboard off of, and feel free to layer in what you might have on hand.
We enjoy watermelon salad with grilled meats and it is a beautiful take-along salad for potlucks or backyard barbecues.
What is arugula and how does it taste?
Arugula is closely related to mustard, which explains the slight bitterness, and is best described as having a peppery flavor.
Even though it is leafy, arugula is not really lettuce, but instead a bitter green like dandelion or mustard greens. Like most greens, the "baby" version can be a nice introduction to this superfood as the younger leaves are milder in flavor and texture.
Other names for arugula you may see in the market include rocket (or rucola in Italy) and its peak season is early spring and fall, though it is generally available year-round.
If you're not sure you want greens in your watermelon salad, check out our Watermelon-Blueberry-Feta Salad for a straightforward, no-dressing required, easy alternative.
What is aged balsamic?
The aged balsamic we refer to in the recipe is condiment-grade balsamic or condimento balsamico, which is beloved for its balanced sweet-acid flavor.
Condimento is the thick, sweeter version of balsamic with a deeper, more complex flavor profile. We use it to finish this Arugula Watermelon Salad, as well as appetizers, grilled vegetables, ice cream, pizza, and other salads like Caprese.
We use traditional balsamic for this salad recipe, but this grade of balsamic is available in a wide range of flavors for you to explore.
Venice Olive Oil Co is our go-to for exceptional olive oils and balsamic. They are a local store here in Colorado, but they ship all over the country.
What are microgreens and why should I use them?
Microgreens are sprouted seedlings of herbs or vegetables. These tiny greens not only add a nutritional punch to salads and sandwiches, but they also add texture, color, and flavor boost too.
We used wasabi microgreens to garnish this recipe as I was looking for a bit of spice, but purple radish sprouts were a solid consideration for color.
It's totally optional, but adding microgreens is a tasty way to have a little fun with the recipe or add a little more interest in the presentation if taking the salad along for a potluck.
You'll find microgreens in the produce section by the salad greens or herbs.
How to select a good watermelon?
Watermelon salad recipes are quite popular around the 4th of July for good reason—the abundance of ripe, delicious watermelons!
Growing up on a farm, my dad taught me how to thump a watermelon to know if it was ready to pick. But thumping doesn't work for everyone, especially if you don't know the deep, hollow sound you're looking to hear. Thumping has worked well for me, but it's not a perfect science.
Here's what to look for when buying watermelon:
Watermelon should feel heavy for its size, so pick up a few to feel the difference.
Check the field spot for a creamy-golden color, which means it was in the field longer.
Go ahead and thump it by laying an open hand on the side of it and tapping it with your fingers like you would burp a baby. You want to hear a deep, hollow sound in that thump.
Buy in season. Living in Colorado, I don't buy watermelon before June or after September as I've never tasted one outside this seasonal window that was any good.
Recipe Step by Step
Cut the watermelon into 1-inch cubes. (see photo for how-to)
Toast the walnuts in butter in a skillet over medium heat for about 5 minutes.
Arrange watermelon over arugula leaves on a platter.
Sprinkle with feta.
Arrange blackberries
Top with butter-toasted walnuts.
Drizzle with balsamic.
Garnish with microgreens to finish the salad. (Optional, but pretty.)
Recipe Variations
Substitutes for arugula include watercress, mixed greens, spinach, baby kale, or any mix of tender leafy greens
Substitute pecans for the walnuts
Substitute blueberries or black raspberries for the blackberries to keep the color contrast
Substitute salty cheese like cotija or blue cheese for the feta
Substitute candied or spicy walnuts for the browned butter walnuts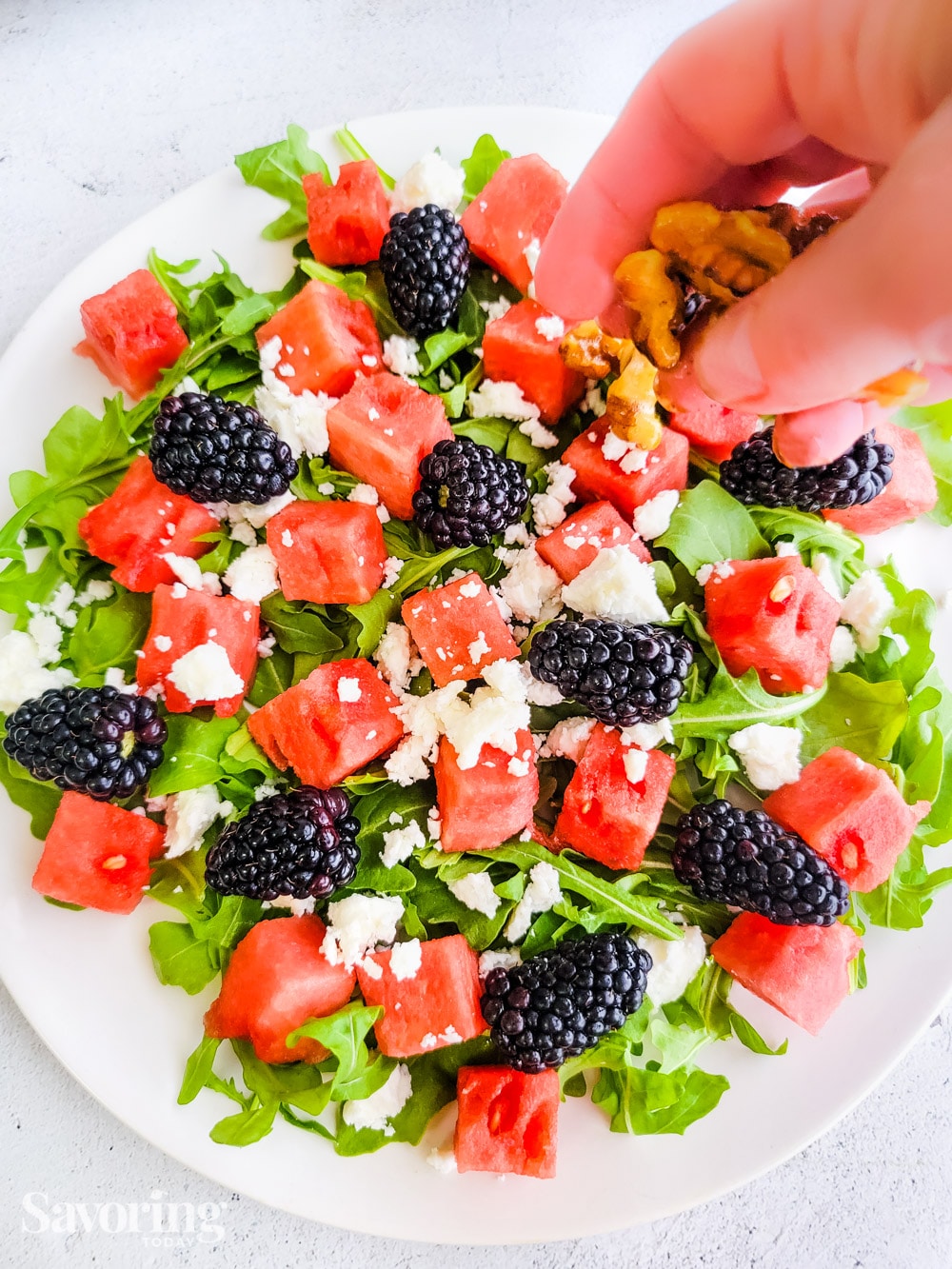 Arugula Watermelon Salad
This Arugula Watermelon Salad flavor combo is beyond WOW and we take it to a whole new level with browned butter toasted walnuts, blackberries, and tangy feta.
Ingredients
2

handfuls

baby arugula

2

cups

cubed watermelon

3/4

cup

feta cheese

large crumbles

6

ounces

blackberries

3/4

cup

walnuts

2

tablespoons

butter

Microgreens

for garnish (optional) We used wasabi

Aged balsamic

for garnish
Instructions
Heat butter and walnuts in a skillet over medium heat for about 5 minutes, stirring occasionally until butter is golden brown and walnuts are toasted. A light-colored skillet will be best for this as a dark surface will make it difficult to see the butter color. Transfer the walnuts to a plate to cool, pouring any remaining butter from the skillet over the walnuts.

Arrange the arugula as the bottom layer of the salad on a platter. Add a layer of watermelon over the leaves, then layer with the feta, blackberries, and walnuts.

Garnish with microgreens (optional) and drizzle with balsamic to finish the salad. Serve with salad tongs to slide under the bottom layer and lift onto a plate to serve individual portions.

Serve with more balsamic at the table, as desired.
Notes
NOTE: The measurements are not intended to be precise. Layer more or less of each ingredient to the extent you like them.
RECIPE TIPS & VARIATIONS:
Add enough balsamic to accent the salad, but not overwhelm. If unsure, add a light drizzle and pass more at the table, as desired.
Substitutes for arugula include watercress, mixed greens, spinach, baby kale, or any mix of tender leafy greens
Substitute pecans for the walnuts
Substitute blueberries or black raspberries for the blackberries to keep the color contrast
Substitute salty cheese like cotija or blue cheese for the feta
Substitute candied or spicy walnuts for the browned butter walnuts
Nutrition
Calories:
312
kcal
|
Carbohydrates:
14
g
|
Protein:
9
g
|
Fat:
26
g
|
Saturated Fat:
9
g
|
Polyunsaturated Fat:
11
g
|
Monounsaturated Fat:
5
g
|
Trans Fat:
0.2
g
|
Cholesterol:
40
mg
|
Sodium:
370
mg
|
Potassium:
307
mg
|
Fiber:
4
g
|
Sugar:
8
g
|
Vitamin A:
1059
IU
|
Vitamin C:
17
mg
|
Calcium:
195
mg
|
Iron:
1
mg